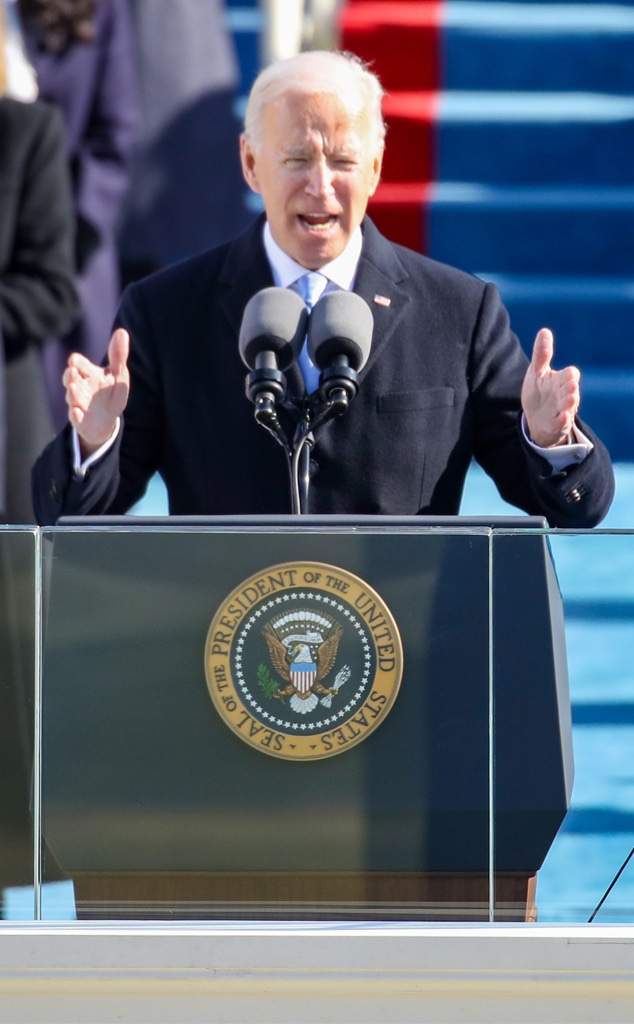 Rob Carr/Getty Images
Let the healing begin.
So was the gist of President Joe Biden's 21-minute inauguration speech—and of his entire campaign really. The theme extended into the two months he's spent preparing to hit the ground leading on day one, putting the pieces of his administration together like an intricate puzzle as the tumultuous Trump era came to a close.
Calling it "America's day" and promising the nation that his "whole soul is in it," Biden takes office with a full plate of unprecedented crises, plus seconds and leftovers, including the still-raging coronavirus pandemic that led to his inauguration being a stripped-down celebration for about 1,000 guests and a socially distanced audience, the first time a new president has delivered his inaugural address to a sea of face masks.
But tradition still carried the day amid the snow flurries, with Joe and Dr. Jill Biden, now the 46th president and first lady of the United States, and second couple Vice President Kamala Harris and Douglas Emhoff treated to the reverential protocol the moment still demanded, made all the more poignant by the violence that struck the Capitol just two weeks ago.
"We learned again that democracy is precious, democracy is fragile—and at this hour, my friends, democracy has prevailed," Biden said, to resounding applause.
While he ticked off the overwhelming list of issues simultaneously plaguing the country, from the pandemic and economic devastation to racial strife and the looming threat of climate devastation, to the ever-increasing scourge of disinformation that at times makes it feel as if it's divided us beyond repair, Biden delivered a message of hope, assuring that if anyone is up to the task, we the people are.
So long as the people come together—which, he acknowledged, will be no small task.
Noting that America has to be "restless, bold, optimistic," Biden said, we can "set our sights on a nation we know we can be and we know we must be."
"This is a great nation," Biden continued, adding the touching reminder that "we're good people."
"We've come so far, but we still have far to go," he said, his voice swelling and quieting in a rolling pattern of exclamation and heartfelt assurance. "We'll press forward with speed and urgency, for we have much to do in this winter of peril and significant possibilities. Much to repair, much to restore, much to build and much to gain."
The Bidens traveled to Washington, D.C., from their home state of Delaware yesterday, presiding over a vigil at the Lincoln Memorial last night for the roughly 400,000 people who've died of COVID-19. Today began with the incoming president and vice president attending Mass at St. Matthew's Cathedral before heading to the Capitol.
Following Lady Gaga's rendition of the national anthem and Jennifer Lopez encouraging one and all to "get loud" amid her medley of "This Land Is Your Land" and "America the Beautiful," Biden was sworn in by Chief Justice of the Supreme Court John Roberts. Justice Sonia Sotomayor did the honors for Harris, who became the first woman and person of color to become vice president of the United States.
Promising to be a president for all Americans—"all," he emphasized twice—Biden said that restoring the soul and securing the future of America "requires so much more than words. [It] requires the most elusive of all things in a democracy—unity."
Invoking Abraham Lincoln, the 16th president of the United States, who when he signed the Emancipation Proclamation declared his whole soul to be in it, Biden insisted, "My whole soul is in it today on this January day, my whole soul is in this. Bringing America together, uniting our people, uniting our nation. And I ask every American to join me in this cause."
At 78, Biden is the oldest person ever elected to the American presidency, but with his seasoned age at least comes the experience of spending 35 years as a U.S. senator and then eight years as VP to President Barack Obama. And he's going to need every single lesson he's learned over the decades to move the country forward.
He admitted that the concept of unity and being able to overcome so much strife (reports have said that his speech today was the first-ever presidential inaugural address to call out "white supremacy" by name) may sound like "a foolish fantasy these days."
"I know the forces that divide us are deep and they are real," he continued. "But I also know, they are not new. Our history has been a constant struggle between the American ideal that we are all created equal and the harsh, ugly reality that racism, nativism, fear, demonization have long torn us apart. The battle is perennial, and victory is never assured."
But, Biden continued, though "victory is never assured, our better angels have always prevailed. Enough of us have come together to carry all of us forward, and we can do that now. History, faith and reason show the way, the way of unity. We can see each other not as adversaries, but as neighbors, treat each other with dignity and respect. We can join forces, stop the shouting, and lower the temperature. For without unity, there is no peace, only bitterness and fury."
Drew Angerer/Getty Images
He never mentioned now former President Donald Trump by name, but the 45th president's absence—he and Melania Trump having left Washington early this morning—said it all.
Numerous members of the opposing party, including former Vice President Mike Pence and his wife, Karen Pence, as well as a slew of people whom Biden is hoping to be able to work with in the coming weeks, were in attendance, however. A hopeful sign, at least for today. Almost all of the other living presidents, Bill Clinton, George W. Bush and Obama, and their respective spouses were at the inauguration as well, and Biden said that he had spoken to 96-year-old Jimmy Carter the night before. 
"This is our historic moment of crisis and challenge, and unity is the path forward," Biden continued. "And we must meet this moment as the United States of America. If we do that, I guarantee you, we will not fail. We have never, ever, ever, ever failed in America when we've acted together.
"And so today, at this time, in this place, let's start afresh, all of us. Let's begin to listen to one another again. Hear one another. See one another. Show respect to one another. Politics doesn't have to be a raging fire, destroying everything in its path...My fellow Americans, we have to be different than this. America has to be better than this, and I believe America is so much better than this."