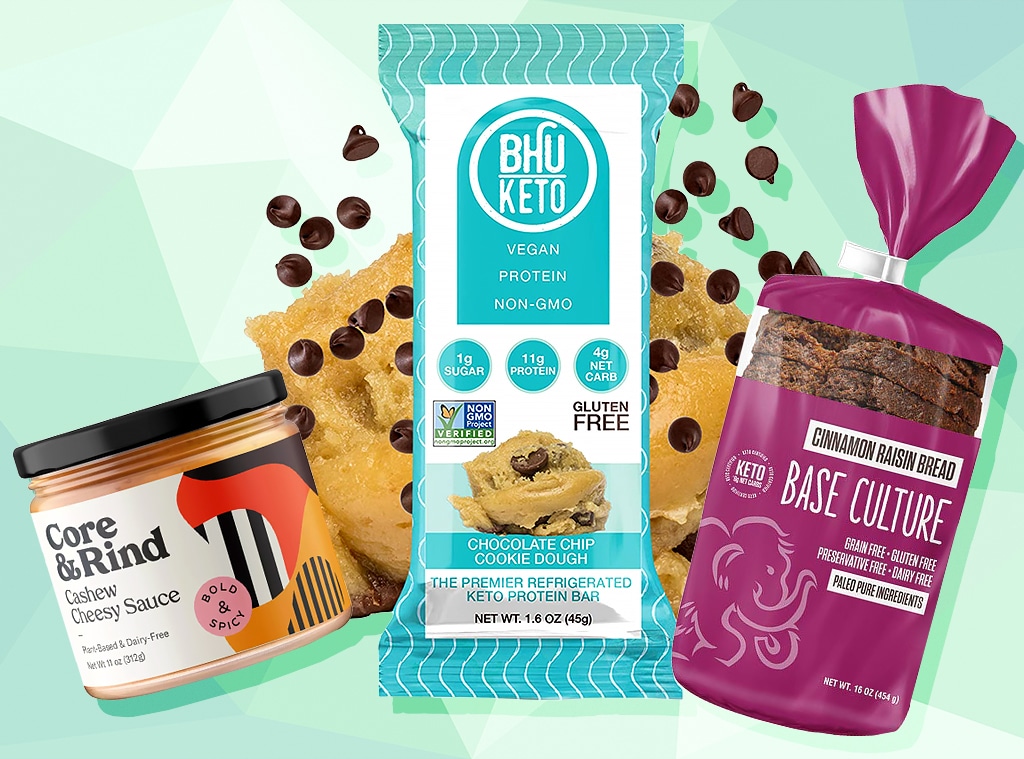 We love these products, and we hope you do too. E! has affiliate relationships, so we may get a small share of the revenue from your purchases. Items are sold by the retailer, not E!
No so fun fact: The day most people quit their New Year's Resolution, Jan. 17, has already passed. The good news? You've made it over that hurdle. Also good news? Even if you slipped up, it's OK! If 2020 and 2021, so far, has taught us anything it's to be kind to ourselves, including when it comes to any lifestyle goals we may set.
If you happened to set an intention this year about your eating habits and are in need of some inspiration when it comes to snacks, we're here to assist. Just because you're trying to eat healthier doesn't mean you need to sacrifice taste! Ice cream, bread, cookies, chips, you can still have it all, even if you're trying out the ketogenic lifestyle or attempting a no-added sugar diet. 
Here are 18 snacks that'll satisfy your mind and taste buds...
Mush Overnight Oats (Pack of 6)
If You're Craving: Dessert first thing in the morning
Fact: Mush's dark chocolate flavor straight-up feels like you are living your childhood dream of eating sweets for breakfast. But the best part is that you are actually adulting as none of the brand's flavors clock in at over seven ingredients. Your younger self is so proud RN. 
Siete Cinnamon Churro Strips (6 Pack)
If You're Craving: Taco Bell
You're probably already obsessed with Siete's chips, dips, taco shells and seasonings. And now, the Mexican-American company has provided a grain-free and vegan alternative to the cult favorite churro twists from the fast food chain. We're not worthy!
BHU Keto Cookie Dough Snacks (10 Pack)
If You're Craving: Cookies and/or dough straight out of the tub
Don't lie, you know you totally took a spoon to that giant chocolate chip cookie dough container when your mom wasn't looking after she got home from Costco. (Too specific?) Now, you can happily eat it straight from the tub sans fear of stomachache or judgment with this keto-friendly brand's pea protein-packed snacks. 
Poppi (Pack of 12)
If You're Craving: Soda
The hype, as they say, is real when it comes to prebiotic soda. The orange flavor will remind you of your childhood and allow you to channel your inner Kel Mitchell while the strawberry lemonade and watermelon options will leave you refreshed. And they all have less than 20 calories per can and no artificial ingredients. 
The Honest Stand Dips (5 Pack)
If You're Craving: Cheese.
If you're doing Whole 30, chances are you have had at least one dream about cheese. Delicious, gooey, creamy cheese. Don't worry, we have just the remedy to get you through: These plant-based dips that come in a variety of flavors, including nacho, garlic parm, siracha ranch and buffalo blue. Go ahead, take a moment to compose yourself. 
Base Culture Keto Bread
If You're Craving: Just bread. 
One of the hardest parts of going keto is arguably saying goodbye to carbs, especially bread. Fortunately, Base Culture is here for you, releasing keto loaves in flavors like cinnamon raisin, which is delicious paired with their almond butter. (Oh, did we mention they also have brownies? 'Cause they have brownies.)
Rhythm Superfoods Beet Chips (Pack of 40
If You're Craving: Something crunchy
Isn't it the worst when you are eating a sad salad that has no texture or crunch? Meet your new best friend in these organic beet chips that are full of fiber and flavor. We like to crumble then over our salads or use them in place of regular ol' chips with our guac or dips. 
Blender Bombs (Pack of 10)
If You're Craving: A nutritious smoothie but you're legit exhausted
Sometimes ya just can't deal with a recipe that requires a tablespoon of seemingly every nut or seed ever created. That's where Blender Bombs come in with these little bombs packing every ingredient you need, including chia seeds, flax seeds, honey, bee pollen and more. Just throw them in your blender or even crumble over your oatmeal, it's that easy.
Built Bars Mixed Box (Pack of 18)
If You're Craving: Chocolate but need to get your protein in
Trying to count macros for the first time and realize there's a limit to how much chicken you can eat to hit your protein goals? Chances are you've seen someone online praise Built Bars for packing at least 17 grams of whey protein and coming in at under 200 calories, while also being ridiculously addicting. If you have a sweet tooth, these are for you. 
Enlightened Keto Ice Cream (Pack of 9)
If You're Craving: Ice Cream
With one net carb and a variety of flavors including P.B. Cookie & Brownie Dough, Chocolate Glazed Donut and Mint Chocolate Chunk, feel free to enjoy a pint without worrying about your macros. Enlightened also offers dairy-free and light options, as well as cookie dough and cheesecakes because you deserve 'em. 
Lakanto Drinking Chocolate
If You're Craving: Hot chocolate after spending the holidays downing it every night
If you made a steaming cup of hot cocoa a nightly ritual last month just know you are not alone...and also that there is a way for you to still get your fix thanks to this keto-friendly brand. Sweetened with monkfruit, this powder is the perfect chocolately addition to your smoothies, coffees or just to drink on its own mixed with water or milk.
Perfect Bar (8 Pack)
If You're Craving: A different kind of protein bar
We're not sure what it is about this brand but it just makes us feel good. Maybe it's the peanut butter. Maybe it's the honey. Maybe it's the abundance of super foods and nutrients packed into each bar. Maybe it's all of it. Plus, they also offer peanut butter cups, bites and kids-sized bars.