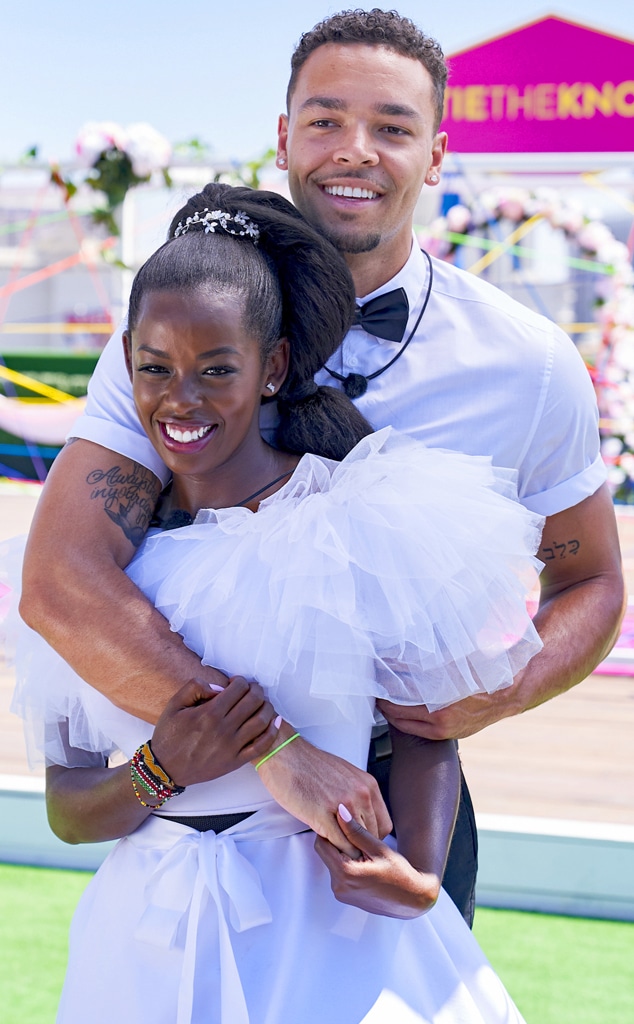 Robert Voets/CBS Entertainment
It's over between Love Island stars Justine Ndiba and Caleb Corprew.
The duo, who made history as the first Black couple to win the reality competition series during the season two finale, has decided to call it quits. Justine broke the news to her Instagram followers on Saturday, Jan. 16.
"It's truly a strange feeling to be typing this out but I understand my reality is now having to share some aspects of my life with you all regardless of how private I'd like to remain at times," she began her message.
"This is extremely difficult for me to express," she continued, "but out of respect for those of you who supported me, and rode for me, I want you to know that Caleb and I are no longer together."
Although the 27-year-old star acknowledged how public her life has become, she asked her fans for privacy as she tries to move on.
"I do ask for time as I continue to go through the process of heartbreak and healing as this has all been very hard for me," she shared. "I cannot thank you all enough for the love and support to this point and I hope that it may continue as we move forward as individuals."
Caleb echoed Justine's sentiments when announcing their split on his Instagram page.
"As many of you already know, Justine and I are no longer together," his post read on Sunday, Jan. 17. "I wish her the absolute best and much-continued success as God blesses her with new opportunities and adventures."
Watch:
"Love Island" Ladies Explain Joining a Dating Show During a Pandemic
"This announcement has been one that we have wrestled with for some time now," he admitted. "Not knowing exactly when or how to deliver it."
Caleb also pointed out that meeting Justine on Love Island presented certain challenges once the show was over.
"The nature in which we met and fell for each other comes with a unique set of obstacles that nothing in life can ever prepare you for," he explained. "We genuinely appreciate those of you who have supported us and thank you in advance to those of you who will continue supporting us as individuals moving forward. It is an unexplainable feeling to give yourself to the world and the world asks for more of you in return."
He added, "I hope those of you who have supported us will choose compassion over condemnation during this difficult time. Myself, Justine, our loved ones, etc. are all real people with real emotions who love and hurt hard."
Like Justine, the 22-year-old Oklahoma native asked his followers to give him space as he navigates this next chapter of his life.
"Unfortunately, when you choose privacy… Others often feel it is their place to tell your story for you. Speculation or not. Even with that in mind, I am still choosing privacy for the sake of my own personal peace," he said. "I kindly ask that you please respect any of Justine's or our loved ones [sic] desire for privacy as well."
Robert Voets/CBS Entertainment
News of Justine and Caleb's breakup comes just three months after they were crowned Love Island winners. Last October, the two raved over their groundbreaking victory in a joint statement to E! News.
"We walked into the villa at a really interesting time with so much happening in the world that impacts us, our families and communities. With everything going on, we thank America for loving our love because it is Black," they said at the time. "It's amazing to see the support, especially at this important moment. It makes us feel hopeful for what may be going on outside the villa and hopeful for what's to come."
Moreover, they both shared the moment they knew it was love at first sight, with Justine gushing, "For me, it was definitely early on with Caleb. Just seeing him coming down the stairs after Casa Amore without anyone, that was the moment for me that I was like, 'Yeah, I'm in this with this guy for sure.'"
Caleb explained that sticking together after Casa Amore sealed the deal. Put simply, "I knew that we were on the same page."
Sadly, Caleb and Justine aren't the only Love Island stars to go their separate ways. Click here to see which couples didn't live happily ever after.