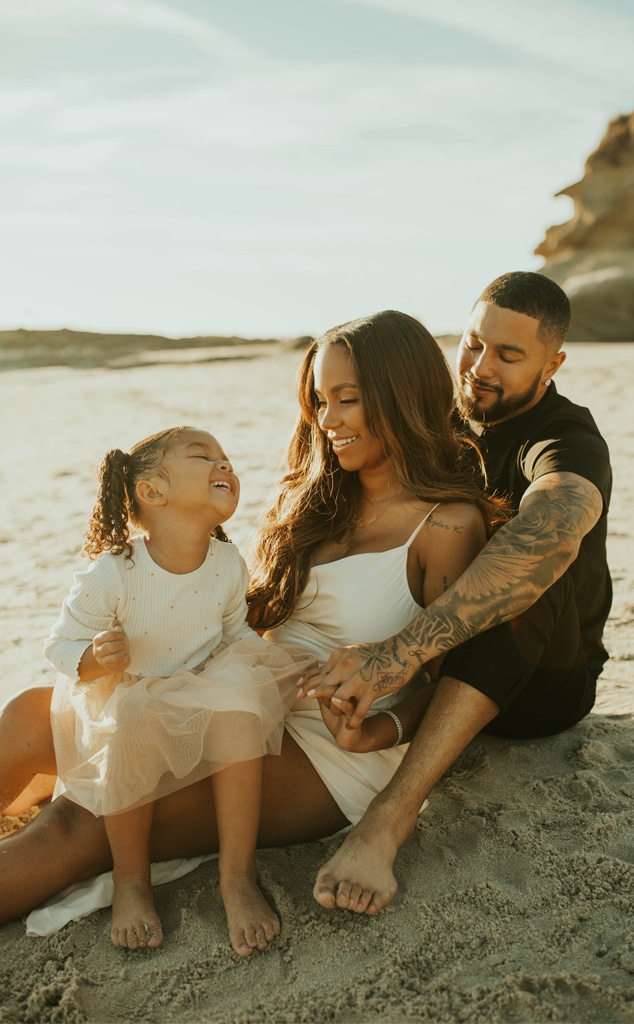 Asha Bailey Photography / @ashabaileyphotography
Love is in the air this season on Teen Mom OG.
As Cheyenne Floyd prepares to welcome her second child into the world, the MTV reality star has a special man by her side. Yes, we're talking about boyfriend Zach Davis.
"He slid into those DMs," Cheyenne exclusively shared with E! News. "That's how all of this started. We reconnected and it was a slow reconnection, a lot of talking over food. That was the way to my heart again. We always seemed to click whenever we get back together and this time, we made a promise to ourselves to make it work."
Back in October 2018, Zach briefly appeared on the MTV reality show. This season, however, fans will be able to watch more of the man who is making both Cheyenne and her daughter, Ryder, so happy.
"He just jumped in and she was like, 'Let's play!'" Cheyenne recalled. "She liked him from the beginning. It's definitely become full circle just because Zach and I dated when I was pregnant with Ryder. Ryder is going to be four this year and now we're expecting a baby. It's definitely an overwhelming feeling sometimes."
With life busier than ever, some fans may be curious to find out if Cheyenne and Zach have thought about taking the next step in their relationship. According to the Rage Against Ry founder, marriage has been a topic of discussion.
Watch:
E!'s Famous Reality TV Families: Where Are They Now?
"It's definitely a conversation," Cheyenne revealed. "I just think with COVID and stuff, it puts it on hold. When we do get married, we want to have a big wedding and we can't do that right now of course.  We don't want to have any limitations for what we want to do. It's an ongoing conversation but one for the future."
For now, Cheyenne is focused on her pregnancy that quickly proved to be a challenge. When describing her first trimester, Cheyenne said she was "always sick and had "zero energy." 
As she joked to E! News, "We were filming so I keep on telling people don't judge me because I know I felt crazy so I know I look crazy."
While Cheyenne's family may be changing, one thing remains the same: her focus on co-parenting Ryder with her ex, Cory Wharton.
The Challenge star will appear throughout the season and fans will see his honest reaction to the news that Cheyenne is both dating and expecting. 
"He's definitely always been suspicious of when it was going to happen. He knows I've always wanted to have a second baby," Cheyenne teased. "It was just a matter of time. His reaction is actually funny too."
And for those who remain fascinated by Cory and Cheyenne's "big, weird, blended, dysfunctional family," the unique bond isn't ending anytime soon.
"I think for us we've always made it our mission to make things as copacetic as possible for Ryder and now for all of the babies," Cheyenne explained. "We do the best we can and we keep all of the kids first. It sounds so corny. Keep the kids first and you'll be fine but it's true." 
Teen Mom OG kicks off a brand-new season Tuesday, Jan. 26 at 8 p.m. on MTV.