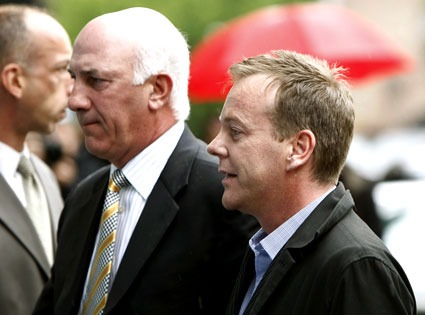 Brian Ach/Getty Images
It took a little more than 24 hours, and there was no ticking-time-bomb scenario, but Kiefer Sutherland finally made it.
Jack Bauer's alter ego arrived this afternoon at a New York police station, where he was charged for allegedly head-butting a fashion designer at a party early Tuesday.
The 42-year-old Sutherland showed up at about 4 p.m. ET at the 1st Precinct in lower Manhattan, according to an NYPD spokeswoman.
Sutherland dodged reporter questions as he entered the building flanked by his lawyers. After answering questions from investigators, he was booked on one count of misdemeanor assault and issued an appearance citation, which allows the 24 star to travel until his June 22 arraignment.
He was released on his own recognizance.
Sutherland stands accused of losing his cool during a party at the Mercer Hotel following the Met Costume Institute Gala. The actor allegedly confronted designer Jack McCollough over a perceived slight of fellow guest and onetime Sutherland costar Brooke Shields.
According to a police report filed by McCollough, Sutherland head-butted the 30-year-old Proenza Schouler creator, causing some kind of facial injury—said to be anything from a scratch to a broken nose.
The misdemeanor assault count could be the least of Sutherland's worries, however. Prosecutors in Los Angeles will decide whether the 42-year-old Emmy winner violated his probation in his 2007 DUI case. If so, he could face upwards of 10 months behind bars on top of the 48 days he already served.
A rep for Sutherland was not immediately available for comment, while a publicist for Shields, who could be called as a witness, has denied reports that McCollough was acting rude.
(Originally published May 7, 2009, at 1:36 p.m. PT)
____
Follow us on Twitter @eonline