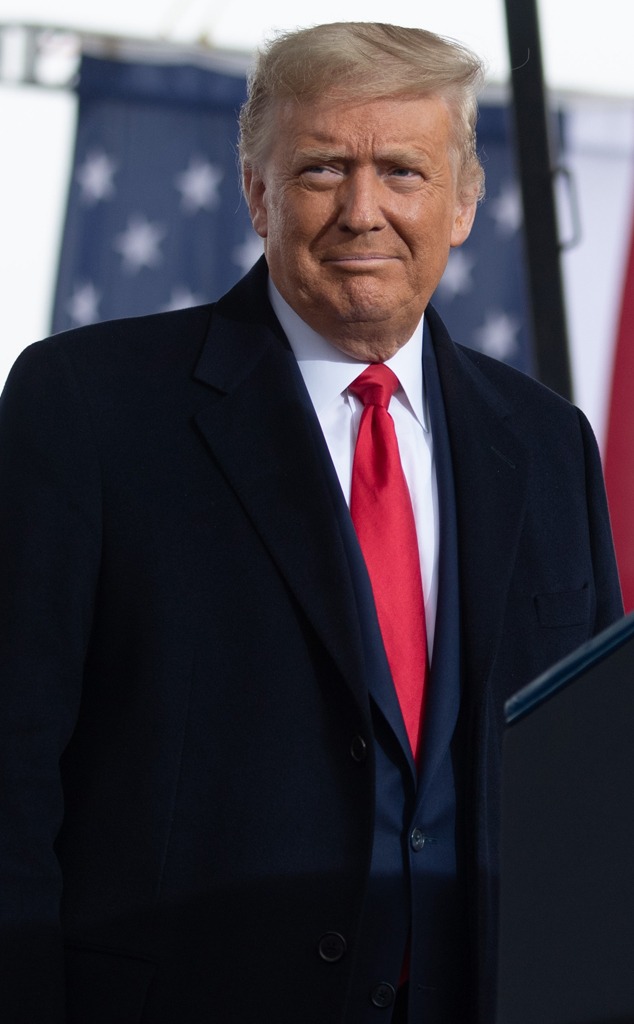 SAUL LOEB/AFP via Getty Images
Donald Trump has become the first U.S. President to be impeached twice and Hollywood largely support the historical move. Some have even got jokes.
On Wednesday, Jan. 13, a majority number of 232 members of the House of Representatives, including 10 members of Trump's Republican party, voted to charge him with "incitement of insurrection" following last week's swarming of the Capitol building by scores of his supporters. The article of impeachment also says that he "should be impeached, removed and disqualified from holding public office again."
"I didn't even know you could be impeached twice," tweeted Chrissy Teigen, who celebrated in the streets of Los Angeles with her husband John Legend and thousands of other people after Trump lost the 2020 election to Joe Biden last November. "I thought it was like dying."
A week ago, five people were killed and legislators, fearing for their lives, scrambled to hide as pro-Trump mobs stormed the Capitol to try to disrupt the certification of the results of the 2020 election. Just before the riots, Trump gave a rousing speech to his supporters, in which he repeated false claims that the election was fraudulent. He said, "I know that everyone here will soon be marching over to the Capitol building to peacefully and patriotically make your voices heard," and added, "We fight like hell and if you don't fight like hell, you're not going to have a country anymore."
Hours after he was impeached on Wednesday, Trump released a video saying, "I unequivocally condemn the violence that we saw last week."
"When one impeachment won't suffice, Damn his new crimes- impeach him twice!" longtime vocal Trump critic Star Wars actor Mark Hamill tweeted."#DarnOldDonald."
The Senate, which is still controlled by Trump's Republican party, is now set to hold a trial over the President's second impeachment. However, majority leader Mitch McConnell said proceedings cannot begin until the Senate returns for regular session on Tuesday, Jan. 19, one day before Biden's inauguration, which means a vote there would likely only take place after Trump leaves office.
But if two thirds of the Senate or more vote to convict Trump, the lawmakers can also hold an additional vote to decide whether to disqualify him from holding public office in the future, and only a simple majority is needed to approve such a measure. Trump has long signaled he wants to run for President a second time.
Watch:
Joe Biden Wins 2020 U.S. Election: Celebrities React
Comedian Patton Oswalt tweeted, "This is the "gritty reboot" impeachment."
"I hope the sequel has a better ending than the first one," Fuller House star Jodie Sweetin wrote. "#Impeachment2."
If the Senate votes to convict and remove Trump from office, the Former Presidents Act states he would lose his pension, estimated to be worth at least $200,000 a year, according to CNN. It is unclear if Trump would be eligible for the lifetime Secret Service protection that is given to all former Presidents if he is convicted.
Stewart Cook/Variety/REX/Shutterstock
Trump is the third President to be impeached by the House, following Andrew Johnson and Bill Clinton, while Richard Nixon resigned from office in 1974. No President has ever been removed by the Senate.
In 2019, the House voted to impeach Trump on charges of abuse of power and obstruction of Congress, accusing him of trying to pressure Ukraine to investigate Biden and his son Hunter Biden. However, the Senate acquitted him in February 2020, just before the start of the coronavirus pandemic.
Richard Shotwell/Invision/AP/Shutterstock
Following Trump's second impeachment, comedy star Billy Eichner tweeted, "What an exhausting, sickening, distracting waste of 4 years."