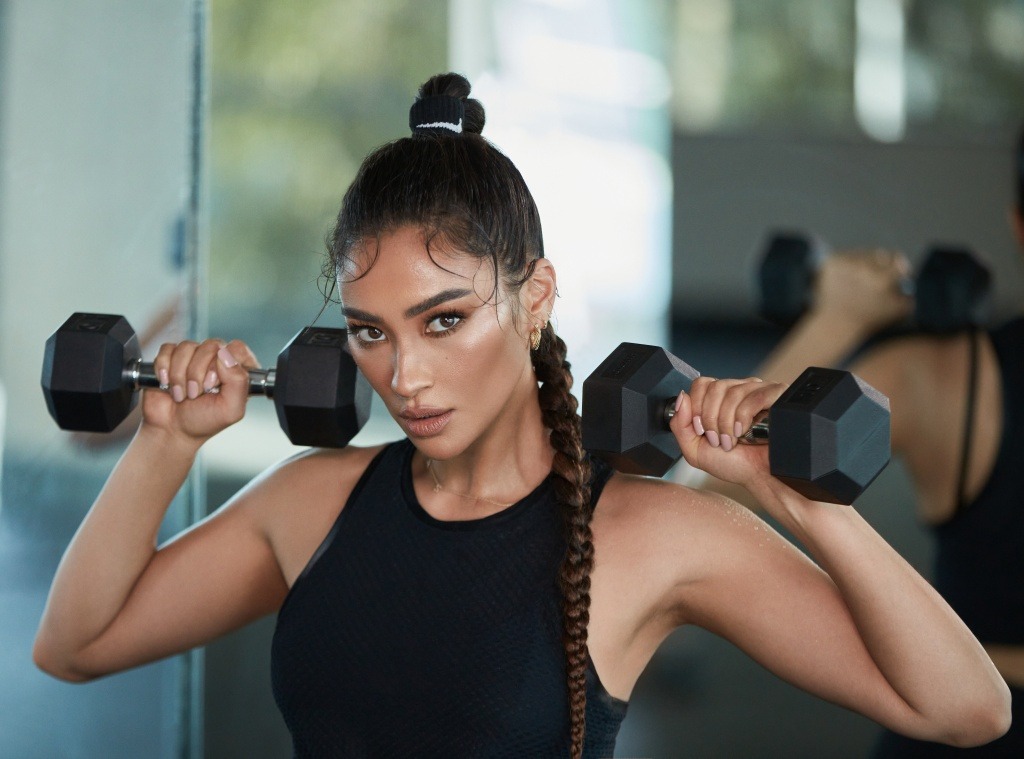 Openfit
We interviewed this celebrity because we think you'll like their picks. Some of the products shown are from the celebrity's own product line or a brand they are paid to endorse. E! has affiliate relationships, so we may get a commission if you purchase something through our links. Items are sold by the retailer, not E!.
It's not too late to start 2021 on a healthy note. 
While Shay Mitchell has a full plate with multiple businesses and a growing 14-month-old baby, the Pretty Little Liars star is making sure to make fitness a priority in the New Year by partnering with Openfit's Four Weeks of Focus fitness program.
"Four weeks is not daunting—It's totally doable and I'm looking forward to getting back into a healthier form alongside everyone else seeking similar objectives!" Shay exclusively shared with E! News. "Last year was a challenge for me like it was for most, and once the holiday season hit, I knew I wanted to set some goals to get back to my fitness routine in the New Year."
In between working out for just 30 minutes a day, Shay shared some of the products she is loving this year. From cosmetic bags that help you stay organized to sanitizers that keep your devices germ-free, the Hollywood star has items to keep you focused on your resolutions. 
"Start small with attainable goals that you know you can stick to," Shay advised. "Big, sweeping changes don't always stand the test of time, but being able to make a small shift that you can stick to will motivate you to do more."
Openfit Subscription for Four Weeks of Focus
If you've ever wanted to train like a star, here's your chance! Openfit members now have the opportunity to work out with Shay and friend Stephanie Shephard as fitness influencer Kelsey Heenan trains them five days a week for about 30 minutes. 
Les Tien Sweatpants
Let's face it: Fancy dresses and dressy pants are not needed at this time. Why not treat yourself to some fashionable and comfortable items from one of Shay's favorite fashion lines, Les Tien. We recommend the luxurious sweatpants.
myCharge Portable Charger for iPhone
There's nothing worse than losing all of the battery life on your phone when you're on the go. Fortunately, Shay found a portable charger that doesn't disappoint. 
Onda Sparkling Tequila
Shay helped co-found Onda, a new canned sparkling Tequila‐based drinks brand. Did we mention each can is only 100 calories with zero carbs and sugar? Happy New Year, indeed. 
Casetify UV Sanitizer Lite
Trying to stay healthy this year? You may want to make sure your phone is clean. Casetify's latest product destroys 99.9% of germs that live on your devices.
BÉIS The Cosmetic Case
Attention beauty lovers! Shay and the team at BÉIS made this spill-proof cosmetics case so every makeup user can stay super organized wherever they bring their beauty rituals. 
Jumprope
Regardless of your athletic ability, anyone can break a sweat and feel good by using a jumprope. If you're overwhelmed in the fitness space, start slow and pick this up. 
Yes I Am Fabulous by Cacharel Perfume
As the face of Cacharel, Shay is a big fan of the brand's rich and fruity Eau de Parfum that aims to embrace boldness and sensuality. Once you smell, you will absolutely understand.
BÉIS The Weekender
When you're safely running errands or enjoying a staycation, BÉIS designed this bag to take the hassle out of packing for the weekend or whichever days you're away.
Coconut Oil
Nutiva Virgin Coconut Oil has natural moisturizing and deep conditioning properties, making it an invaluable part of every body care regimen in 2021.