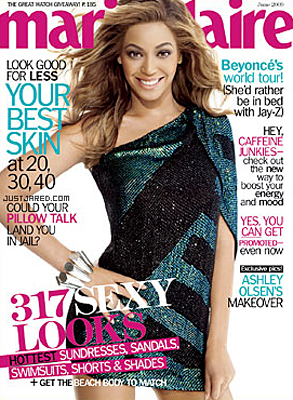 Marie Claire
Beyoncé's on the June cover of Marie Claire being her sparkly Sasha Fierce self, but on the inside story B's hardworking, vulnerable and crying. Quite the metaphor.
So what's Beyoncé got to cry about anyway? Singing "At Last" for the Obamas' first dance as president and first lady. She tells the magazine how nervous she was before going onstage and rocking it:
"I had to tell myself, 'They asked you to do this. You have to do a great job. This is their history. Calm down. Calm down.' I barely made it. Literally seconds before the song started, I was crying like a 5-year-old."
We all know she made it through that performance just fine—it was everyone else she had crying by the end (well, except Etta James).