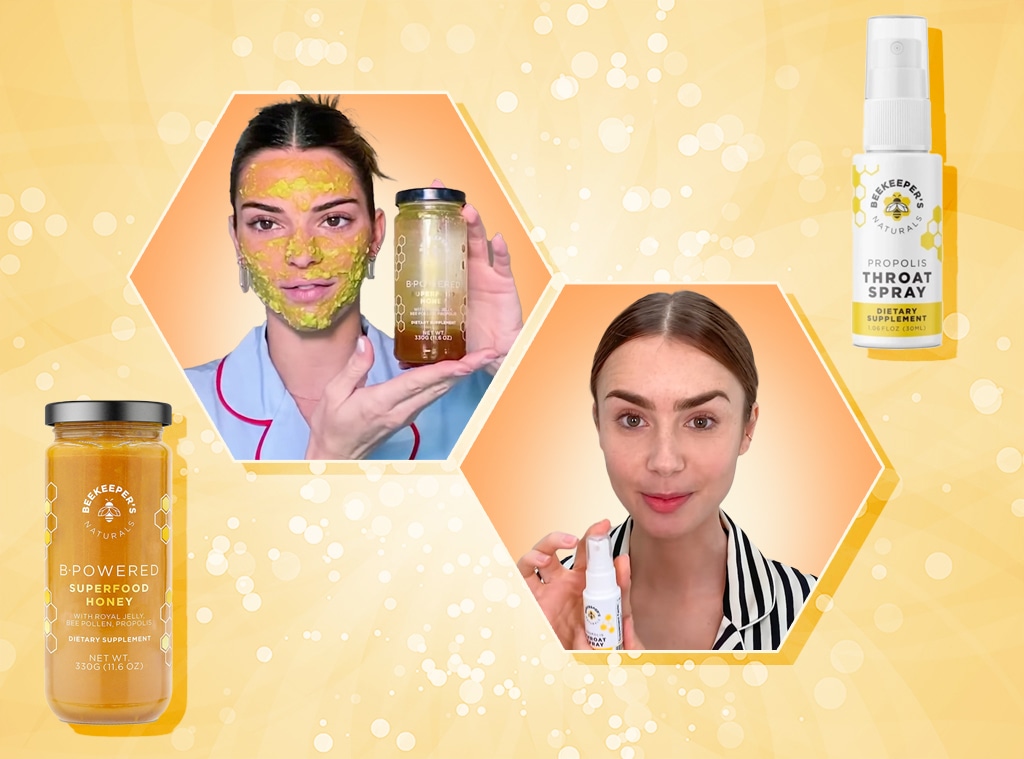 We love these products, and we hope you do too. E! has affiliate relationships, so we may get a small share of the revenue from your purchases. Items are sold by the retailer, not E!.
Who knew honey is Hollywood's favorite beauty and wellness secret!
If you're looking for an affordable, natural beauty product that also function as an all-in-one medicine cabinet, and will give you glowing skin, look no further than Beekeeper's Naturals B. Immune Propolis Throat Spray. And celebs like Kendall and Kylie Jenner, Lily Collins, Drew Barrymore, Cameron Diaz and more have given the brand their stamp of approval.
Not only will honey help you sustain energy and improve mental clarity, the buzzworthy superfood functions as an easy face mask to help soothe irritated, acne-prone skin. Recently, supermodel Kendall Jenner revealed in her Vogue Beauty Secrets video that she uses a mixture of Beekeeper's Naturals B. Powered Honey, oatmeal, avocado and lavender oil to help moisturize her skin and keep breakouts at bay.
And Kendall isn't the only celeb that uses Beekeeper's Naturals products regularly. 
During her press tour for Emily in Paris Lily Collins raved about Beekeeper's Naturals Propolis Spray several times. "I love it so much because it has propolis in it, which is an amazing immune system booster, and it has a lot of antioxidants and it is so good for a scratchy throat which I sometimes wake up with," the actor explained in her Day-to-Night French Girl Look video with Vogue. Recently, she took her love for the brand to a new level by becoming one of its investors!
If you haven't already incorporated honey into your daily wellness rituals, check out Beekeeper's Naturals unbeelievable products below!
B. Immune Propolis Spray
Bee propolis, the star ingredient, has natural germ fighting properties, 300+ beneficial compounds and antioxidants. Just a few sprays will soothe scratchy throats and boost your immune system especially during flu season. No wonder Lily Collins uses the Propolis Spray on a daily basis. Kylie Jenner has also praised the spray in past Instagram stories, too!
Beekeeper's B. Powered Superfood Honey
Made with a blend of royal jelly, bee pollen, propolis, and raw honey, B.Powered can help give you glowing skin and a healthy immune system.
Hive Pharmacy
Try out the brand's most popular essentials and fight your post-holiday energy slumps! In this set, you'll get 2 mini Propolis sprays, Bee Pollen and B.LXR Brain Food.
-Originally published on Wed., January 13, 2021 at 3:00 a.m. PST.