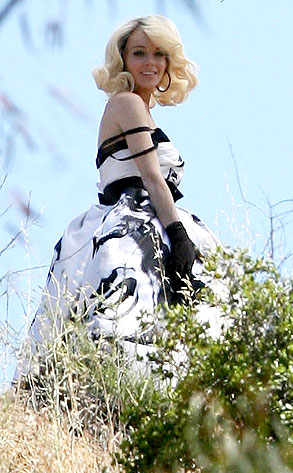 INFphoto.com
Lindsay Lohan just can't stop "paying homage" to Marilyn Monroe, and it's getting to the point where we're concerned.
The minute we saw that Dolce & Gabbana Marilyn printed dress on the Milan runway, we wondered how long it would take for the tragic icon's biggest fan to get her hands on one. Answer: 2 months. Although we thought it would happen on a red carpet, not for a Spanish Vogue shoot, so we only half-win.
Other recent LiLo homages to Monroe have included the "Everyone's a star and deserves the right to twinkle" tattoo (she had to settle for a quote because Megan Fox already took the forearm face one), her leggings line named 6126 after Marilyn's B-day, this blog, and who can forget that one photo shoot from last year?