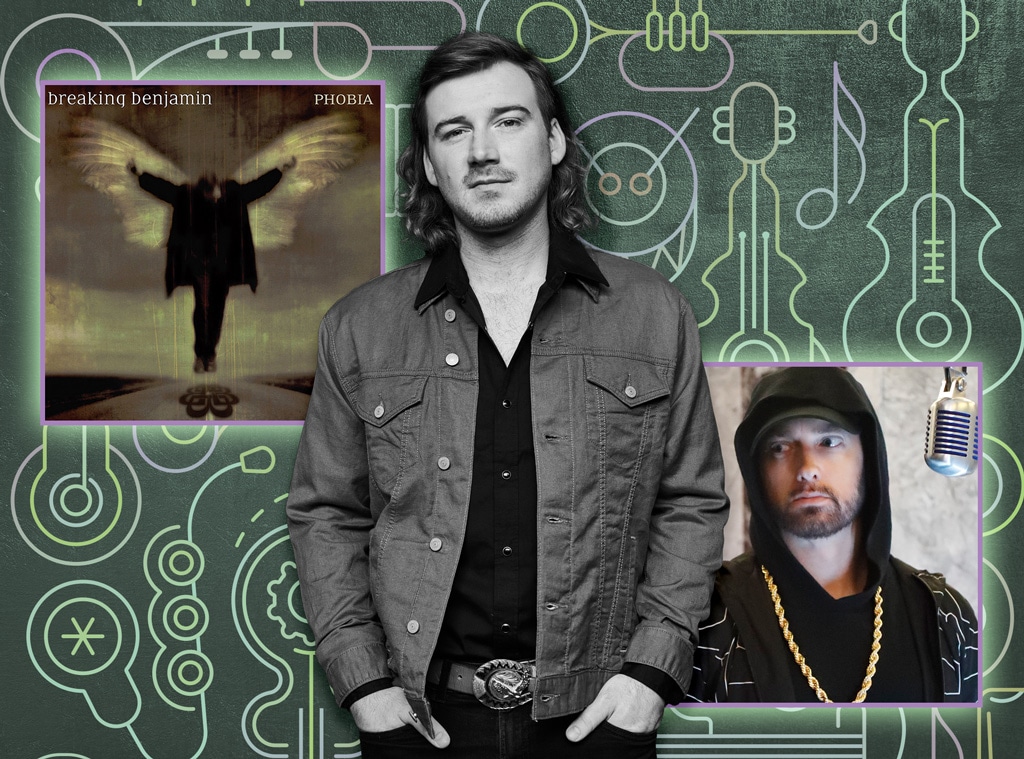 John Shearer; Hollywood Records; Getty Images/ E! Illustration
Morgan Wallen is ready to take 2021 by storm.
After rising to fame as a contestant on The Voice in 2014, the singer-songwriter has become one of the biggest names in the country music scene. His debut 2018 album, If I Know Me, reached No. 1 on the Billboard Top Country Albums chart in 2020 after a record-breaking 114 weeks, while peaking at a very respectable 13 on the overall chart. At the same time, his single "7 Summers" broke Apple Music's record for most first day streams and landed him his first top 10 hit on the Billboard Hot 100, debuting and peaking at No. 6.
And now he kicks off a new year with his most ambitious project year, the 30-track Dangerous: The Double Album.
As Wallen explained in a November statement announcing the LP, "The 'double album' idea started off as just a joke between me and my manager because we had accumulated so many songs over the past couple of years. Then quarantine hit, and we realized it might actually be possible to have enough time to make it happen. I also ended up writing quite a few more songs during the quarantine with some of my good buddies."
"After a few months of production and fine tuning, I am so proud of what we came up with," he continued. "I know 32 (eventual) songs sounds like a lot to digest, but I truly did my best to make sure there's not a song that I would press 'next' on. I also wanted the songs to speak to multiple phases of life and have multiple different sounds based on my influences and based on what I enjoy."
With that in mind, E! News asked Wallen to pull back the curtain on those artists and albums that have influenced him throughout his life and career. From the song that reminds him of childhood to the one he wishes he'd written himself, this is the soundtrack to his life.
The song/album that reminds me of childhood: "The Old Rugged Cross." My dad was the pastor of our church growing up, and we sang lots of hymns. This one just always stood out to me.
The first album I remember buying: Phobia by Breaking Benjamin. I was around 13. I always liked rock music from an early age. This was a fresh spin on that rock music. I also had a little part of me (like I know a lot of us did at that age) that thought I was sad all the time. This music helped me with that.
The song/album people might not expect me to love: A Deeper Understanding by The War on Drugs.
The song/album that makes me think of falling in love: "When You Say Nothing at All" by Keith Whitley. Listen and you'll see.
The song/album I turn to when I'm at my lowest: Second Helping by Lynyrd Skynyrd. Skynyrd always lifts my spirits no matter what. I grew up listening to them, also, and the memories that come with the songs are fond ones.
If I could only hear one song for the rest of my life, it would be: "Take It Easy" by The Eagles. This song completely makes me feel like everything is perfect in the world. No other song quite does it the way that one does.
The song/album that's guaranteed to get me turned all the way up: "'Till I Collapse" by Eminem. With the subject matter and beat in this song, it's impossible not to get turned up. Sometimes you need some extra motivation, this song gives me that.
The song/album I wish I wrote/recorded: "Springsteen" by Eric Church. It's flawlessly written, musically and lyrically. It takes me on a roller coaster of emotions from sadness, to bitterness, to happiness. The moment I heard it, I knew it was a song I wish I would've written. 
My own song that I'll never get tired of performing: "Chasin' You." It was one of the first songs I ever wrote, back when I wasn't even sure if I could write a song. So, to see it have the success it has is just a reminder of how far I've come in not that long a period of time.
My own song that I'll be happy to retire: "Gone Girl." It's the only song of mine I don't like.
The song on my new project that I can't wait for fans to sing along with me on tour: "Sand In My Boots." It's a unique song for me and very piano heavy. I'm gonna add a piano moment into my show with it, which I'm super excited about.
Dangerous: The Double Album is available now.
Watch:
2020 CMT Music Awards: Must-See Fashion