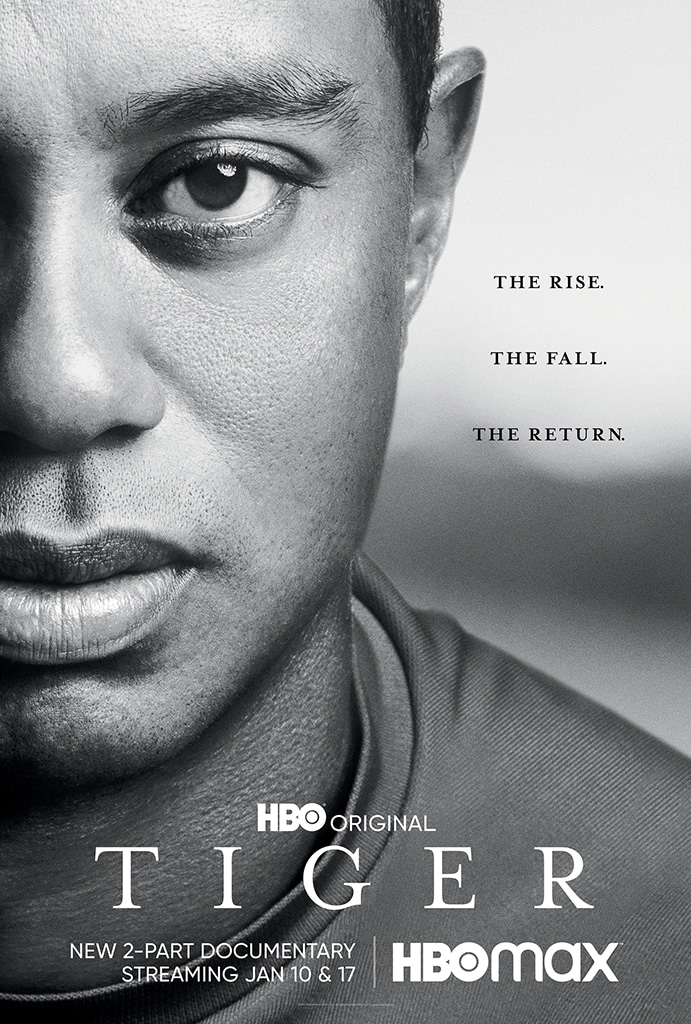 HBO
Few larger-than-life figures in sports have proved as polarizing as Tiger Woods.
But that's only because no one person may have carried as much on his shoulders as the golfer from Cypress, Calif., who was 3 months old when his father first put a club in his hands and at 21 became the youngest-ever and first Black winner of the Masters in 1997. And few were seen through the rosy prism of competitive greatness as Woods was, only to have that view shattered practically overnight by an explosive scandal.
While he was hardly the first superstar athlete to experience a fall from grace—that much-used phrase as apt here as it can be—the revelation of Woods as a mere mortal who made mistakes disappointed those who put him on a pedestal, not just as an unstoppable force in the world of golf, but as a trailblazer who inspired people all over the world with his ability and accomplishments.
Earl Woods had made no secret of the fact that he expected his son to become the greatest golfer of all time, as well as forever change the game that had historically been considered a sport for upper-class white people. 
Per-Anders Pettersson./Corbis via Getty Images
And Woods—whose father was of Black, Chinese and Asian descent while his mother has Thai, Chinese and Dutch origins ("Cablinasian" is how Tiger would describe himself on Oprah in 1997)—signed up for the challenge, saying in an early interview that he could end up being bigger than all-time Majors winner Jack Nicklaus because of the impact he could have in the Black community.
"I may be sort of like a Michael Jordan in basketball," he offered.
Jordan (who later became a friend) has had his controversies, but he at least got to share the court in his playing day with other basketball greats (if not with other GOATs) and big personalities. But when it came to golf, Woods was the sport's unequivocal rock star and its main draw for a decade, ratings rising and falling with his presence, the solitary nature of the game making him an enigmatic team of one.
And he couldn't have felt more solitary than when the reputation that he had built (and yet at the same time was applied to him by default, buoyed by other people's hopes and dreams) was destroyed, calling into question what would arise in its place.
None of his missteps can take away from his greatness, what he accomplished and continues to achieve at still only 45 years old. But the glaring 11-year gap in his career during which he won no Major titles—a drought that had much to do with injuries but also unignorably coincided with his divorce after being revealed as a serial cheater—will always be there.
Kevin C. Cox/Getty Images
Plenty has been written and said about what makes Woods tick, and HBO is digging in anew with the two-part Tiger, which follows his storybook rise, bizarre fall—and his resurgence that finally felt complete when he won the Masters in 2019, 22 years after earning his first title at Augusta.
Starting with security footage of Woods taking a sobriety test in a police station, set against the audio of his late father speaking at a 1996 banquet, a 20-year-old Woods shifting uncomfortably in his seat as Earl heaps expectations on him, the show is obviously set up to mine the contradictions between the man and the star, the hero athlete and the Icarus who could only stay aloft for so long before he came crashing down to earth.
Woods, who is due to release his own memoir this year, didn't participate, but a lot of people did, including his high school girlfriend, Dina Parr, who talks of being dumped most unceremoniously, and Rachel Uchitel, the mistress who became a scapegoat for the athlete's philandering ways and is now seeking to reclaim her story. Here are the biggest revelations from Tiger:
But whatever people may have been expecting from him at any stage of the game, they got all that and more—and there was only one Tiger Woods along the way.
Tiger Part I and Part II are streaming now on HBO Max and On Demand.