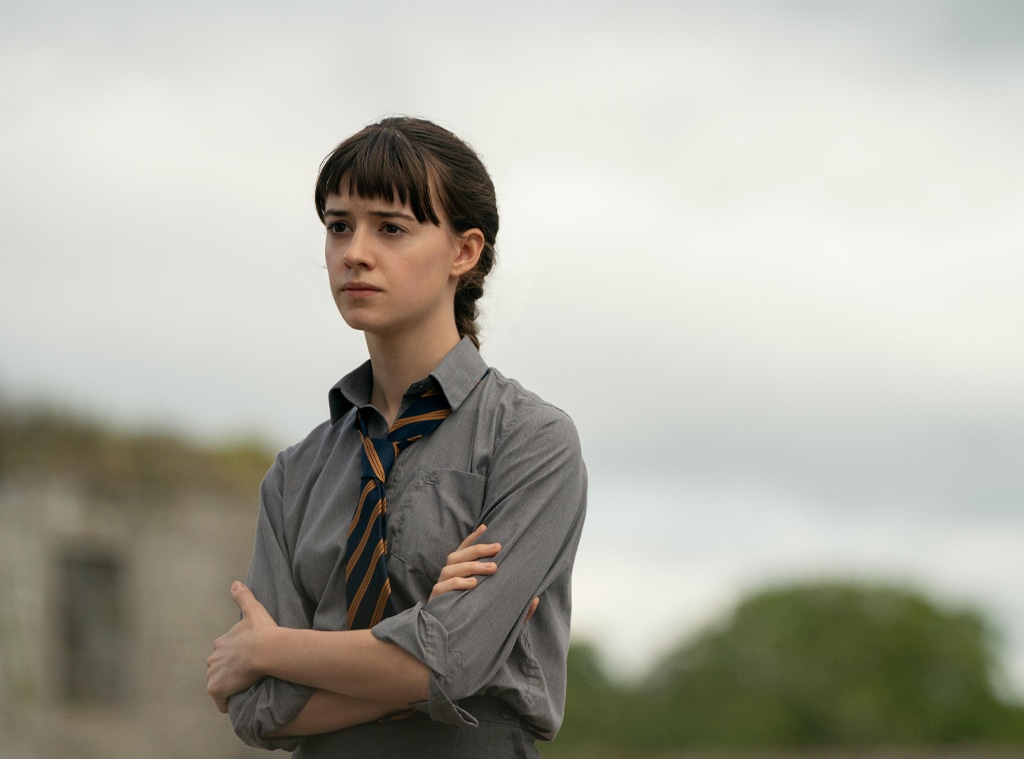 Enda Bowe/Normal People
Much like Connell's chain necklace, Marianne's hair has become a major part of the Normal People fandom.
The Hulu series, which stars Daisy Edgar-Jones and Paul Mescal, became an instant hit when it launched on Hulu in April 2020, with viewers quickly falling for the two leads of the show. In fact, many Normal People fans still can't get enough of the fringe bangs that Daisy's character Marianne rocks in the series.
So, how did she land on that hairstyle? As fate would have it, Daisy cut her bangs after losing out on a different acting job. "It's so funny 'cause my fringe came from a result of like not getting a part I really wanted," the 22-year-old British actress shared on The Tonight Show. "And I was so sad and I was like, 'Right, I'm gonna do a change, I'm just gonna chop off all my front bits of my hair.'"
"And then after that I got a job," she added, "so I do owe a lot of my career to—I seem to only be able to act if you can only see a partial amount of my face."
Daisy went on to note that her bangs were "out of control" when the show was released amid coronavirus lockdown.
"My poor flatmate had the responsibility of cutting it," Daisy told host Jimmy Fallon. "She did a pretty good job but it definitely went through lots of different stages and now I'm trying to grow it out and that's stressful enough as it is."
In July 2020, shortly after Paul Mescal received his first Emmy nomination for the role of Connell on Normal People, the actor spoke to E! News about his iconic chain.
As for where the necklace ended up, Paul revealed, "I gave it to Daisy as a wrap gift."
Watch:
2020 Emmy Nominations for Drama Actor, Actress & Series
Reflecting on the show's success and his major award nod, the 24-year-old star told E! News, "I genuinely really struggle to kind of comprehend—I struggled with the whole thing in terms of feeling incredibly lucky to be working on that job in the first place and then to be in this position now, it just feels ridiculous to be totally honest. I feel like I'm cheesing or something. It just feels really, really exciting."
Watch the video above to watch Daisy talk more about Normal People and her iconic 'do!
(E! and NBC are both part of the NBCUniversal family.)