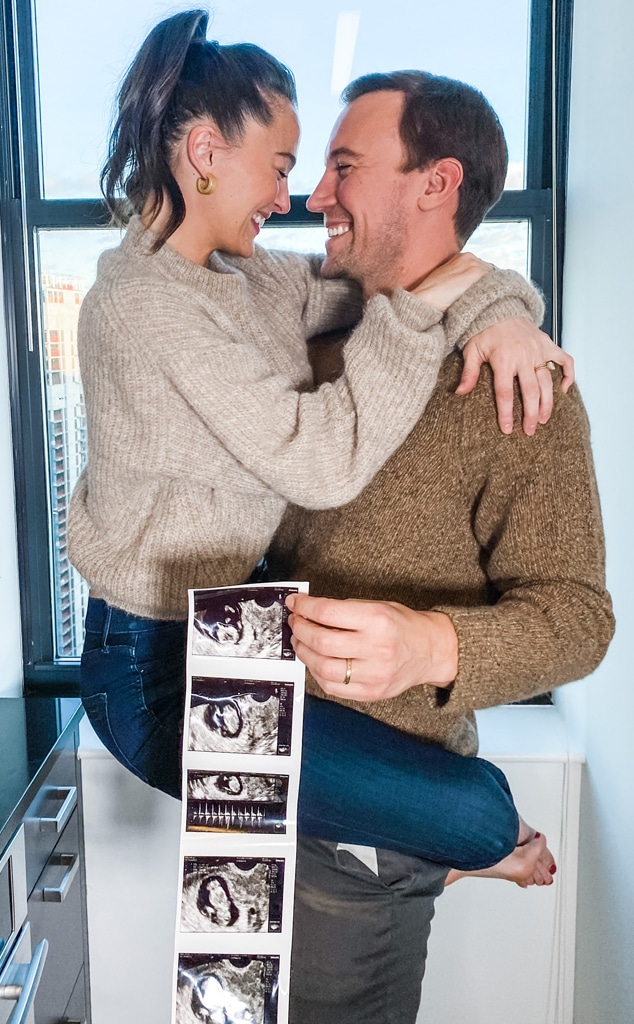 Courtesy of Megan Roup
Celebrity trainer Megan Roup is ready to jump into a new role: motherhood!
The Sculpt Society founder shared her pregnancy announcement exclusively with E! News, saying she and her husband, Morgan Humphrey, are "both so thrilled and a little nervous for this next chapter."
"I know that I will love this little being more than anything," the fitness guru adds. "To bring life into this world is truly a gift and becoming a mom will be life-changing. I am excited to see the world through this baby's eyes."
At this time, Megan and her husband have yet to reveal the sex of their little one. But no matter the gender, the soon-to-be mom says she can't wait to "learn as much from him/her as he/she learns from me."
This will be the couple's first baby together, which comes almost three months after they tied the knot in October.
While it's unclear when Megan found out about her pregnancy, she recalled the special moment she learned of the news.
"Morgan was on a work trip, but I had a feeling I was pregnant," she explains. "I told him I would wait for him to get back to take the test, but I started to get really excited and had to know."
Watch:
Necessary Realness: It's a Celebrity Baby Boom!
"It was super tough to wait the 24 hours for Morgan to get back," she confesses, "but it was worth the wait to see his response."
According to Megan, her husband "was emotional, shocked and extremely excited" when he found out he was going to be a dad.
The pair's baby news comes after they recently celebrated a major milestone: marriage! In October 2020, the duo exchanged their vows in Santa Barbara, Calif. However, like many couples, the two had to change their wedding plans due to the ongoing coronavirus pandemic.
"We had many venues cancel last minute, limit the size, and I was told by one that I would have to wear a mask down the aisle, even with an outdoor, socially distanced ceremony of 14," Megan previously told Brides magazine. "However, this made us lean into what mattered and be thankful that we are even able to do this at all."
The influencer explained that while she and her husband were hit with "many issues," they made the most of their experience.
"We ran into so many issues and limitations trying to organize this small event due to COVID-19, that small details and a theme/vision felt secondary," Megan and Morgan both shared. "We focused on the bigger picture, which was to have our immediate family there and be in a place that was special to us and allowed us to be married in 2020."
When it came time to say "I Do," the social media star said they both wrote their own vows.
"We both wrote our own vows expressing our promises to each other," Megan shared, adding, "Morgan's made me laugh, mine made him cry and it made the ceremony that much more special."
Celebrating their status as a married couple, Morgan gushed over his wife with a heartwarming Instagram post.
"One month late to posting about my micro wedding or one day early to posting about my one month anniversary," he quipped in November. "Hard to tell really, but going with the glass half-full vibe in announcing a very happy one month of marriage to my exquisite bride @meganroup. Full of joy and love."
Now, a baby makes three!