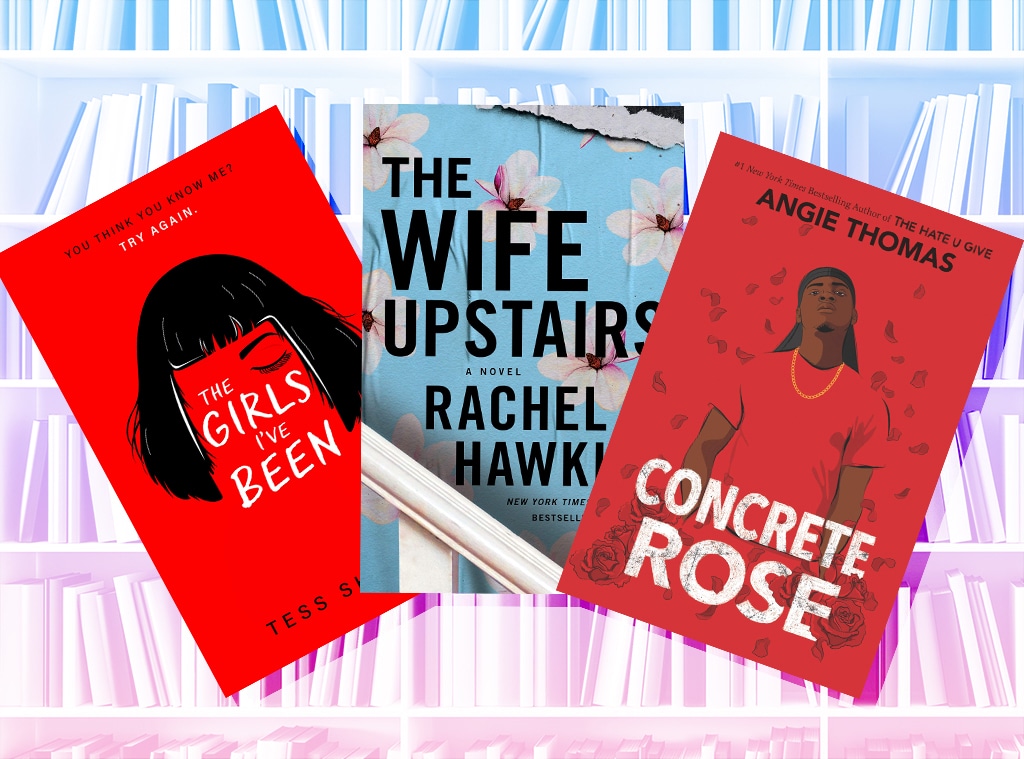 G.P. Putnam's Sons Books for Young Readers, St. Martin's Press, Balzer + Bray, E! Illustration
We love these products, and we hope you do too. E! has affiliate relationships, so we may get a small share of the revenue from your purchases. Items are sold by the retailer, not E!
New year, new you, new reading list.
What better way to start off 2021 than by getting a head start on that resolution you undoubtedly made to read more? Fortunately for those of us who vowed to turn more book pages than calendar ones, January has 17 new releases that are sure to capture your attention. 
This month sees captivating thrillers—including a contemporary take on a gothic classic—and charming rom-coms, like an '80s-set retelling of Jane Austen's most famous novel. Whatever you're into, we've got a recommendation for you. 
May we suggest cozying up with a hot cocoa and fuzzy blanket after shopping physical copies of our picks or pulling them up on Kindle Unlimited (or a free trial of Audible)? 
Here are our top picks for the best reads to kick off your 2021 reading journey...
The Push by Ashley Audrain
Good Morning America's first book club pick of the new year is a haunting tale about the expectations and reality of motherhood. Audrain's stunning debut novel centers on a woman desperate to provide her child with the upbringing she yearned for. But what happens when her child proves to be distant, anti-social and dangerous, though no one else seems to see these troubling tendencies? You end up staying up all night to finish The Push, that's what. (available now)
One of the Good Ones by Maika Moulite and Maritza Moulite
The sister-writer duo pose one major question when a teen social activist is killed under mysterious circumstanced after a social justice rally: Isn't being human enough? In this gripping tale, her family begins to question her legacy and the way she is remembered by others after she is immortalized as another victim in the fight against police brutality. Using The Negro Motorist Green Book as a guide, two of the victim's sisters set out to honor their fallen family member by going on a life-altering road trip. (available now)
Concrete Rose by Angie Thomas
Set 17 years prior to the events of The Hate U Give, Thomas returns to Garden Heights in this highly anticipated prequel that shines a light on the past of one of YA's most beloved father figures. In this engrossing exploration of Black boyhood and the transition into manhood, readers will follow a 17-year-old Maverick Carter, the son of a former gang legend, as he attempts to chart a new path while balancing school and fatherhood. (available Jan. 12)
Siri, Who Am I? by Sam Tschida
A fan of HBO Max's The Flight Attendant? Tschida's debut novel about a millennial influencer with short-term amnesia using her Instagram account to figure out her identity is definitely for you. Her feed may be pretty, but Mia discovers the truth about her life could be ugly in this sharp rom-com. (available Jan. 12)
You Have a Match by Emma Lord
Not all love stories have to be romantic ones and Lord's latest YA treat focuses on the unique bond only sisters can share, even if they don't meet until they are teenagers. That's what happens when awkward and accident-prone Abby signs up for a DNA service and discovers she has an older sibling, who just happens to be Instagram star Savannah Tully. Prepare for summer camp, secrets and sisterhood. (available Jan. 12)
Black Buck by Mateo Askaripour
Askaripour satirizes and skewers the concept of the American Dream in his razor-sharp debut, which tells the story of a lone Black salesman at a mysterious, cult-like, and wildly successful startup. After enduring a grueling initiation process, Darren transforms into Buck, a ruthless suit who becomes a stranger to his family and friends. But when a tragedy hits close to home, he sets out to help young people of color infiltrate corporate America. (available Jan. 12)
People Like Her by Ellory Lloyd
January seems to be the month for exploring the darker nature of influencer culture as Lloyd's suspenseful debut tracks the rise, fall and dangerous fandom of an Instamum, Emmy Jackson a.k.a. @the_mamabare. While her follower count continues to grow, Emmy's marriage is crumbling, all while a dangerously obsessed follower watches from the screen and shadows. (available Jan. 12)
Our Italian Summer by Jennifer Probst
Three generations of the Ferrari family women come together for a summer trip in picturesque Italy to heal themselves and each other. The bestselling author navigates the beautiful, and sometimes brutal, bond between mothers and daughters while also satisfying your wanderlust with the delicious details of their adventures. (available Jan. 12)
The Divines by Ellie Eaton
Is there anything more terrifying than a group of teenage girls? How about a secluded boarding school filled with them, like in Eaton's gripping debut. Jumping between modern-day Los Angeles and 1990s Britain, The Divines examines the destructive bonds and lingering traumas that were formed at the elite St John the Divine. And when one former student returns after 15 years, the secrets of the past prove we never really leave high school. (available Jan. 19)
The Girls I've Been by Tess Sharpe
One of the most anticipated books of the new year, Sharpe's twist-and tough-subject filled story centers on the daughter of a con artist who ends up being a hostage in a bank heist. While the main character has been out of the conning game for five years, Nora O'Malley proves to be one of YA's most compelling and complicated leads in some time. (available Jan. 26)
Friends Like Us by Sarah Mackenzie
It's never too early for a beach read, so why not transport yourself to a world filled with sand and sun for a few hours in the second installment of Mackenzie's Cranberry Cove series? Following a health scare, BFFs Bree and Jill commit to crossing items off of their anti-bucket list, leading to a summer of steamy affairs, secrets and second chances. (available Jan. 26)
Bride of the Sea by Eman Quotah
In her unforgettable debut, Quotah unpacks major topics like divided cultures, immigration, family and identity through the lens of Hanadi. As a young child, she was abducted by her mother, leaving her desperate father to search for her for years. When Hanadi come of age, she is torn between her parents and two countries, the world she grew up in in Cleveland and her father's family in Saudi Arabia. (available Jan. 26)
Faye, Faraway Helen Fisher
Perfect for fans of The Time Traveler's Wife and Outlander, Fisher's debut follows Faye, a grown woman who time-travels to 1977 to reunite with the mother she lost when she was a child. As the two women grow close, Faye must decide if she should share her secret or even return to her own daughter in this spellbinding tale of loss, faith and family. (available Jan. 26)