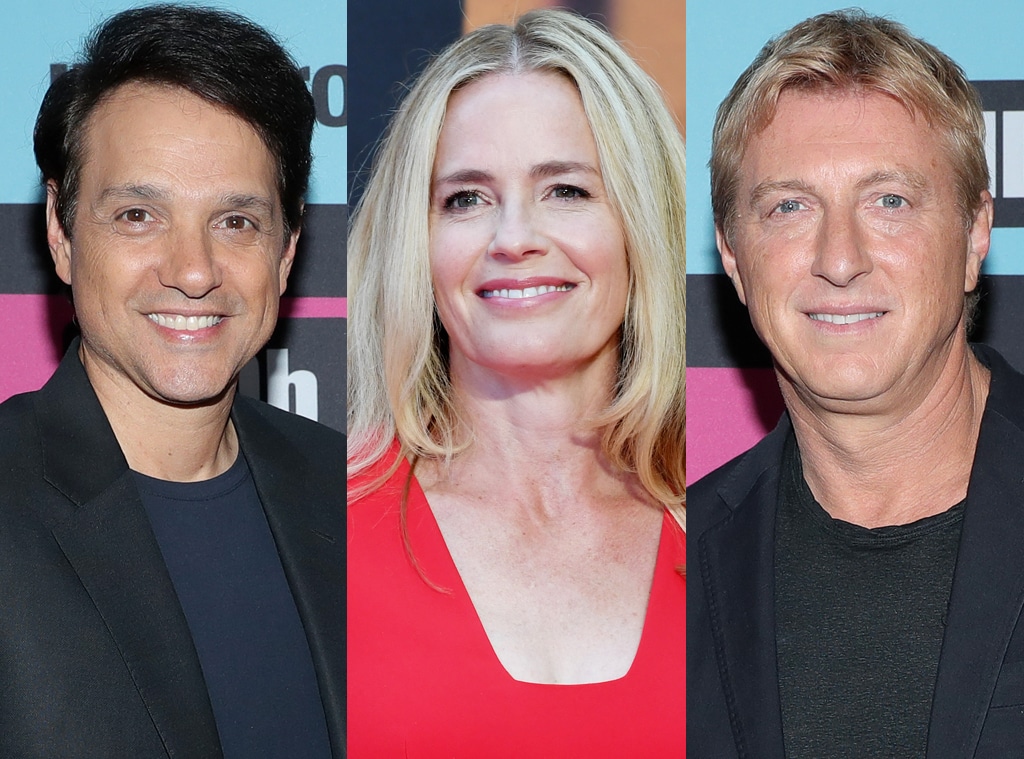 Getty Images
Well, Cobra Kai finally featured the ultimate surprise reunion and it was hash brown awesome!
Elisabeth Shue finally reprised her Karate Kid role of Ali Mills on season 3 of the sequel series to the '80s franchise, which premiered on Netflix on New Year's Day. Spoiler alert: Following last season's cliffhanger, her character answers her former love interest Johnny Lawrence's (William Zabka) Facebook message and the two reunite and later visit an old haunt, where they naturally run into the third corner of their past love triangle and his current frenemy, Daniel LaRusso (Ralph Macchio). Cue the drama. Cue the nostalgia!
Shue, 57, talked to Entertainment Weekly about reuniting with her co-stars onscreen after 35 years.
"One thing that was just so incredible was to realize that Billy and I, in the original Karate Kid, we never ever spoke to each other except to punch each other, to throw a radio into the sand," she said. "We never got to have a [normal] scene. So I loved getting a chance to do that. In [Cobra Kai], we talked and communicated and acted together, and I loved that. So that was really surprising and wonderful to almost start a new relationship really."
In the third season, Johnny is in the early stages of a relationship with another woman, making the possibility of a rekindled romance with Ali pretty problematic.
"I would have been up for a kiss. Are you kidding me? I'm bummed! They could have had a kiss!" Shue said about her and Zabka's characters. "I think it was in deference to wanting Johnny to feel that he could go back to his relationship, which meant so much to him, without feeling that he had anything to feel conflicted about. I'm sure that was the reason. Other than that, I would've gone right in there and gotten a great one."
Zabka, 55, told USA Today that he "loved" Shue's return and was "so excited about the idea of her coming back."
"They were great friends, and that'll be there forever," he said about Ali and Johnny. "And I love that she was big enough just to cut Johnny loose and say, 'Somebody else is on your mind,' and for him to say, 'Yeah.'"
Shue told EW that a lot of people have asked her if she was going to appear on Cobra Kai, and that it was Dan Trachtenberg, who directed her in the pilot for Amazon Prime Video's The Boys, that convinced her to reprise her role, telling her it would be "devastating" for the fans and for the memory of The Karate Kid" if she did not. Shue also said she got emotional filming her final Cobra Kai scenes.
"The two scenes saying goodbye to the guys—the first one I filmed was with Ralph, and there was no part of me that felt, 'Oh, this is an emotional scene, saying goodbye to Ralph,'" she said. "And yet it just overcame me, and I was almost embarrassed that it did."
She continued, "I was reflecting on it afterwards, and I was trying to figure out like, where did that come from? And I feel like in Ali, and maybe in me, it was this sense of saying goodbye to your childhood."
Watch:
"Today" Hosts Slay in Their '80s-Themed Halloween Costumes