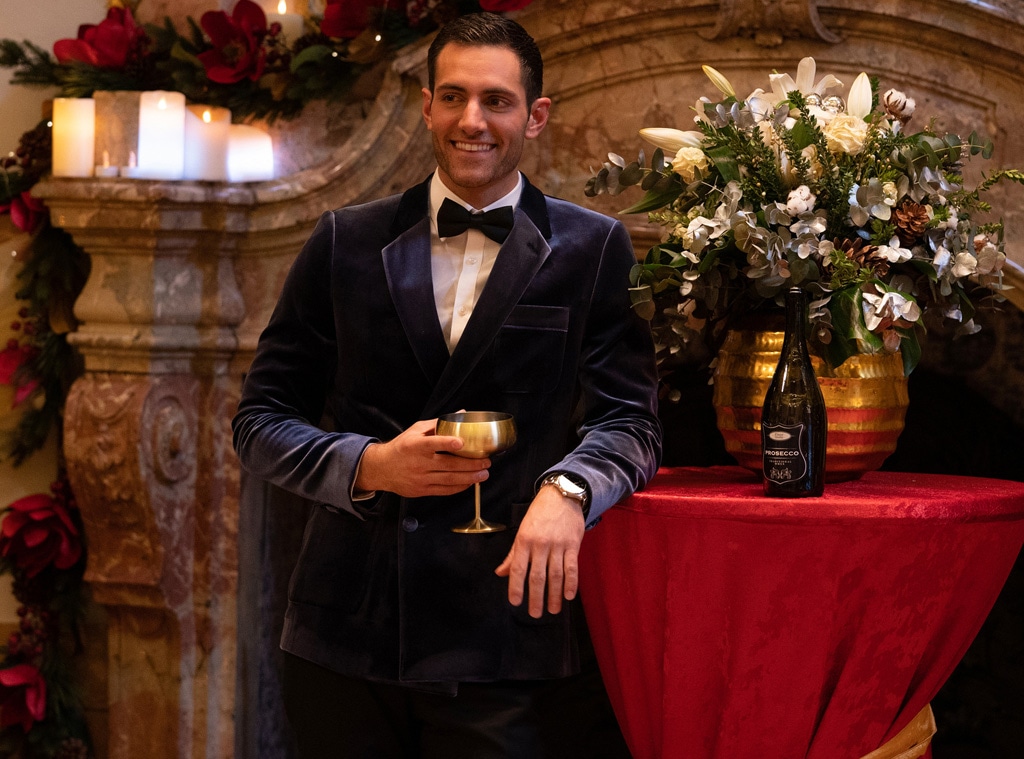 HBO Max
Think of it as your favorite Hallmark movie come to life. Set in the scenic, snow-covered mountains of Austria, HBO Max's 12 Dates of Christmas follows three leads—Chad Savage, Christian Faith Fernandez and Garrett Marcantel—as they set out to find true love. Or, at least a special someone to bring home for the holidays.
And while Faith and Chad's endings on the show were pure TV magic, Garrett's happily ever after looked a bit different. Presented with six suitors, the real estate developer, who came out as gay five years ago, chose...no one. Now, as fans (and his dates) question his decision, the 29-year-old looks back on his proverbial journey and why he regrets nothing. 
Pre-pandemic, I was just living my regular life in NYC when I got a DM request on Instagram. The message was about a Christmas dating show and I thought it sounded like a scam. I mean, a Christmas dating show? C'mon. But, shortly after, I received a follow-up email from the same person and they seemed pretty serious about talking this through. I figured, "OK, I'll give them 10 minutes and hear them out." Little did I know how those 10 minutes would change my life…
 
Heading into 12 Dates of Christmas, I didn't have any expectations. I had an open mind and thought of it as the beginning of an adventure. It was such a random opportunity that I figured maybe something really special would unfold. I mean, I love meeting new people and I'd get to live in a castle. Plus, when I heard the dress code was suits and tuxedos, I thought, why the hell not?
As viewers saw, I made connections on the show, but ultimately, I didn't find what I felt would bring me happiness long term. For me, sending Jose home was the moment I knew my journey would not end like the other leads. (Yes, we knew each other before, but we had only exchanged Instagram handles at NYC's City of Gods Halloween party. I was truly surprised to see him on the show.)
With Jose, we had a strong initial connection, but I saw that after a few stressful occurrences our communication wasn't developing in a way that gave me assurance he would understand my future concerns, even beyond the castle. It's nothing against him. I've just dated enough to see what I needed to see.
But I had another idea for my ending. I sat with production to discuss the idea of bringing all my dates home to my small, coastal Louisiana town for Christmas. I wanted to show viewers something they hadn't seen from the castle: The off-camera brotherhood of gays that had formed. After all, I realized that was the bigger story to be shared, one of friendship and commonality. We were diving into conversations on gay rejection, pursuing what we can't have and that fight for your personal truth.
During that episode, watching my mom accept me as an out gay man and how she responded to these men sharing their own stories was beautiful and historic. A gay narrative like that had hardly ever been captured on reality TV or by mainstream media before. I know for my mom, she discovered that her journey and struggle with acceptance was more common than she originally thought. And now, that moment has helped many who have yet to share their truth with their families—and has helped those families who have yet to accept that truth. I've heard it firsthand through the empowering messages I've gotten telling me how special it was to see that play out on TV.
But not everyone has had such a positive response. After all, social media is for sharing all opinions, good and bad. There have been a lot of questions regarding my decisions and, you know what, those questions are valid. I wish I could share all the conversations I had that didn't make it to air, but that's unfortunately not a reality. Regardless of how I feel about the edit, we all face personal obstacles and it's up to us to make decisions and deal with them. Until you're in that position, you don't know how you would react.
Personally, I don't have any regrets. And today, the doors are romantically closed for all my dates. Because, like my gut knew all along, none of us were a perfect match. But, despite the heated rounds of questioning you saw on the 12 Dates Unwrapped reunion, we have all moved on to a place of brotherhood.
So yes, I didn't find love but perhaps I found something better: An understanding that risks are important for growing. Remember, this all happened before COVID changed our lives. I didn't know everything would be so different once I got back to NYC. I learned life is short and that sometimes we don't know what's on the path ahead. All we can do is fight for what is right for us. People may be offended along the way, but if you aren't truly happy, how will you ever give that happiness to anyone else?
Watch:
TV Shows That Got Us Through 2020
Honestly, it could have been any gay man picked to be the lead. I'm just the random New Yorker who said yes—and it all lined up from there. I'm glad the world is catching up and realizing that love goes way beyond sexual orientation. I hope to see more of that on TV in 2021...and well after. As for me making another amateur attempt at finding love on TV? Well, I can't answer that right now.
But I will leave you with some tea: There was a lot going on behind the scenes at the castle. I heard Zack and Corey may have had a brief romantic moment once they left. But you'll have to ask them for the details...
12 Dates of Christmas, which has been renewed for a second season, is now streaming on HBO Max.