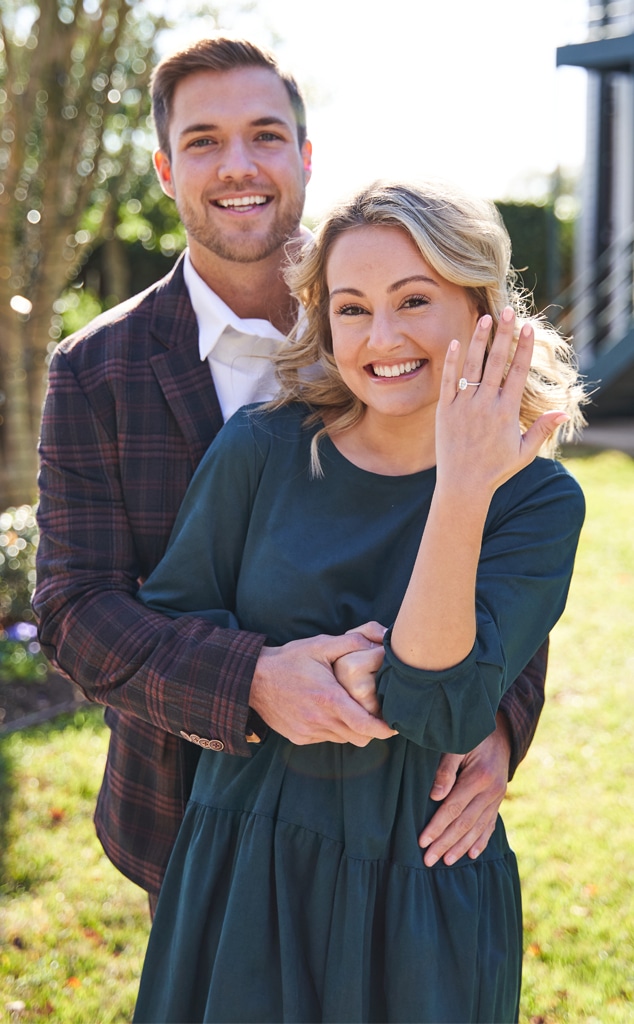 Bailey Hart / @baileyhartcreative
Bachelor Nation's Jordan Kimball found paradise with his new fiancée Christina Creedon. 
The model took to Instagram to share the good news with his followers. He also posted a collage of romantic portraits of the engagement, which were taken by photographer Bailey Hart.
"I would bend my knee a million times to stand by you. This ring represents how much I love and listen to you, #jamesallenpartner I selected every detail while smiling and nervously envisioning this moment," he shared. "I can't express how lucky I am and just how deeply I've fallen in love with you Christina. I could cry thinking about how happy you make me. I promise to love, nurture and to protect you as long as my heart beats here on earth."
He closed, "I hope that even beyond this life you'll remember this love. I can't imagine life without you anymore. Your voice, smile and presence are forged into my picture of the future forever. You're absolutely precious and I want to bring all of your dreams to life."
He added that the "process that @jamesallenrings offers combined my excitement with my creativity and allowed me to design an engagement ring of thoughtfulness and great detail from the band to the diamond," also sharing that he included an inscription "Miss Kimball" on the band which made him "burst with joy." 
The reality TV alum concluded the post with a resounding "She said YES!!!!!"
Bailey Hart / @baileyhartcreative
Jordan and Christina started dating in 2019 after meeting at LAX, the 28 year old told Us Weekly.
"I helped her with her luggage. It was about twice the size of her," he recalled to the outlet. "And so, from there, we had a few dates. We just got really close really quick. I think it was literally the moment I met her —something in her eyes—I think I knew then. And it's been great ever since. We've both really been there for each other, especially throughout this year and how crazy it's been."
It wasn't too long ago that Jordan, who appeared on Becca Kufrin's season of The Bachelorette, was dealing with heartbreak. After falling in love and popping the question to Jenna Cooper on Bachelor in Paradise in 2018, Jordan called off the pair's engagement in the wake of cheating allegations that stemmed from text messages to another man found on Jenna's phone. 
Jenna, however, claimed the texts did not come from her. Later, her rep released a statement saying that "comprehensive forensic examination of Jenna's devices by an independent third-party expert has definitively confirmed none of the text messages in question came from Jenna's phone."
Jordan, however, did not believe Jenna. 
Watch:
Inside the "Bachelor" Engagement Boom
"I know my Jenna, and I read those texts and in my heart, I know it's her," he told People. "She was saying she didn't do it, but hinting towards the fact that there's a possibility that it happened. In all reality, I don't expect her to own it."
Despite his rocky romantic past, there's nothing but smiles and excitement for Jordan's future with Christina.