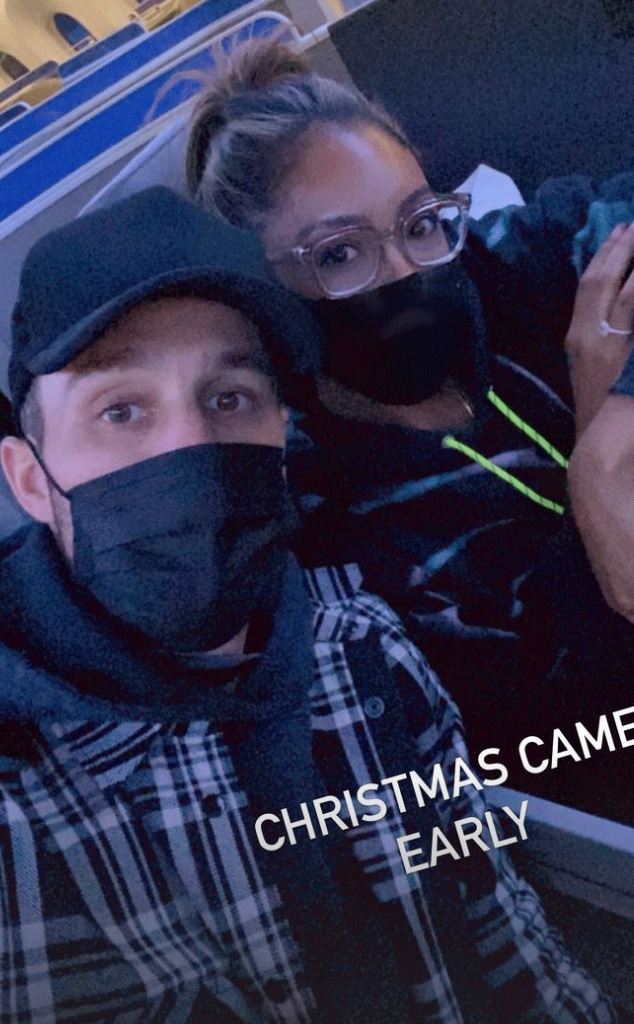 Instagram
Tayshia Adams and Zac Clark are celebrating Christmas in New York. 
The Bachelorette couple took to Instagram on Thursday, Dec. 24 to post a few pictures of themselves traveling to the Big Apple. "Christmas came early," Zac captioned a sweet snapshot of the duo onboard an airplane.
The two certainly have a lot to celebrate. Earlier this week, fans watched Tayshia accept a proposal from Zac during The Bachelorette season finale. After recounting their romance to several media outlets, the reality stars noted they're ready for a little relaxation. 
"We are sleep-deprived to the max," Tayshia told her followers on Wednesday, Dec. 23. "We have not slept since yesterday's finale. We started doing press at 2:00 AM today, and I have to pack to leave for New York at 5:00 AM, and I'm procrastinating by being on my Stories."
And when she got on the plane, she wrote, "Honestly, I'm not even sure how I got here. LOL. Team no sleep night 2. Happy Christmas Eve!"
Tayshia already got a taste of Zac's life on the East coast during their hometown dates. His romantic proposal also ended with the two riding off in a pretend taxi. 
Tayshia, who is from California, talked about the possibility of living bicoastal during an interview with Good Morning America. "We're actually going to be celebrating Christmas in New York, which is going to be amazing," she said. "But yeah, I'm going to be bicoastal. I'll have my place here, but I'm looking forward to spending some time in New York with him and just getting used to being bicoastal."
Watch:
Tayshia & Zac's Plans for Life After "The Bachelorette"
While Tayshia has handed out her final rose, Matt James' journey to find love is just beginning. Fans can watch his season of The Bachelor starting Monday, Jan. 4 at 8:00 p.m. EST.