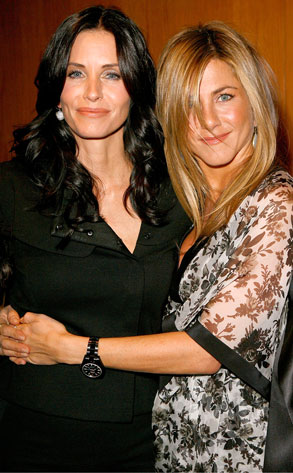 Jeff Vespa/Getty Images
• You call that loyalty, Courteney Cox? What kind of Friend would gab it up with bestie Jennifer Aniston's hideous (just kidding) ex-husband?
• Shhh! Brad Pitt still keeps tons of secrets from Angelina Jolie, including all that money he's hiding under the mattress to spend on his art collection. Don't tell! (Oh boy, guess the cat's out of the bag now.)
• After all the smoke and mirrors issues on her Circus tour, Britney Spears is supposedly considering putting down some serious cash on a special oxygen chamber.
• Kevin Bacon got all "Mustang Sally" with a bunch of high schoolers. We're not sure what that means, either, but good for him.
• This is what Demi Lovato looks like when someone gives her a Chuck Norris Pez dispenser. We knew you were trying to imagine it.
• Dear Justin Gaston: You might want to lay off the Twitter. Posts like these (here and here) are only going to raise the gossip peeps' eyebrows, which is only going to get you in trouble with your girlfriend Miley Cyrus. We're here to help. Love, Rise 'n' Shine
Whoa! Did you see all the stars who turned out for the Met Costume Institute Gala last night? Madonna, Rachel Bilson, Anne Hathaway…they're all in the gallery!