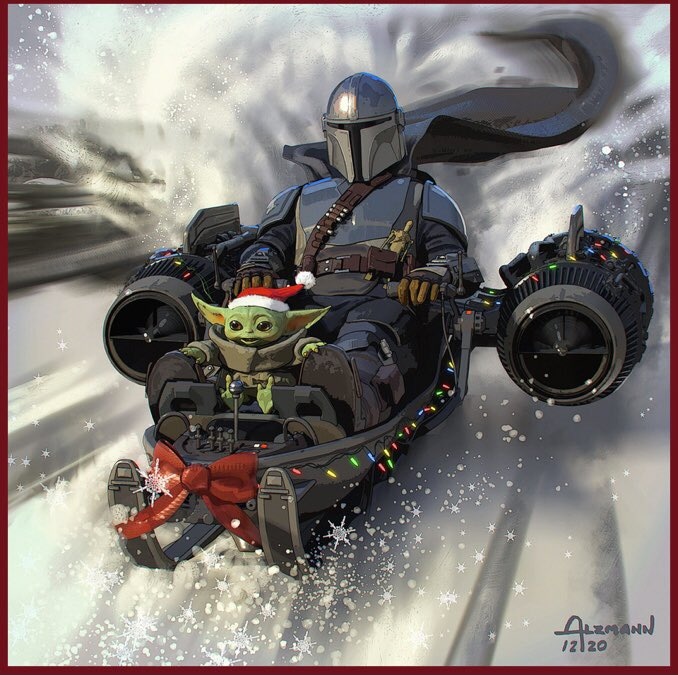 Christian Alzmann/Lucasfilm
Happy holidays from The Mandalorian and the cutest baby in the galaxy!
Lucasfilm, the company behind Star Wars and the popular Disney+ spinoff series, released its annual holiday card on Friday, Dec. 18, which depicts masked hero Din Djarin, played by Pedro Pascal on the show, riding a Christmas-like podracer with Grogu, formerly known as The Child, and most commonly nicknamed "Baby Yoda," sitting in the front seat while wearing a Santa hat.
"Lucasfilm's holiday card this year," tweeted Lucasfilm rep Chris Argyropoulos. "Wishing you all a happy & healthy 2021. #ThisIsTheWay
The picture, created by Lucasfilm Concept Design Supervisor Christian Alzmann, was posted on Friday, Dec. 18, the day the season two finale of The Mandalorian was released on Disney+. Spoiler Alert: The episode featured a surprise cameo by the most popular Star Wars character, introduced new villains, and answered a burning question about Grogu's mysterious background. It also featured an emotional farewell.
"Seen anything good on TV lately?" Mark Hamill tweeted on Friday, drawing more than 427,000 likes.
At a virtual Investor Day presentation earlier this month, Disney announced that 10 Star Wars series are in development. Two spinoffs of The Mandalorian, Ahsoka and Rangers of the New Republic, will start streaming ahead of Christmas 2021.
During a Mandalorian season two finale's post-credits scene, it was revealed that The Book of Boba Fett, is set to arrive next December. The company has not clarified whether this is the title of the upcoming confirmed third season of The Mandalorian or another Star Wars spinoff series.
Two of the new Star Wars spinoffs, one based on Obi-Wan Kenobi and the Star Wars: Rogue One prequel Andor, are currently set to premiere on Disney+ 2022. Disney and Lucasfilm have also confirmed the new Star Wars TV projects The Acolyte, Lando, A Droid Story, Star Wars: Visions and the animated Clone Wars spinoff The Bad Batch.
Watch:
Mark Hamill Remembers Carrie Fisher at "Star Wars" Premiere