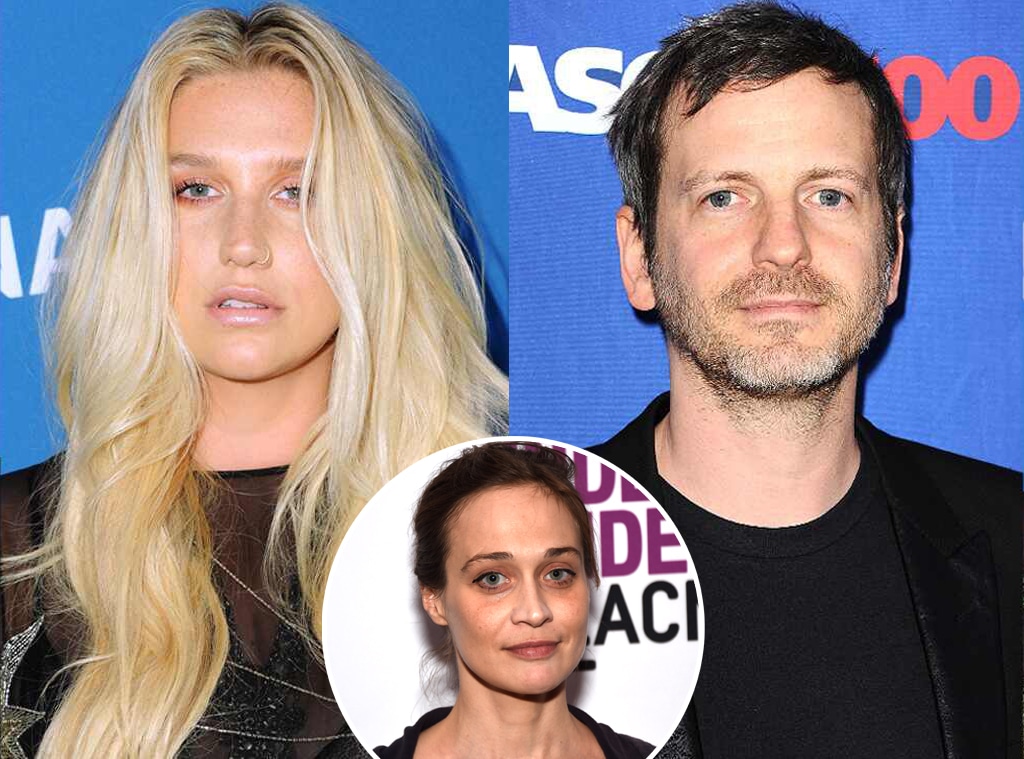 Jason LaVeris/FilmMagic, Jon Kopaloff/FilmMagic; Amanda Edwards/WireImage
Singer Fiona Apple has criticized the Recording Academy for giving a 2021 Grammy nomination to Dr. Luke, who is involved in a defamation legal battle against Kesha, who had accused him of sexual misconduct—claims he denied.
The organization has not responded to Fiona's comments, which she made in an interview with The Guardian newspaper that was published on Friday, Dec. 18, nor has the music producer (real name Lukasz Gottwald) or the "Tik Tok" singer.
Both Fiona, a rape survivor, and Dr. Luke are nominated for 2021 Grammys. Under the pseudonym Tyson Trax, he is co-nominated for Record of the Year as his role as a producer on Doja Cat's single "Say So." If he receives the award, it will mark his first Grammy win.
"I'm bringing up the Grammys and that's really something that I shouldn't be doing, but really, Dr Luke is nominated?" Fiona asked The Guardian. "They had [Kesha] up there singing 'Praying' and now they're gonna go: 'Oh but it's Tyson Trax!'"
Kesha, 33, performed the Grammy-nominated single, her first in four years and written amid her legal battle with Dr. Luke, at the 2018 Grammys. The song deals with depression and a day before the ceremony, she tweeted that writing the track felt like an "emotional raw victory for myself, one step closer to healing."
Watch:
Kesha - 2018 Grammys E! Glambot
Fiona previously won a Grammy for Best Female Rock Vocal Performance in 1998 for her hit single "Criminal." She is nominated for three 2021 Grammys, including Best Rock Performance. This year, the category features all female nominees.
"I immediately had this feeling: I wish I was in a room with these ladies and we could celebrate," Fiona told The Guardian. "I felt really nice for a second. Every week I send a selfie to Simon, who runs the Tumblr site on me. I thought, for that week's selfie, I'm gonna make a T-shirt with everybody's names in little hearts."
She continued, "But then I threw it away. I felt like this is exactly what they want me to do: It's better now! I got nominated! And it's all women this year and the Grammys are great! I keep going back to them putting Kesha on stage like, 'We believe you'—and I believe her—then two years later, f--king Tyson Trax. Not to go back to that word, but it's bulls--t."
Fiona said that she imagines what she would do if she won the Grammy, saying, "My vision was that I would just get up there with a sledgehammer and I wouldn't say anything, I would take the Grammy and smash it into enough pieces to share and I would invite all the ladies up. My second thought was I wonder if I can get all these ladies to boycott this s--t because of Dr Luke."
In 2014, Kesha sued the producer for alleged sexual assault and battery and sought to invalidate their recording contract. Dr. Luke, 47, denied her claims and filed a $40 million defamation countersuit, alleging that the singer made up her accusations just to get out of her contract with him. In 2016, she dropped her sexual misconduct case.