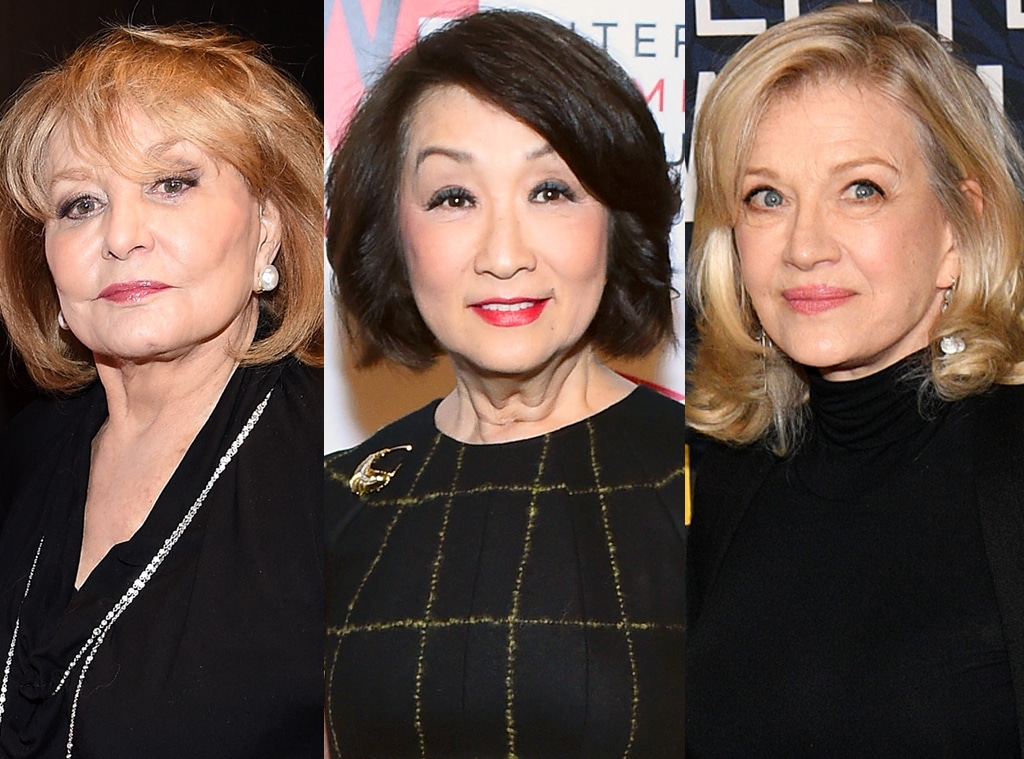 Dimitrios Kambouris/Getty Images for Hollywood Reporter, Ilya S. Savenok/Getty Images for IWMF, Dia Dipasupil/Getty Images
Connie Chung did not have an easy time having to compete with Barbara Walters and Diane Sawyer more than 20 years ago.
On an episode of Los Angeles Magazine's The Originals podcast, posted on Thursday, Dec. 17, Chung, 74, spilled the tea about a past rivalry with her fellow news anchors at ABC News' 20/20. Chung worked as a reporter and co-host for the program between 1998 and 2000.
"When I went to ABC News I joined with both Barbara Walters and Diane Sawyer there and I thought, 'Oh, this is gonna be great. It'll be three women who get along,'" Chung said on the podcast. "I was so naïve and stupid."
"When I got to ABC, both Dianne and Barbara were in the same sort of arena of trying to get these big interviews," she continued. "So when I tried to go after them, I was told I could not, that Barbara and Dianne were the only ones who could compete for the interview, and I had to stand down. I said, 'Really?'"
Interviewer Andrew Goldman compared trying to compete with Walters and Sawyer to going into a "shark tank," to which Chung said, "I was always playing a game of Whack-a-Mole. I popped my head up and one of them would have a hammer and go whack, and put me down back in my little hole."
When asked how it feels to get "knee-capped" professionally by Walters and Sawyer, Chung replied, "It's not unlike what Tonya Harding did to Nancy Kerrigan."
In response to Chung's comments, Walters' rep told TMZ, "Barbara paved the way for every female journalist that came after her. She has been a tremendous supporter for all women." Sawyer and ABC have not commented.
Watch:
Barbara Walters Reflects on Final Episode
After leaving ABC News, Chung went on to host her own show on CNN called Connie Chung Tonight. It was canceled after one year.
In 2006, she and husband Maury Povich, host of the long-running daytime talk show Maury, began hosting the MSNBC show Weekends with Maury and Connie. The show lasted six months. On their last episode, she wore a gown, laid on a grand piano and performed a purposely off-key parody of the song "Thanks for the Memories."
"You know what, there's a crazy person on one my shoulders and a good, solid citizen on the other," Chung said on the podcast. "And throughout my career, the good, solid citizen was always telling me, 'Don't do it. Whatever you're thinking, don't do it!' And the crazy one, on the other shoulder, was saying, 'Eh, come on! What the heck! You wanna have fun? You wanna do something a little different? Go ahead! What the heck!' And the other one would go, 'No! You're going to ruin your career!'"
She added, "So the...so-called good guy always won out. Always. Once I left the network and took the straightjacket off, I went a little nuts...it was like, they can't make me do this, they can't make me do that, they can't say, you've got to go cover Tonya Harding or O.J. Simpson. You can do whatever you want. So I have this crazy stand-up comic screaming to get out of me and there's also another portion, it's the Carol Burnett kind of fame, which you sing but you can't sing. Except she could sing. But I really can't sing."