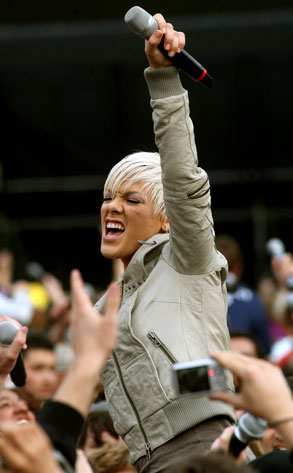 Danny Martindale/Getty Images
• By golly, that Pink sexuality story was, as she calls it, "so 1991" and "100% FABRICATION." "Cant WAIT for the day when people stop talking about sexual preference or that a woman is a CEO and actually start making the world LIVEABLE," she twitters. (We twitter, too! Follow us @eonline!)
• Jennifer Garner and Ben Affleck keep their marriage in their pockets.
• Gisele Bündchen and Tom Brady may be the most gorgeous party guests, but apparently they're not the most gracious.
• Helena Christensen is actually refuting a rumor that makes her look good! OK, so being the potential Sean Penn homewrecker is less than ideal, but having hooked up with Josh Hartnett and Heath Ledger? Why would you deny that?!
• Lindsay Lohan takes a tumble...and a fashion fumble.
• Dear Andy Roddick: Being a newlywed has suddenly made you pretty funny. Who can blame that poor sushi chef? You kinda do look like a cross between Seann William Scott and that tennis dude. Love, Rise 'n' Shine
Why, Victoria Beckham, it was so sweet of you to bring the limo around to Big Pic!