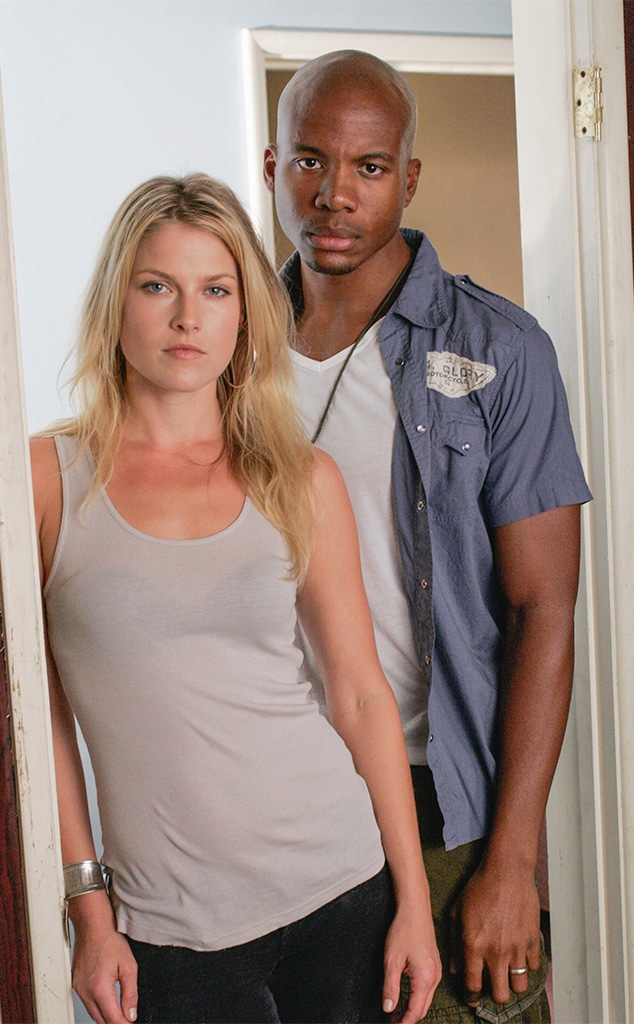 NBC
In a personal essay, actor Leonard Roberts broke his silence about his 2007 firing from Heroes, citing racism and a conflict with his former co-star, Ali Larter.
In response, the 44-year-old actress issued a public apology to her former co-star. NBC, which co-produced and aired the hit sci-fi series between 2006 and 2010, has not responded to the actor's claims, made in Variety on Wednesday, Dec. 16. Variety corroborated Roberts' account with 10 people who either worked on Heroes at the time or were contemporaneously familiar with his experience on the show. 
In his essay, Roberts, 48, wrote about how on-set tension with Larter led to his firing and said he felt disrespected "as an actor, a Black man, and a human being" after a meeting about his departure. Roberts' character, D.L. Hawkins, was married to Larter's Niki Sanders and both debuted in season one: She in the pilot and he after a few episodes. In his essay, the actor wrote that he found himself on "the receiving end of pushback from my co-star regarding the playing of a particularly tense scene."
"I am deeply saddened to hear about Leonard Roberts' experience on Heroes and I am heartbroken reading his perception of our relationship, which absolutely doesn't match my memory nor experience on the show," Larter said in a statement to E! News. "I respect Leonard as an artist and I applaud him or anyone using their voice and platform. I am truly sorry for any role I may have played in his painful experience during that time and I wish him and his family the very best." 
The scene in question was a bedroom scene. Roberts wrote that in a private rehearsal, director Greg Beeman asked Larter if she was willing to expose her shoulders in the shot, while the actor was shirtless. 
Roberts said Larter refused the request, insisting that she "was, indeed, being asked to remove her top completely." He said Larter "proceeded to have an intense and loud conversation" with Beeman and producers on the set, in which she said she felt disrespected, and that the scene was ultimately shot with her top visible.
However, Beeman told Variety, "I don't remember a loud argument or her saying anything about being disrespected. We worked out her character's intention regarding the wardrobe and shortly returned to work and finished the shot."
Roberts also wrote that he later gave Larter a bottle of wine with a note "affirming what I believed to be mutual respect and a shared commitment to doing exceptional work" but that she never acknowledged either of them.
Roberts also noted that after watching an episode where her character seduce co-star Adrian Pasdar's character Nathan Petrelli, he asked Pasdar if there had been any concerns similar to what he experienced during his episode, and that the actor signaled there were none.
"I pondered why my co-star had exuberantly played a different scene with the Petrelli character involving overt sexuality while wearing lingerie, but found aspects of one involving love and intimacy expressed through dialogue with my character, her husband, disrespectful to her core," Roberts wrote. "I couldn't help wondering whether race was a factor."
The Buffy the Vampire Slayer actor wrote that that months later, showrunner Tim Kring told him in a voicemail that "due to 'the Ali Larter situation," his character would be killed off. Roberts said Kring later told him in person that he "felt my character had been painted into a corner, due to the fact that 'we' didn't have 'chemistry,' and that any attempt to create a new storyline for D.L. just felt like 'the tail wagging the dog.'"
Roberts said he "questioned how a 'we' issue could be cited as justification for the firing of 'me.'"
Kring told Variety in a statement, "In 2006, I set out to cast the most diverse show on television. Diversity, interconnectivity and inclusivity were groundbreaking hallmarks of 'Heroes.' So too was the huge, diverse cast that continually rotated off and onto the show, with none ever being written off based on their race."
"Looking back now, 14 years later, given the very different lens that I view the world through today, I acknowledge that a lack of diversity at the upper levels of the staff may have contributed to Leonard experiencing the lack of sensitivity that he describes," Kring added. "I have been committed to improving upon this issue with every project I pursue. I remember Leonard fondly and wish him well."
Roberts went on to write that executive producer Dennis Hammer tried to reassure him that he will continue to work elsewhere as an actor, telling him, "Don't think of this as a situation where the Black man loses and the white woman wins."
Hammer told Variety in a statement, "Fourteen years is a long time ago, but I remember clearly that Leonard was a great guy and a total pro."
Roberts would go on to appear in two episodes of season two of Heroes, which saw his character shot to death.
"My mind turned on the meeting for days," Roberts wrote. "I was now the one—as an actor, a Black man, and a human being—who felt disrespected. I wanted to feel seen and heard, if only on the way out the door. But unlike my co-star, nothing felt resolved to my satisfaction."
The Drumline actor said that weeks after his last day of shooting Heroes, one of his white male cast mates told him, "Can you really say you lost your job because you're Black? C'mon, man. They're gonna always keep the hot blonde on the show. That's just Hollywood."
Roberts wrote, "I responded that for him, as a white man, to ask me to deny I lost my job because I was Black, but accept my co-star kept her job because of attributes he clearly believed identified her as white was, in fact, a quite literal embodiment of systemic racism."
Roberts noted how nowadays, he is a father of a daughter who "struggles with her own heartbreaking understanding of what it means to be a Black girl in this world."
"Although I want her to be fully aware of what the world is, I also want her to live with the promise of what it can be," he wrote. "But before I can raise her to live in her complete truth, I have to do the same."
Watch:
Lizzo Speaks Out About Racism Amid #BlackLivesMatter Protests