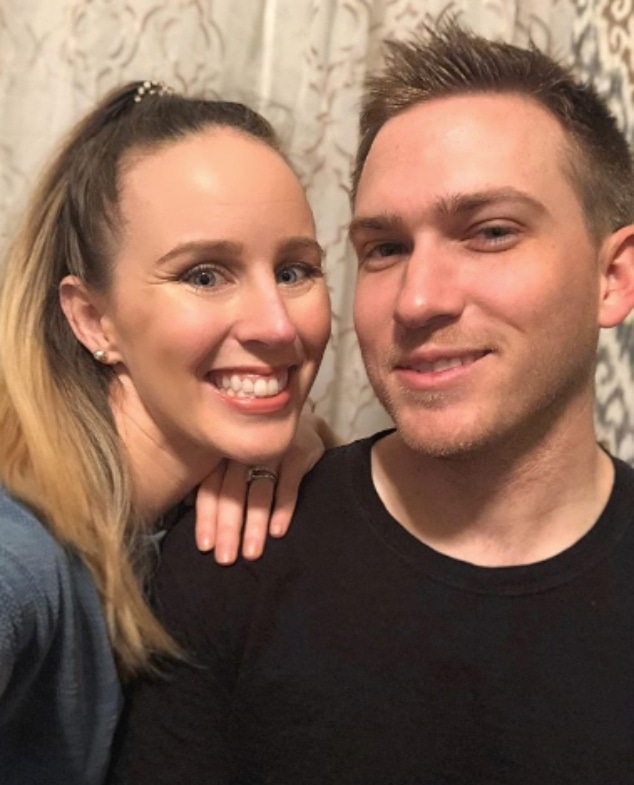 Instagram
Married At First Sight star Danielle Bergman Dodd has given birth to her and husband Bobby Dodd's second child early after experiencing pregnancy complications.
The couple, who met and wed on season seven of the Lifetime reality show in 2018, welcomed son Robert Elvin Dodd IV on Monday, Dec. 14. The baby weighed 6 lbs., 5 oz. and measured 18.75 inches long. Danielle and Bobby revealed details about the birth in a statement to E! News and also shared photos of baby Robert, nicknamed Bobby.
"We are SO excited to announce the birth of our baby boy; Robert Elvin Dodd lV," the couple said in their statement. "This time around we got the birth story of our dreams, given the circumstances. Because symptoms of HELLP were beginning to set in, we were induced three weeks early but were able to have a smooth and peaceful birth!"
HELLP Syndrome is a rare condition in which a pregnant woman suffers hemolysis—the rupturing of red blood cells, elevated liver enzymes, and low platelets, which can be fatal for both mother and baby unless treated. The only effective treatment is giving birth.
"We chose to induce on the perfect day, divine intervention," Danielle said. "If I was still pregnant today I would have gotten very sick. Only another day or two. Delivering is the only treatment for HELLP and since I already did yesterday my body functions tanked today but should start recovering soon. I hope. She (doc) said the body response lags behind 12-24 hours which is why we see numbers tanking the day after."
Danielle said that baby Bobby IV "is a happy and healthy boy and we can't wait to bring him home to meet his sister." She and her husband are also parents to 22-month-old daughter Olivia.
"Olivia is having a blast at home with her grandparents and has no clue that things are about to change!" the mom of two said. "They are exactly 22 months apart and we cannot wait to watch them grow up together!"
Danielle Dodd / Kinetic Content
Danielle and Bobby Sr. shared with E! News a photo of their newborn wearing a red and white striped elf cap and sleeping inside a red Christmas stocking bearing the words "My First Christmas."
They later posted more photo of their baby on Instagram. Danielle shared a pic of the child wrapped in a personalized swaddle blanket, writing, "We are so excited to announce that Bobby lV is here!! He is the sweetest baby ever and we are so happy to finally be a family of 4!"
Married at First Sight, produced by Kinetic Content, returns on Jan. 13 at 8 p.m. on Lifetime.
Watch:
Andy Cohen Hosts "For Real: The Story of Reality TV"