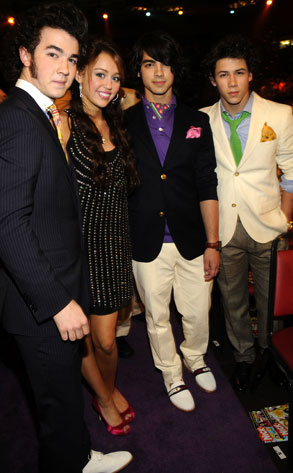 Kevin Mazur/Getty Images
It's a Jonas world and we're all just living in it!
The Jonas Brothers are venturing into television territory tonight with the premiere of their new Disney semi-docu-comedy JONAS and—we can't believe we're actually saying this—it's pretty fun.
Obviously created for those who love guys of the Kevin, Joe and Nick variety, the boys take time to tease about the personas the media has given them over the past few years. In fact, the premiere centers on Nick as a lovelorn Romeo, the littlest bro who falls in love too often (cue Miley Cyrus-Selena Gomez feud talk--again.)
There are cutesy musical numbers and some cheesy dialogue, but those JoBros can do no wrong. Most of the jokes are tongue-in-cheek, showing that these boys can roll with the punches and laugh at themselves.
In fact at one point, Joe tells Nick, "You're not dumb, you're just really intense, which is sad for you but lucky for us because we get great songs out of it." Well said, Joe. Well said.