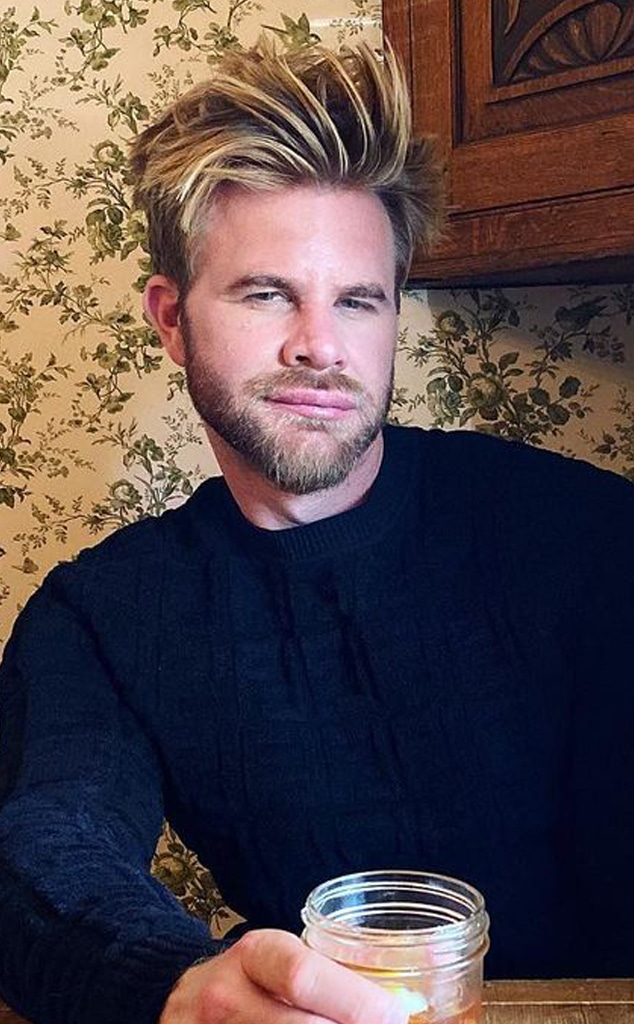 Instagram
Very Cavallari's Justin Anderson is sharing his adoption story.
During the Dec. 15th episode of Scissoring Isn't a Thing, the celebrity hair colorist and BFF of Kristin Cavallari opened up about reconnecting with his biological son years after placing him for adoption.
Back in high school, Justin had a girlfriend named Debbie. She came out to visit Justin during his freshman year of college and got pregnant after they had sex in his dorm room. Both were raised in Mormon households, and Justin said "there was no talk of abortion." So, they decided to place the child for adoption.
"We met a bunch of different families, and we found the parents we absolutely loved," Justin, who came out as gay to his family before his junior year of college, said, noting it was an open adoption. "We had our son Tyler. I was in the hospital room. I'm 18 years old, by the way, you know. We hand our baby over to this family, and I drive back to college by myself. And then life goes on, right?"
However, everything changed after Justin got a DM two or three years ago. "I'm sitting on the couch and I get a direct message on Instagram from my son, literally saying, 'Hey,'" he recalled. "I open it up and I'm like, 'This kid is cute.' Like, I look at his picture. I'm like, 'Why is this guy writing to me or whatever?' So, I write back, 'Hey, what's up?' And he's like, 'Do you know who this is?' Boom." 
Justin said he started sobbing and that they began talking on Instagram. Soon, he and Tyler, who is now 19, made a plan for their families to meet. 
"We go to dinner at his family's house," he recalled. "He has the most beautiful, sweetest, kindest family. They raised him so well. He's the sweetest guy ever."
Watch:
Celebrities You Didn't Know Were Adopted
While Justin said there was "this super excitement," he also wondered what this experience might be like from the adoptive parents' perspective.
"I could feel a little bit of kind of like, 'What do we do?' from his parents, you know, as we're leaving," he shared. "I also have, like, a really fun family. You know, my brothers are really, really exciting; my sisters are adorable and fun. So, it was kind of like this big, fun experience. And as we left, I kind of thought about it. I was like, 'That's got to be also hard for his parents.' 'What does Justin want from our son?'"
So after the get-together, Justin called Tyler's mom. "I said, 'Hey look, that was the most beautiful experience ever. I love it more than anything. I want you to know that I'm here to be whatever he needs, but I'm not stepping into your guys' world,'" he said. "I was like, 'If he wants a relationship with me, I'm all about it. But I'm not going to step any boundaries. I need it to be on your guys' terms. Like, you guys reach out to me.' And she loved that."
Today, they still keep in touch. Justin said it's turned into "phone calls, texts and that kind of stuff" and that he's invited Tyler and his family to visit him and his fiancé Austin Rhodes in Nashville. 
"So, we'll see where it ends up going, you know?" he said. "But I have to be honest, I didn't grow up with him. So, I didn't meet him until, what, he was 17 years old, like 16 years old…So, I don't have, like, that connection, and I think maybe it'll happen later in life." 
Justin also opened up about his hopes for the future. "I love kids more than anything, and I really do want to have kids," he added. "My friends call me dad because I love taking care of people, and I love conversation. I would love to raise just the sweetest kids ever—people who listen, and talk, and people who are vulnerable and people feel like they can be whatever they want. I feel like more gay people need to raise kids." 
After speaking on the podcast, Justin took to Instagram to reflect on his adoption journey. As he wrote, "I'm proud of this, and I love everyone involved in this part of my life."