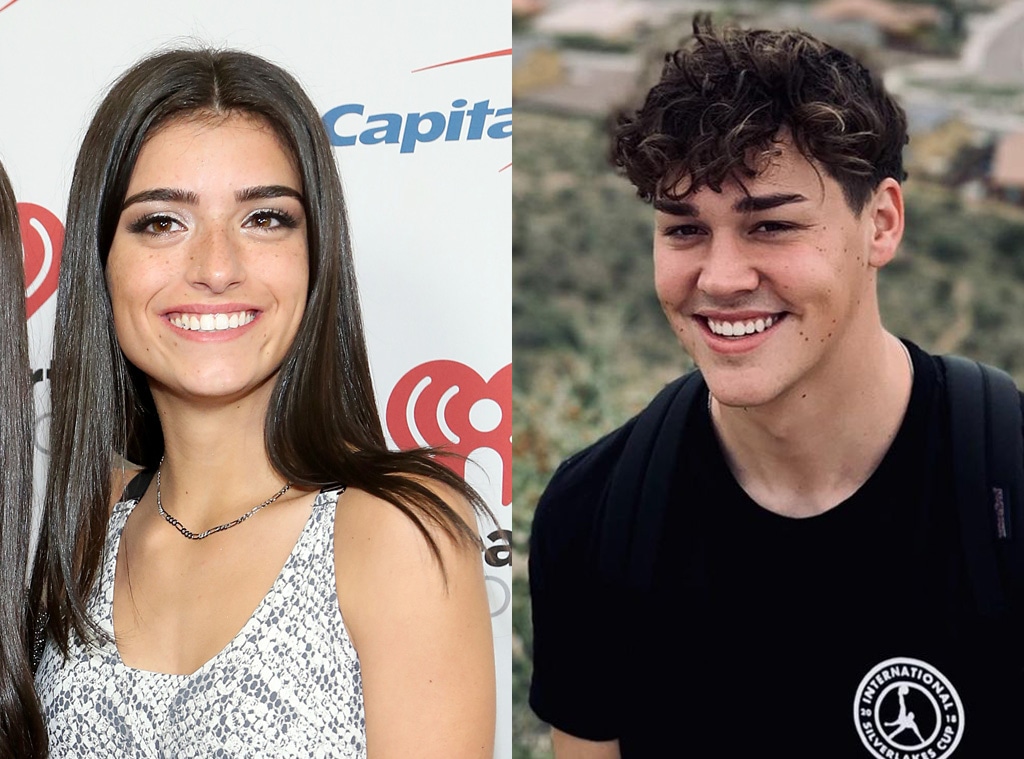 Monica Schipper/Getty Images/Noah Beck/Instagram
Dixie D'Amelio is fiercely defending her relationship with Noah Beck.
It's safe to say the dynamic duo has many of their TikTok followers saying #couplegoals. However, there's a small number of people who would disagree. On Monday, Dec. 14, Dixie clapped back at a Twitter user who questioned her romance with her 19-year-old boyfriend.
"i feel so bad for noah tbh dixie honestly treats him like s--t," the eagle-eyed observer wrote, "he's so in love with her but i feel like she doesn't return the love."
The Twitter user then referenced the YouTube video Dixie posted on Sunday, Dec. 13, in which she and Noah both took a lie detector test. "She was being so immature," the Twitter user continued, "and he was serious about every question."
It didn't take long for the internet sensation to see the messages and set the record straight about her boyfriend.
"I love Noah with my whole heart," Dixie began, "after being publicly heartbroken before, I struggle with displaying love online from the fear of it happening again. But I'm glad you know our whole relationship from one YouTube video!"
Following Dixie's comments, which she has since deleted, the Twitter user revealed they were getting a lot of negative messages sent their way.
"... i'm gonna try to stay off twitter until whatever's happening goes away. holy f--k," they shared, to which the 19-year-old influencer replied, "hey, i know u probably didn't mean any harm from what u said but i just wanted to share my feelings like you did yours...dm me if u need anything."
It was later explained that they both apologized to each other.
Watch:
Charli & Dixie D'Amelio Under Fire for "Disgusting" Behavior
Although Dixie noticed someone doubting her relationship, one follower said the complete opposite. "I have this feeling that u guys will get married someday," one fan expressed, with the YouTuber responding, "me too."
In the pair's joint video, they both answered lie detector questions ranging from "Are you in love with me," "Are you embarrassed to post about us," "Have you ever thought about breaking up with me," and more.
While they mostly told the truth, they were both surprised by some of their responses. Case in point? When Noah asked if Dixie was "purposefully" mean to him, she answered "no." Although her answer was honest, Noah said he hoped she was lying. 
"So you're just mean? I wish it would've been the other way," he told her, to which she replied, "I don't know how to answer that... I don't think I'm mean to you... you're just sensitive."
While the couple almost crushed the hearts of their followers when they hinted at a breakup last month—it was later confirmed they didn't split—the two appear to be happier than ever. In fact, the pair recently celebrated their anniversary.
"2 months w my favorite person," Noah captioned his TikTok on Nov. 25.
Prior to their relationship milestone, Dixie candidly discussed her love life on her 2 Chix podcast.
"I am public with Noah, which is really cool," she raved in the Nov. 13 per J-14 magazine. "Did not want it to come out the way that it did... I was happy and mad at the same time. I was mad that I didn't get to make the decision because I like being in charge and making all my own decisions, but it was also kind of cute because I know he really cares about me and it was nice and I'm happy with it."
Back in October, Noah broke the news he and Dixie were together. "I am dating Dixie D'Amelio. Dixie is amazing, she is an awesome girl," he said in an interview with AwesomenessTV at the time. "It's been really fun, and so I'm excited for the future with her."