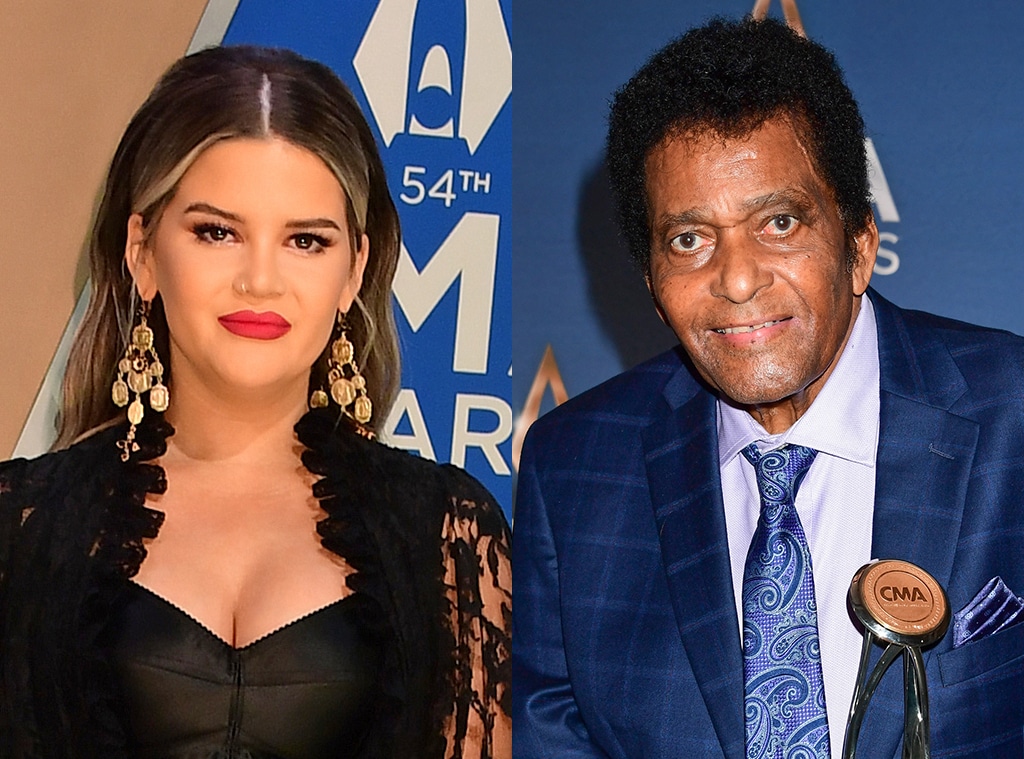 ABC
Maren Morris has some questions about the circumstances surrounding country music legend Charley Pride's recent death.
The country music legend, the first Black member of the Country Music Hall of Fame, died at age 86 on Saturday, Dec. 12 from coronavirus complications, his spokesperson said in a statement.
Pride died a month after he attended the 2020 CMA Awards at Nashville's Music City Center. But fellow country star Morris, who also made an appearance at the award show, is wondering if there is a correlation.
"I don't want to jump to conclusions because no family statement has been made, but if this was a result of the CMAs being indoors, we should all be outraged," the 30-year-old singer tweeted. "Rest in power, Charley."
A Twitter user then commented, "Coming from an artist that also attended the indoor event..," to which Morris responded, "Hence 'WE' should be outraged."
She also tweeted, "F--k this f--king year." Many fans and other country stars, such as Dolly Parton, also mourned Pride's death on social media.
Following Morris' posts, the Country Music Association (which puts on the annual award show and implemented coronavirus safety protocols at this year's event), along with Pride's reps shared a statement with E! News.
"Everyone affiliated with the CMA Awards followed strict testing protocols outlined by the city health department and unions," a statement read. "Charley was tested prior to traveling to Nashville. He was tested upon landing in Nashville, and again on show day, with all tests coming back negative. After returning to Texas following the CMA Awards, Charley again tested negative multiple times. All of us in the Country Music community are heartbroken by Charley's passing. Out of respect for his family during their grieving period, we will not be commenting on this further."
Watch:
Maren Morris Won't Filter Her Songs Because She's a Mother
Earlier this year, the organization's CEO Sarah Trahern issued a statement honoring Pride.
"To say Country Music has lost a trailblazer is an obvious understatement, but in fact one of the biggest losses is Charley's definitive Country voice," she said. "I remember working with Charley in 2009 on 'Country Music: In Performance at the White House' when President and Michelle Obama invited several Country artists to perform. He was a trailblazer in so many ways. It was a special night and Charley was telling amazing stories. Our deepest condolences go out to his wife Rozene and the rest of his family and friends at this sad time."
At the 2020 CMA Awards, Pride was honored with the Willie Nelson Lifetime Achievement Award and sang "Kiss An Angel Good Mornin'" with Jimmie Allen, which marked his final public performance. Morris, who attended the award show with husband and fellow musician Ryan Hurd, also performed onstage and picked up three awards for Single of the Year, Song of the Year and Female Vocalist of the Year.
Lady A and Rascal Flatts pulled out of participating in the CMA Awards after people in their groups and families were diagnosed with COVID-19. Lee Brice also canceled his own scheduled attendance until after he received his own positive test.
Amid this year's coronavirus pandemic, many award shows were canceled or converted to virtual formats. Others scrapped audiences and trimmed down guest lists while implementing strict social distancing measures and requiring or recommending that participants and their plus-ones or entourages undergo COVID-19 tests beforehand.
Two days after the ceremony, CMA Awards Executive producer Robert Deaton and the organization's CEO Sarah Trahern discussed the show's coronavirus safety protocols with Variety and addressed criticism over the decision to have a live audience, which was not at full capacity but did not require people to wear masks.
"Well, I could see how fans would feel that," Trahern said. "What you didn't see off camera was that anybody who's walking around the room had to wear a mask. Any of us who were within what we called Zone A, which was an area where an artist might be or someone might be singing without a mask, had to wear not only regular PPE and a mask, but also a face shield at all times."
She continued, "But when the people were sitting at their tables, the analogy all of us used is it's kind of like a restaurant, because all the tables were eight feet apart. And when people were in their seats, they were allowed to take off their masks and drink their water or their wine at the table. But if they got out of their seats to walk around, they had to put them on. Or in the case of the artists, who might not be wearing a mask because of their hair and makeup, they had shields that they held up in front of their faces when they were transported between the backstage and the stage itself."
Trahern said they did receive "some comments from people about the audience area itself," adding, "But I think just like you go to a restaurant and don't see people wearing masks at their seats, this was the same thing." She also said they had to make sure they received the approval of the health department, the city of Nashville, and unions such as SAG-AFTRA.
Deaton told Variety, "We knew we could not do a Zoom show; we could not do a living room show. We could not do that and have it represent the CMAs, which is 'country music's biggest night.' It had to be representative of the brand. The other thing, the idea had to be adaptable."
"All along we knew we were going to try looking at having a small audience," he said. "But we didn't know: Do we put super fans in there. Do we test our board and put them in there? I called Sarah one day and said, 'If we look at our main categories, it's about 50 nominees or so. We could do our nominees, plus one. So that became the plan.'"
Deaton emphasized that "there were no stones unturned" in how they implemented their safety protocols. He said that to him, "It's kind of like the bubble for the NBA, or how the NFL is going out and playing football every week; they're not just going out on the field with no rules and regulations."
"Because I was in Zone A and talking directly to the talent, even though I was being tested every other day, I had a mask on and a face shield at all times," he said. "There was a lot of protocol in place. It cost a lot of money to do that, as well, to make sure that that is done right... probably one of the safest places in the world to be was at our show."