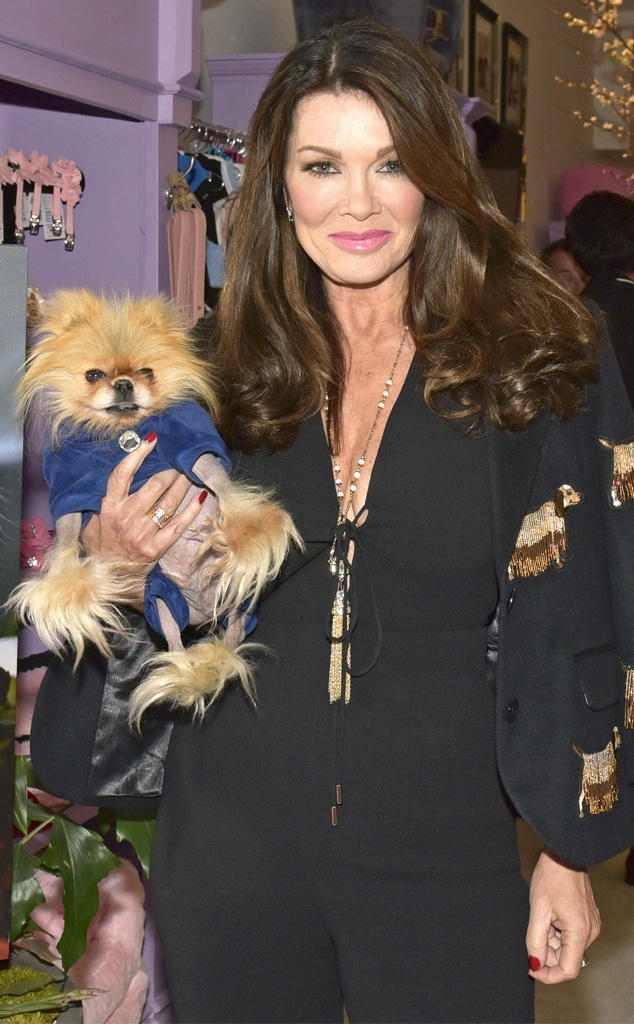 Rodin Eckenroth/Getty Images
Lisa Vanderpump shared the heartbreaking news that her Pomeranian Giggy has died.
On Saturday, Dec. 12, the former Real Housewives of Beverly Hills star took to Instagram to honor her beloved pup, who frequently appeared on the Bravo series and was always dressed to the nines as Ken Todd carried him around.
"We are devastated to say that our beloved Giggy has passed away this morning,' the SUR restaurant owner began her caption. "He was truly loved, and we know how many of you loved him too. Our sweet Gigolo was such an incredible, unique dog, but mainly, because of him, we started The Vanderpump Dog Foundation and embarked on our mission to save as many dogs as possible."
"He inspired us to start our work in rescue, and for that we will always be grateful," she continued. "Giggy's legacy will live on, through every dog @vanderpumpdogs saves. Thank you all for your support. Rest In Peace Giggy, we love you."
Giggy's death comes almost three years after Lisa and Ken lost their other Pomeranian, named Pink Dog.
"Rest in peace Pink Dog, we are devastated to see you go so suddenly," the reality TV personality wrote on Instagram at the time. "You were such a happy pink dog and we will miss you dreadfully, we love you."
On Twitter, the business owner revealed her husband tried saving their pup as they were headed to the vet. She shared, "Pink dog died suddenly yesterday afternoon, ken gave her cpr all the way to vet but it was too late. Very very sad at this moment."
Watch:
Celeb Dogs Living Their Best Life: Miley Cyrus, Paris Hilton & More
Fans of Lisa know that she's an avid animal lover. Not only does she have several dogs, but she also has a number of turtles, swans and two miniature ponies.
In May 2017, the star and her husband opened up the Vanderpump Dogs rescue center in Los Angeles, Calif. The couple also co-founded the Vanderpump Dog Foundation, which helps to rescue and provide medical treatment for abandoned dogs.
In an interview with E! News, she explained why it was so important for her and Ken to create the organization.
"Ken and I have been fighting for the kind of more humane treatment of dogs worldwide," she said at the time. "One of the pieces of the jigsaw puzzle was really to open a rescue center but we wanted to open a rescue center that wasn't, like, depressing and I know it's like nothing else you've ever seen."