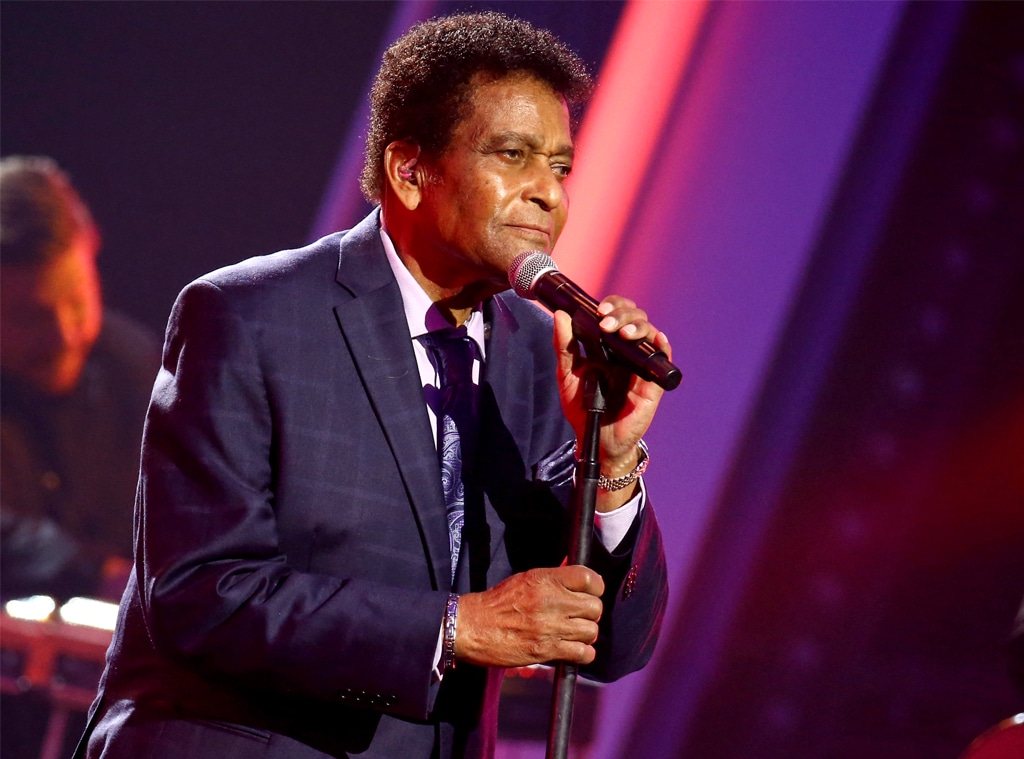 Terry Wyatt/Getty Images for CMA
Charley Pride, the first Black member of the Country Music Hall of Fame, has died of complications of the novel coronavirus. He was 86.
The singer passed away on Saturday, Dec. 12. His spokesperson announced the news in a statement. He did not specify where Charley contracted the virus.
"Charley Pride, whose rich baritone voice and impeccable song-sense altered American culture, died Saturday, December 12, 2020, in Dallas, Texas of complications from Covid-19 at age 86," the spokesperson's statement said.
Fatefully, Charley died just a month after giving his final onstage performance. He sang "Kiss An Angel Good Mornin'" with Jimmie Allen at the 2020 CMA Awards at Nashville's Music City Center, where he also received the Willie Nelson Lifetime Achievement Award.
Also known for songs such as "Is Anybody Goin' to San Antone" and "Mountain of Love," Charley won the Country Music Association's Entertainer of the Year award in 1971 and the organization's male vocalist prize in 1971 and 1972. By the end of the '70s, Charley won three Grammy Awards. In 1993, he became the second African-American member of the Grand Ole Opry. In 2000, he was inducted into the Country Music Hall of Fame and in 2017, he received a Grammy Lifetime Achievement Award.
In 2004, Charley suffered a major health scare. He underwent brain surgery to remove a subdural hematoma, or blood clot.
Charley was married to Ebby Rozene Cohran Pride, with whom he shared three children—fellow country singer Dion Pride, reggae artist Carlton Pride, and daughter Angela Rozene Pride, five grandchildren and two great-grandchildren. Charley is also survived by four siblings and numerous nieces and nephews and is preceded in death by five brothers and a sister.
Watch:
Country Legend Charley Pride Dies at 86 of Covid-19 Complications
Charley and his wife, who goes by Rozene, met in 1956 while he played Negro League baseball for the Memphis Red Sox, and wed that year in his home state of Mississippi right before Pride's two-year stint in the Army, Wide Open Country reported. He also played for the Minor League Baseball team the Boise Yankees and other clubs in hopes of getting drafted into a Major League Baseball team, and worked in construction and at a smelter in Montana before pursuing a country music career.
In his statement, Charley's spokesperson said the artist's "impact is evident and important" to not only fellow Black country artists but to "every other country performer who builds bridges with melody and sincerity."
Born in 1934, "Charley Pride escaped the cotton fields, where labor hurt his hands, back, and knees," the statement said. "He transcended and ascended through connection. Through fortitude and artistry, he became a member of the Grand Ole Opry and a beloved American icon."
Watch:
In Memoriam: Fallen Stars of 2020
Pride's spokesperson said that in lieu of flowers, the family asks for donations to The Pride Scholarship at Jesuit College Preparatory School, St. Philips School and Community Center, The Food Bank, or a charity of the person's choice.
Kyle Young, CEO, Country Music Hall of Fame and Museum, said in a statement, "Charley Pride entered the spotlight in the mid-1960s. He became country music's first Black superstar, in a time of dissension, rancor, and disconnection. With a voice for the ages, he fostered understanding, inclusion, and connection."
"He became one of the greatest artists in American music history, expanding country music's audience with his boundless enthusiasm and his masterful vocal tone and phrasing," he continued. "He is among country music's most beloved and respected figures, and he found self-expression to be the most crucial political statement. In his autobiography, contemplating his role as a trailblazer and a civil rights pioneer, he wrote, 'My decision was to sing.' What a singer. What a legend. What a man."