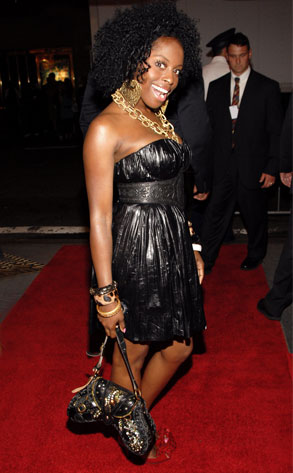 Kevin Mazur/WireImage.com
The case of Foxy Brown and the brusing BlackBerry has been set on mute.
A New York judge has tossed the harassment and assault lawsuit filed by the rapper's Brooklyn neighbor alleging she was hit in the face with Brown's mobile phone. Arlene Raymond had claimed the Berry bonking came after the two got into an argument in July 2007 over Brown blasting her car stereo.
Justice Robert Miller of the Brooklyn Supreme Court confirmed to E! News his ruling Monday that the case be dismissed. Apparently, Brown (real name Inga Marchand) never got the text was properly served with legal papers.
In criminal court in May 2008, just after her release from prison for probation violations following an incident at a nail salon, Brown pleaded guilty to one misdemeanor count of menacing for the drama with Raymond. She was sentenced to time served, and the neighbor was granted an order of protection.
____
Follow us on Twitter @eonline