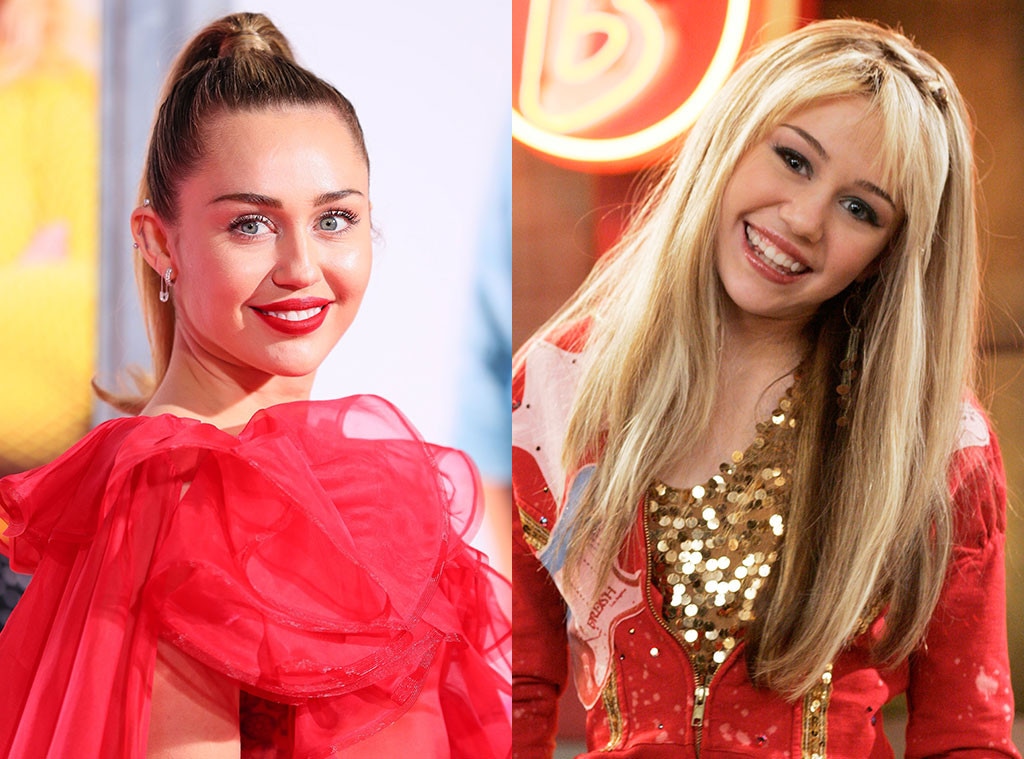 JEAN-BAPTISTE LACROIX/AFP/Getty Images, DISNEY CHANNEL/BYRON COHEN
As Miley Cyrus famously sang, sometimes it's all about "The Climb."
The 28-year-old pop star recently opened up about her Disney Channel days and how the beloved television series, Hannah Montana, has made a lasting impact—on her fans and herself. 
Miley was just 13 years old when she snagged the lead role of the 2006 show, which would launch her acting and singing career and skyrocket her to fame. But as the "Midnight Sky" singer explained, she had to learn to flourish outside of the Hannah Montana character.
"I had to evolve because Hannah was larger than life, larger than me," Miley told Rolling Stone. "I felt like I was never going to amount to the success of Hannah Montana. That's how Lil Nas X actually knew of my dad [Billy Ray Cyrus]. He grew up watching Hannah Montana and said, 'I want to do a song with Robby Ray.'"
"That's literally what happened. Being a young queer kid's idol that could turn out to be a Lil Nas X and create a whole identity for themselves off being inspired from watching me growing up," she continued. "Or I hear artists like Troye Sivan say he felt more comfortable with his sexuality when I came out with 'My Heart Beats for Love.'"
As she put it, "When my peers are having these experiences and accepting themselves because of something that I demonstrated while they were a kid, that's when I go, 'S--t, I f--king am Hannah Montana."
Watch:
Miley Cyrus Will Always Rock Our World: Live From E! Rewind
For Miley, she explained that she realized how much she related to her Disney Channel character. "Really, Hannah Montana was not a character," she noted. "The concept of the show, it's me. I've had to really come to terms with that and not be third-person about it."
Along with opening up about her early career days, the "Mother's Daughter" singer reflected on a time when she was displaying a version of herself to the world. It was back in 2017 when she released Younger Now, her sixth studio album.
"A couple of years ago," she told Rolling Stone, "it looked like I was living some fairy tale. It really wasn't. At that time, my experimentation with drugs and booze and the circle of people around me was not fulfilling or sustainable or ever going to get me to my fullest potential and purpose."
"There's an idea that during the Younger Now era, I was pure," she pointed out. "The media likes to have my hair or what I look like be the point of reference for my sanity. 'Hair's long and blond, she's sane right now. She cannot be f--ked up on drugs. It's when her hair is painted or she's growing out her armpit hair [that] she's on drugs.'"
Chelsea Lauren/REX/Shutterstock
But even though she appeared to be picture-perfect, her real-life was anything but.
"I was way more off my path at that time than any of the times before where my sanity was being questioned," she shared. "I don't like ever saying anything in a very solid concrete way, but right now I have been focusing on sobriety as I wanted to wake up 100 percent, 100 percent of the time. If I've ever learned to balance myself and to not take it too far, I would. But so far any time I've messed with that, it hasn't gotten me what I want...That time in my life just wasn't for me. In every way."
Fast forward to 2020, and the star is in a much better place. She said, "Now I have this healthy perspective that I didn't have before. I learned a lot about what I can and cannot be for someone else and what I can and cannot accept for myself."