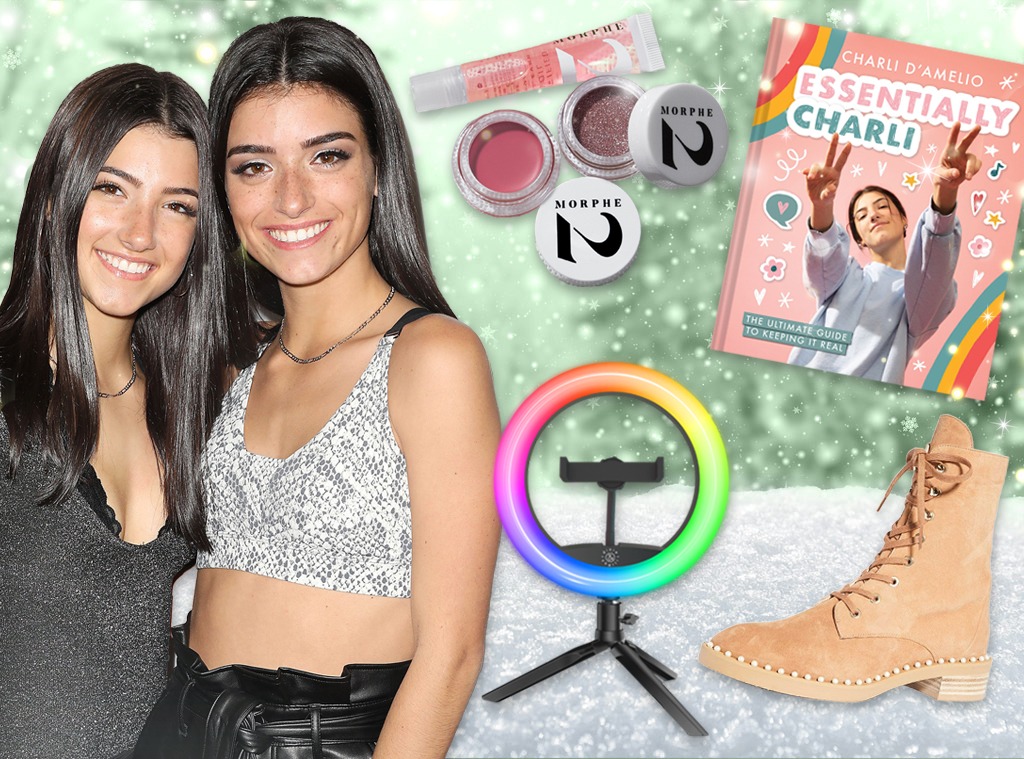 Shutterstock; E! Illustration
We love these products, and we hope you do too. E! has affiliate relationships, so we may get a small share of the revenue from your purchases. Items are sold by the retailer, not E!.
The D'Amelio family is feeling joyful this holiday season! 
As Dixie D'Amelio and Charl D'Amelio continue to grow their audience online, the YouTube and social media superstars are looking forward to making new memories with those closest to them.
"Our family always does something spontaneous together around Christmas," Charli exclusively shared with E! News. "This is our first Christmas in Los Angeles and obviously we are also restricted on what we can do safely as a family, but I'm really looking forward to what this is."
If you ask Dixie, she already has some surprises lined up. "I'm going to play Liam Payne's Christmas song, 'NAUGHTY LIST' (I sing on it) over and over for everyone! Just kidding, kind of, but I'm really looking forward to giving back and honestly just spreading a little holiday joy…I think this Christmas won't be very easy for everyone, so the more we can be kinder to each other and show each other a little extra love, the better."
And as the pressure begins to find the perfect holiday gift, Dixie and Charli—and mom Heidi D'Amelio—shared the presents they would love to give and receive this month.
But before stressing out too much, Heidi suggests you focus on the little things that end up creating the biggest memories. 
"I'm most looking forward to the family time," Heidi explained. "Just spending time with each other! Listening to music, watching holiday movies together, and baking Christmas cookies in PJs and comfy slippers!"
Morphe 2's Jelly Eye Shimmer
"I love this product," Charli told us. "It's one of my favorites to play with because it's so easy to use for a more dressed-up holiday makeup look!"
Limited-Edition Charli & Dixie Oversized Tee
"We both loved loved creating our fleeces that we dropped in September so much that we asked Hollister if we could do it again—this time with oversized tees!" Dixie and Charli shared. "The holidays can be super overwhelming sometimes, so we made these with that in mind to help teens feel comfy and a reminder to us all to stay positive! These are limited edition, so get them quickly!"
Morphe 2's Gloss Pop Face & Eye Gloss
"This lip gloss looks great on top of your natural lips with no makeup, or on top of any lipstick shade," Dixie explained. "For a pro tip: you can even use it on your eye lids on top of eyeshadow colors!"
UNICEF's Gift that Gives Back
"UNICEF has made it easier than ever to give gifts in your loved ones names that give back to those in need," the D'Amelio family shared. "You can give anything from food, water and sanitation, to shelter, health & immunization, and emergency relief to kids & families in dire need all over the world. Remember that any amount can significantly help and change someone's situation."
Mejuri Jewelry
"You can find jewelry for almost any of your friends or family at Mejuri," Charli and Dixie shared. "The pricing goes from low to high depending on how much you can spend. You can personalize too!! We love personalized jewelry."
Dixie & Charli's Ringlight
"Lighting is everything!!! HA I think we've used so many ringlights in the past and never really found one that had everything we wanted, so we decided to create our own," Dixie and Charli shared. "Excited for everyone to try this! It just came out!!"
Canon IVY CLIQ2 Instant Camera Printer
"Our family moves so fast… So I need a camera that can keep up," Heidi explained. "I love this one because I can take photos and print to capture the memories immediately! It also comes in so many cute colors. It's hard to choose!"
Essentially Charli: The Ultimate Guide to Keeping It Real
"This is not only a collection of special memories of family, friends, and more… but it's also a guide to help others learn how to navigate challenges I had to face, like how to deal with cyberbullying and how to remain positive," Charli explained. 
Valentino Roman Stud Bag
"I wanted to include a splurge item… and this bag is worth the splurge!" Dixie proclaimed. "Everyone from my friends to my mom has been caught trying to borrow mine. And they have different colors and fabrics to fit different styles. It's a staple piece, but with an edgy enough twist."
Amazon Fashion's Dr Marten's Boots
"I love these boots, which is why I had to add them to my Amazon Fashion holiday gifting list," Charli shared. "They work for almost anyone's style because they can be worn with dresses or oversized sweats and t-shirts."
Morphe 2 The Fresh Set 3-Piece Makeup Bundle
"I love playing with makeup so this is a really good starter kit or addition to your current collection of makeup," Charli said. "It includes a little color, pop of shimmer, and a little gloss to make you look low-key cute on the daily!"
Amazon Fashion's Stuart Weitzman's Sondra Boots
"I wear these daily," Heidi confessed. "They are fashionable, yet comfortable and they go with almost anything! Dress them up or down. Luckily Amazon Fashion makes it easier than ever to shop designers like Stuart Weitzman."
—Originally published Dec. 6, 2020, at 6:00 a.m. PT