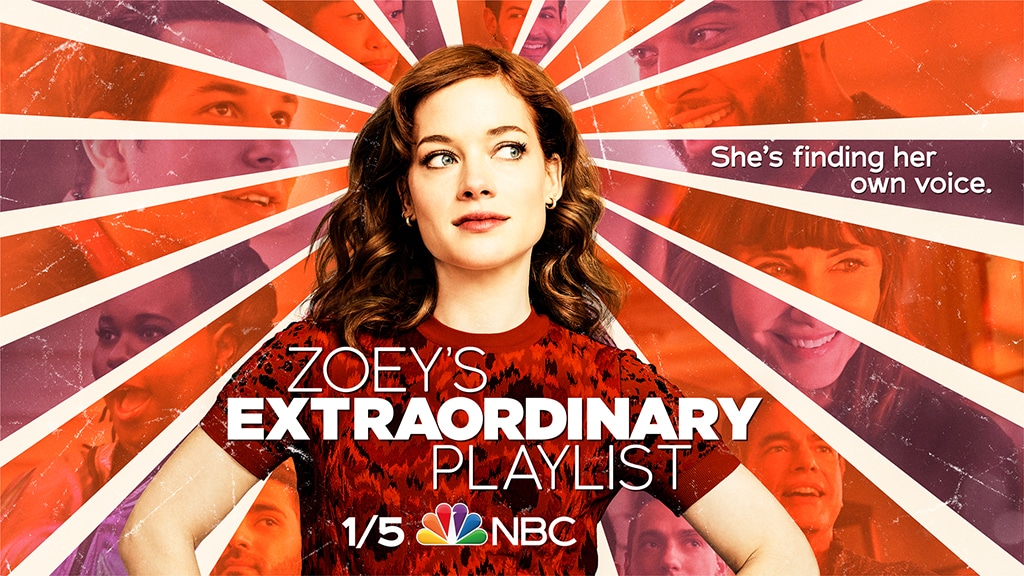 NBC
There's just over a month until Zoey's Extraordinary Playlist returns to our screens. 
The delightful musical series returns to NBC in early January and we've got a little treat for you in the form of key art, featuring Zoey (Jane Levy) surrounded by everyone she loves—including the father she just lost. 
"She's finding her own voice," the key art reads. 
The season one finale, which aired back in May, saw Zoey dealing with the death of her father Mitch (Peter Gallagher) after his long battle with a brain disorder. His funeral and wake played out over one long take of everyone singing "American Pie," and you bet we absolutely wept. We're weeping now, in fact. It was a hell of a way to end a first season, and we can't imagine season two won't up the ante. 
Back when the finale aired, we talked to show creator Austin Winsberg (whose own father died of the same brain disorder that Mitch suffered from) about what comes next. 
"The question going forward for everybody in the family, especially for Zoey is, 'How do I move on?'" he said. "And what does life look like now that he's gone? And how do we rebound and bounce back? And I think—and this is clearly by accident—these are questions that everybody's going to be asking after being home in an isolation, everything we've been dealing with for the last few months, you know, how do we return to normal? What does normal look like? And how do I want to be in the world? What are the positive things that I could take away from this?"
Winsberg said that for him, when he lost his own father, it was all about taking the time to get past the grief and sadness to "find any positivity in it." 
"I think for me some of that positivity was finding compassion and empathy for others and trying to make my relationships with the people that are in my life better and trying to be more present and live in the moment because you never know what can happen," he said. "So I think these are all lessons and takeaways and things that the family and Zoey can learn from and where we can derive story from going forward too."
While Zoey's grieving her dad, she's also still in the midst of a love triangle with Max (Skylar Astin) and Simon (John Clarence Stewart). She was just about to hook up with Max when she got the call about her dad's decline, but it's still very much a triangle. 
"I never wanted to villainize one of them completely, or to make it such a clear-cut answer," Winsberg said. "I like the idea of two good guys and two viable guys, just guys that bring out different things in Zoey, and she can lean on in different ways." 
Zoey's Exraordinary Playlist also stars Mary Steenburgen, Alex Newell, Lauren Graham, Andrew Leeds, Alice Lee, Kapil Talwalkar and Michael Thomas Grant. 
What We Do in the Shadows star Harvey Guillén is also joining the show for season two. 
Watch:
Jane Levy on Why She Took "Zoey's Extraordinary Playlist" Role
Zoey's Extraordinary Playlist returns to NBC on Tuesday, Jan. 5. 
(E! and NBC are both part of the NBC Universal family.)