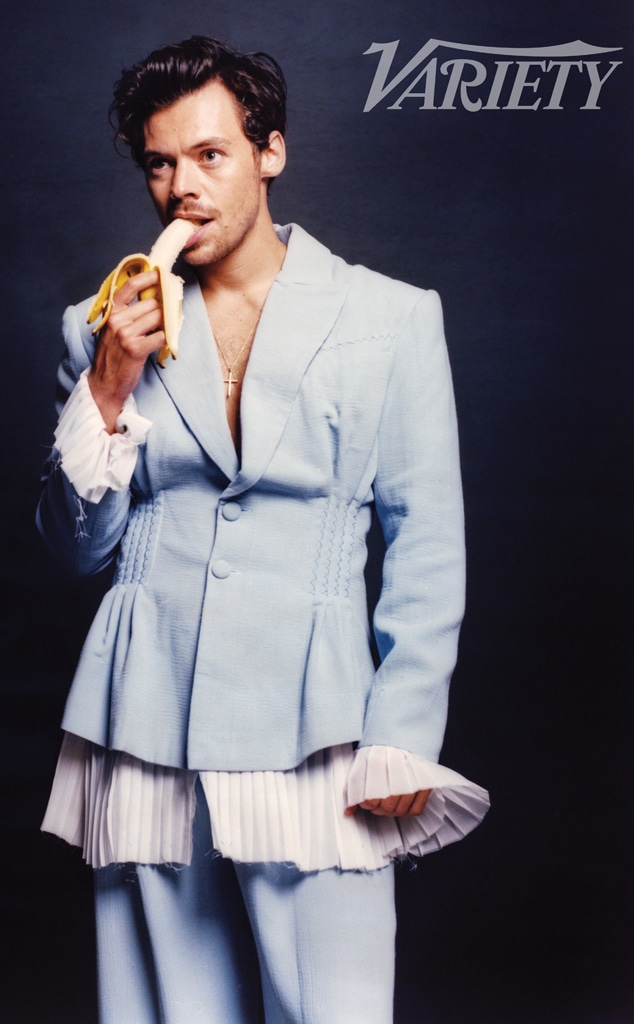 Parker Woods for Variety
Harry Styles has a few words for his haters.
Last month, Candace Owens slammed his historic Vogue cover, which saw the singer wearing a Gucci dress, tweeting, "Bring back manly men." Taking to Instagram Dec. 2, the 26-year-old artist shared a picture of himself wearing a Palomo Spain suit and eating a banana for his Variety Hitmaker of the Year photo shoot. As he captioned the shot, "Bring back manly men."
Of course, his fans picked up on the message right away. "Omg the caption," one follower wrote in the comments section. "We stan." Added another, "HE CALLED HER OUT. AS HE MF SHOULD."
Several celebrities did too—including Marc Jacobs, who commented with a series of heart emojis, and Tan France.  "YES PLEASE," the Queer Eye star wrote. "IF THEY LOOK LIKE THIS."
Owens had a different interpretation. "Thank God you agree," she wrote in the comments section. "Harry Styles promoting Candace Owens."
She also couldn't resist weighing in on his cover look. "He looks great!" Owens added. "He just doesn't look masculine."
Speaking with Variety, the One Direction alum spoke out about his fashion statements. "To not wear [something] because it's females' clothing, you shut out a whole world of great clothes," Styles said. "And I think what's exciting about right now is you can wear what you like. It doesn't have to be X or Y. Those lines are becoming more and more blurred."
He also discussed the subject during an interview for his Vogue cover story.
"The people that I looked up to in music—Prince and David Bowie and Elvis and Freddie Mercury and Elton John—they're such showmen," he said at the time. "As a kid it was completely mind-blowing. Now I'll put on something that feels really flamboyant, and I don't feel crazy wearing it. I think if you get something that you feel amazing in, it's like a superhero outfit. Clothes are there to have fun with and experiment with and play with. What's really exciting is that all of these lines are just kind of crumbling away. When you take away 'There's clothes for men and there's clothes for women,' once you remove any barriers, obviously you open up the arena in which you can play."