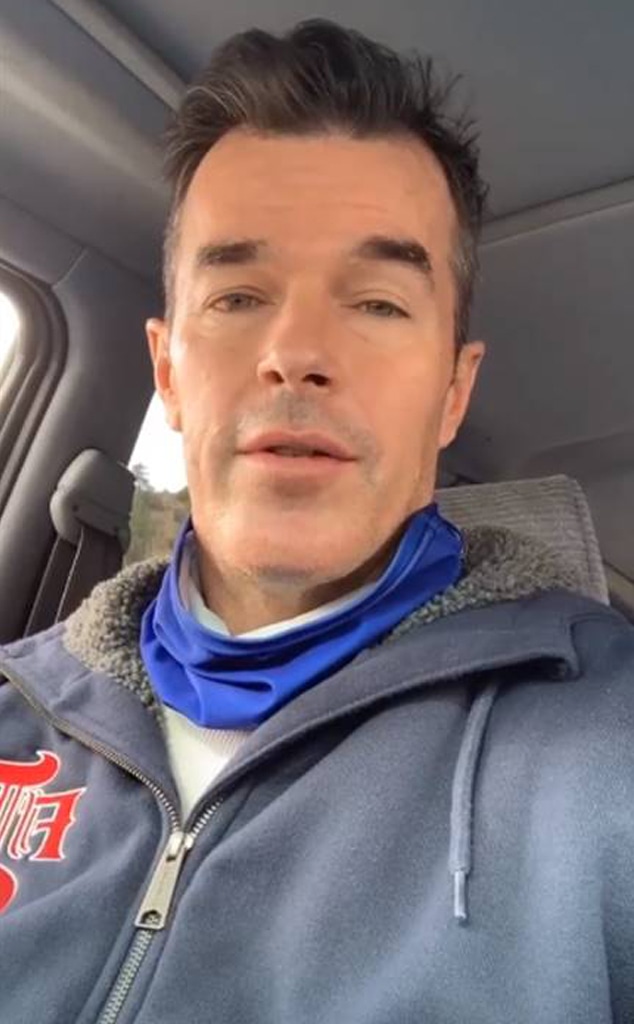 Instagram
Ryan Sutter wants Bachelor Nation fans to know he's feeling thankful for everyone's support.
It's been only a few days since Trista Sutter shared that her husband, who she met and fell in love with on season one of The Bachelorette, was battling a mystery illness. Following Trista's announcement, Ryan took to Instagram Stories to express his gratitude for the uplifting messages he's received.
"I was overwhelmed by the amount of support that I've received on social media and messages, and all sorts of stuff from so many people—friends and strangers and everything in-between," he began his video on Tuesday, Dec. 1. "So I just wanted to say thank you. It's super humbling for me to see that. I'm very grateful for all of that support... Trista and I appreciate it."
The 46-year-old firefighter also took a moment to give an update on his health and said he's "hoping to find a simple solution or a solution at all."
"I can tell you that I've been sort of feeling this way for several months and that Trista and I have looked into lots of things and continue to look into things," he shared. "Everything from Lyme Disease to immune disorder, autoimmune disorders, viruses, bacterias [sic], and cancers and all sorts of stuff.  I'll continue to keep everyone posted on how that goes."
The former reality TV personality also mentioned he and Trista are taking people's input seriously, saying, "We take note on everyone's suggestions and are uncovering as many rocks as we can at this point to try to find a solution to this whole thing."
While Ryan is still looking for answers surrounding his health, he said it's given him time to reflect and "sympathize with everybody going through this type of situation."
"It's new to me, but there's a lot of people that it's not new to. It's hard. In the same way you've offered your support to me, I'd like to offer that to you as well and do whatever I can to sort of help make this easier on people," he vowed. "Once again, thank you from Trista and I. We sincerely appreciate everything everybody has done."
The former Bachelorette contestant continued his message on his main Instagram feed. 
"I have spent the better part of my life challenging my personal limits. As a result I feel well prepared to take on my current health situation," he penned. "I have a strong support group and the best wife in the world. Please don't worry about me. I will be fine. If you must worry, worry about each other. Support each other. Be there for each other. The outpouring of support I have received has been humbling and therapeutic. I could not be more grateful."
He closed, "I can not imagine the healing power that amount of love and caring would have on the world should we all choose to apply it? Maybe let's find out..."
Over Thanksgiving weekend, Trista opened up about her husband's mystery illness on Instagram for the first time.
"I know I should be thankful, but I don't want to be fake. And, I'm struggling. This guy...my rock, my best friend, my hero, my love...is struggling," she wrote on Saturday, Nov. 28. "Not everyday, and not to the point that he can't work or cook or exercise or be with family, but enough. We've been struggling for months. Struggling to get answers."
Watch:
Ariana Grande, Justin Bieber & More Open Up About Mental Health
The Bachelorette alum, who was the first person to earn the title on the ABC franchise, revealed that she and Ryan got one solid answer about his health.
"Ryan doesn't have cancer," she shared. "A HUGE relief...without a doubt, especially after fighting to find a doctor to take symptoms that lined up with lymphoma seriously and advocating for the scans to rule it out."
Despite having some peace of mind, Trista admitted there's a "part of us was wanting a diagnosis."
"Wanting to be able to fight for him to be cured instead of fighting for an answer. How messed up is that? Don't worry, I know. It's messed up. But, that's where we are," she continued. "And believe me...I know it could be worse, so for that, I am thankful. Thankful to not have to be separated from a loved one who is dying due to COVID. Thankful to not have 2 children with a cancer diagnosis. Thankful to have each other and health insurance and jobs and a home and food on the table and healthy family members and all the things that make this life struggle-free."
Before signing off, the 48-year-old star reminded her followers to lead with love and positivity because "everyone is struggling in some way."
"We are young-ish and blessed, but not immune. We lived a fairy tale on TV and have a great life for all intents and purposes, but answers would be nice," she said. "So, I'm going to keep praying for answers and am hopeful that if you are the praying type, that you'll think of Ryan when the time comes to send up a message."