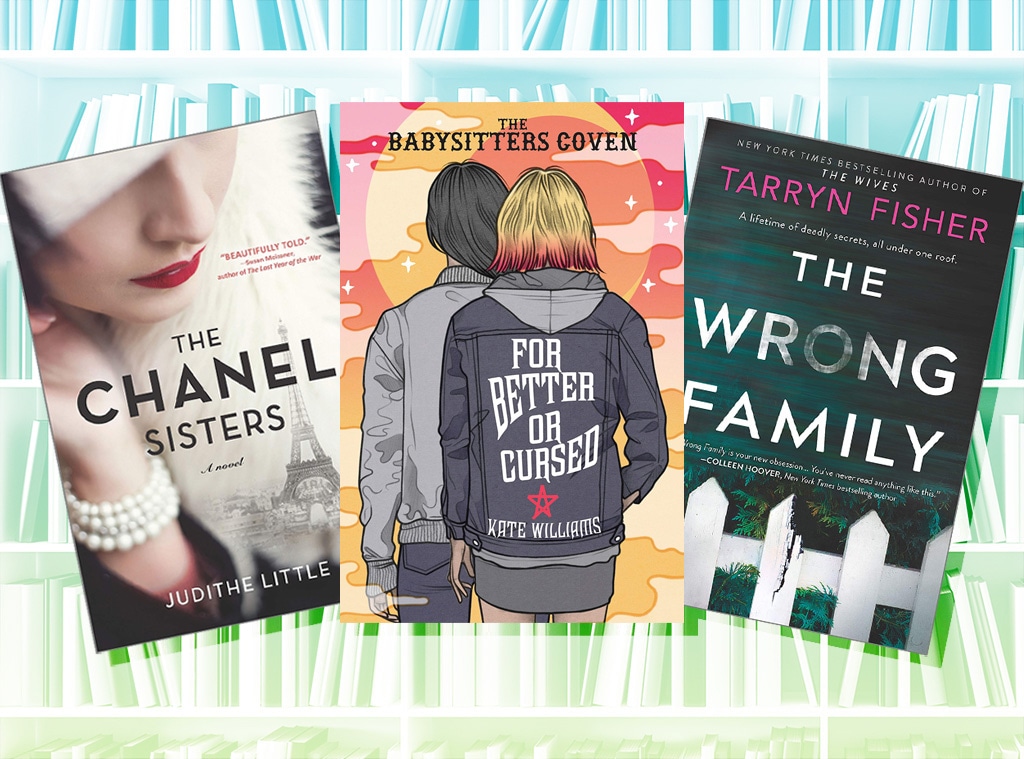 We love these products, and we hope you do too. E! has affiliate relationships, so we may get a small share of the revenue from your purchases. Items are sold by the retailer, not E!.
The weather outside is frightful but the reads are so delightful. OK, but some of them, it turns out, can be just as frightful. There's just something about getting lost in a great book in December that feels slightly more magical. Maybe you're wrapped in a warm blanket. Perhaps there's a steaming cup of hot cocoa sitting nearby. And, in our minds, a gorgeous light dusting of snow is outside your window, setting the perfect scene for you to enjoy one of our 17 picks for what to read this December.
And the unofficial theme of this month's batch of new releases seems to be juicy and twist-filled psychological thrillers, of which the limit does not exist. 'Tis the season to be shocked!
But there's also a feel-good cookbook, James Patterson's most ambitious book yet and a highly anticipated follow-up from one of YA's most exciting voices thrown in for good measure. 
Shop physical copies of our picks, which would all make great gifts, or pull them up on Kindle Unlimited.
Here are 17 new reads to check out this December...
The Cousins by Karen M. McManus
After delivering one of our favorite young adult mysteries with One Of Us Is Lying (which is set to become your next binge obsession on Peacock in 2021), McManus is back with another irresistible thriller. The Story family is not close, so it's a surprise when its rich and reclusive grandmother—who has disinherited all of her children—invites Milly, Aubrey and Jonah, cousins who barely know each other, to work at her island resort for the summer. R.I.P. your ability to not get sucked into the secrets and scandals of the Storys' story. (Dec. 1)
This Time Next Year by Sophie Cousens
Imagine being the second baby born just after midnight on New Year's Day, with the first being given a massive cash prize for simply beating you by a second. Now picture running into the firstborn on your mutual 30th birthday and he's a gorgeous, charming and successful businessman while you're on the verge of losing your pie-making company and home. That's the set-up for the fated love story between Minnie and Quinn. (Dec. 1)
The Good Girls by Claire Eliza Bennett
Three Jefferson-Lorne High School students find themselves under investigation after their classmate is murdered: Claude, the notorious partier; Avery, the head cheerleader; and Gwen, the would-be valedictorian. But, like in any high school hallway, appearances can be deceiving and you won't see the twists and turns in this feminist thriller, tailor-made for the #MeToo era, coming. (Dec. 1)
Admission by Julie Buxbaum
Couldn't get enough of the college admissions scandal that resulted in prison time for Felicity Huffman and Lori Loughlin? Well, the Tell Me Three Things author's novel is definitely for you. Chloe Wynn Berringer was the girl that had it all—landing her dream guy and getting into her first-choice college—until her B-list celeb mother is arrested in a massive bribery scandal and she also finds herself facing charges. After losing everything she took for granted, Olivia Jade Chloe is forced to examine her own guilt and the truth of what happened. (Dec. 1)
The Lies You Told by Harriet Tyce
When Sadie Roper moves back to London as a single mother hoping to regain her career as a criminal barrister after her 10-year marriage falls apart, she isn't prepared to deal with the unwelcoming crew of competitive moms at her daughter's exclusive school. But that all changes when she takes on a scandalously high-profile case, which gives her clout with the queen of the school moms and a dangerous new love interest. But are they trying to distract her from finding out the truth? That's what this psychological thriller promises, along with one doozy of a final twist. (Dec. 1)
Open House by Katie Sise
We know, we know, another whodunnit. But Open House examines the impact and fallout for the loved ones of Emma, an art student who wandered into the woods and was never seen again, a decade later. With her disappearance still an unsolved mystery, Emma's sister, three college best friends and a former teacher are rocked when the first piece of evidence—her bracelet—is found in the bottom of a gorge and becomes as much of a trigger as it is a clue. And after another woman is attacked during an open house, the secrets running through their quiet town threaten to submerge them all. (Dec. 1)
The Last Days of John Lennon by James Patterson
Along with New York Times best-selling authors Casey Sherman and Dave Wedge, prolific novelist James Patterson takes on one of the music industry's biggest true crime stories, detailing the tragic tale of two men: The Beatles icon John Lennon and Mark David Chapman, the man who murdered him in 1980. Patterson was aided in his telling through exclusive interviews with Lennon's friends and associates, including Paul McCartney. (Dec. 8)
Layla by Colleen Hoover
After Layla, the love of his life, is brutally attacked and left physically, emotionally and mentally scarred, Leeds takes her back to the bed-and-breakfast where they first met in an attempt to fix their relationship. But when Layla's behavior takes a bizarre turn and Leeds finds comfort in the form of another guest, Willow, he'll be forced to decide between the two women and his choice could prove to be deadly. Feel free to send Hoover your increased electric bill because you're going to be keeping the lights on late to stay up and read this one. (Dec. 8)
The Mermaid From Jeju by Sumi Hahn
Inspired by true events on Korea's Jeju Island, Hahn's debut novel follows Goh Junja, a girl just coming into her own as a haenyeo, a deep sea diver, in the 1940s. But her plans for the future are flipped when her mother tragically dies and Junja and her siblings are sent to live with their estranged father. Through poetic prose, Junja's journey through love and loss is deftly navigated, along with the political unrest simmering under the surface in a post-World War II Korea. (Dec. 8)
For Better or Cursed by Kate M. Williams
The adventures of the Babysitters Coven continue in this sequel, with supernaturally gifted teens Esme and Cassandra continuing to explore their witchy powers while also dealing with the highs and lows of high school. And when a once-in-a-lifetime Summit is called by the Sitterhood's governing circle, the promise of training and education proves too good to be true—but the event could turn deadly. Think Buffy the Vampire Slayer meets The Baby-Sitters Club with a dash of Adventures in Babysitting thrown in for good measure. 
(Dec. 15)
The Greatest British Baking Show: Love to Bake by Paul Hollywood and Prue Leith
If you want to pull off a bake that will leave Paul Hollywood slicing a cake before it's cooled, the beloved British TV series' latest cookbook is the perfect purchase you can treat yourself to this holiday season. Hollywood and Prue Leith will guide you through recipes for delights such as chai crackle cookies, pandowdy swamp pie, sticky pear and cinnamon buns and more, while fan-favorite bakers offer insight into why they, as the book's title declares, love to bake. (Dec. 22)
The Wrong Family by Tarryn Fisher
Can you ever really know someone or do you just learn what they want you to know? The Wives author delivers another un-put-downable psychological thriller about Juno, a retired therapist who happens to overhear a chilling conversation between the seemingly perfect couple she's moved in with. As the illusion of their enviable world shatters, Juno must decide if it's worth it to try to make things right when she's also keeping a massive secret of her own. (Dec. 29)
The Chanel Sisters by Judith Little
Little expertly explores the rags-to-riches story of Antoinette and Gabrielle "Coco" Chanel, the sisters who would go on to change fashion forever. While Coco would become an icon, many don't know about her equally indomitable younger sister who was left in history's shadows. The true-to-life tale includes heartbreak, loss, love and triumph, and is filled with impeccably researched details about Paris during World War I. (Dec. 29)
Wrong Alibi by Christina Dodd
If Lisa Jewell, Ruth Ware and Lucy Foley are on your Mount Rushmore of suspense writers, Dodd's latest release definitely needs a spot on your shelf. After she is framed for murder by her former boss, 18-year-old Evie Jones flees before she can be convicted and assumes a new identity. But when she discovers the man who ruined her life has resurfaced in Alaska, Evie comes out of hiding to seek justice before she's found with blood on her hands—again.  (Dec. 29)
The Mystery of Mrs. Christie by Marie Benedict
If you're going to take on one of literature's most notorious events, you better do it justice. And the bestselling author manages to do it with her clever reconstruction of Agatha Christie's mysterious 11-day disappearance in 1926, which remains just as mysterious all these years later. (Dec. 29)
The Dry Challenge: How to Lose the Booze for Dry January, Sober October and Any Another Alcohol-Free Month by Hilary Sheinbaum)
If you're sober-curious and don't know where to start, let the lifestyle expert help guide you through the journey of a booze-free challenge, whether it's for a month or longer. In addition to offering tips on how to plan your break from the bottle, Sheinbaum also serves fun ideas for activities you can enjoy with friends without alcohol and "zero-proof" drink recipes. (Dec. 29)
Marion Lane and the Midnight Murder by T.A. Willberg
What's better than one cunning detective investigating a murder? A secret gathering of detectives that meets in the tunnels that exist below London's busy city streets. The group comes together to solve a case close to home when one of the filing assistants for their operation is lured to her death. But all of them also become suspects in the process in this fun and fresh mystery, with a first-year Inquirer-in-training Marion Lane leading the charge. (Dec. 29)