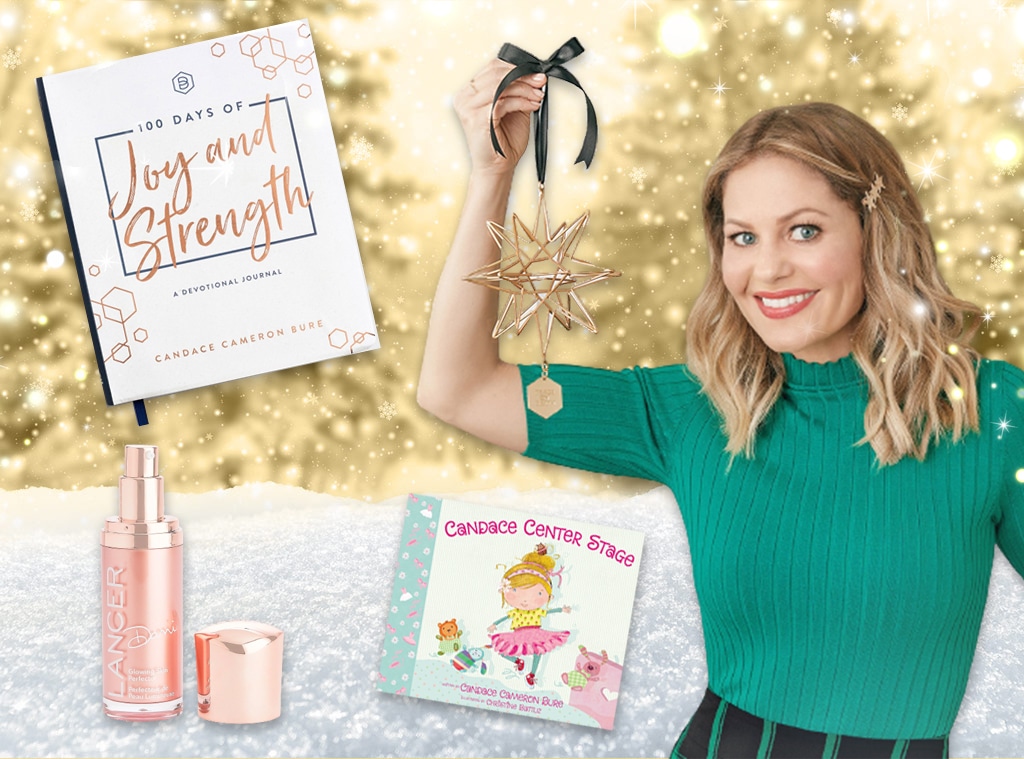 E! Illustration
We love these products, and we hope you do too. E! has affiliate relationships, so we may get a small share of the revenue from your purchases. Items are sold by the retailer, not E!.
It's the most wonderful time of the year for Candace Cameron Bure.
In addition to bringing joy to fans with her Hallmark Christmas movies, the actress is also gearing up for lots of family time. 
"I can't wait to spend intentional and undivided time with my husband and children, take a cellphone and social media detox and cook meals together," Candace exclusively shared with E! News. "If 2020 has taught me anything, there's no place like home." 
With just a few more shopping weeks to go until Christmas, Candace was able to share some of her gift picks for the holiday season.
From must-have Dr. Lancer skincare products to an inspirational devotional journal, the mother of three may just have the perfect gift for that special someone on your list. 
Set of 2 Inspirational Candles with Gift Boxes
"These candles not only smell incredible and look beautiful but are a thoughtful gift because they come with a devotional inspired by strong women. They arrive perfectly packaged and with a matching card! These are also great to have on hand as a last-minute gift option."
o3 Waterworks Sanitizing Spray Bottle
"This is an amazing gift any time of year, but especially now when sanitizing and disinfecting is so important. You can use this on food, surfaces, toys, dog beds and so much more! The best part is that this all you need is tap water!" 
The Lancer Method Intro Kit
"Dr. Lancer has been my dermatologist for over 10 years. The Lancer 3 Step Method dramatically changed my skin creating softer, smoother, clearer skin. This kit will get you started and is a perfect gift that also includes the Omega Hydrating Oil. The Method is available for a variety of skin types as well."
Star of Christmas—Geometric Ornament
"I love receiving and gifting ornaments. Memories fill the room when I unpack my ornaments year after year. This ornament's message, 'Peace on Earth,' is a great reminder about what really matters at Christmas time and all year long."
Kira Stokes Stoked Resistance Bands
"Everybody knows how much I love my personal trainer, Kira Stokes. I use her resistance bands when I workout with her online fitness app. These are a perfect gift for people who live an active and busy lifestyle. They are easy to take anywhere and they come in a variety of resistance levels."
Lancer Dani Glowing Skin Protector
"This has been my go-to skincare product this year. Because I've been wearing less make-up being at home this year, Dani enhances my skin's natural glow and has skincare benefits all in one step. Anyone would be happy to have this as a part of their daily makeup routine."
Comfort + Joy Oven Mitt + Cookie Cutters + Recipe Cards
"This holiday season is going to look different for a lot of us. This cute and interactive gift will provide Christmas cheer and a fun activity too. It comes with new recipes to try. It even has one for the furry friends in your life!"
Candace Cameron Bure's Children Books
"Books are always fun to read with the kiddos in your life! Each 'Candace' picture book teaches a lesson! Kindness, patience and faithfulness are the themes geared towards ages 4-8 years old. Candace marches to the beat of her own drum with her strong, eager and quirky qualities and the adventures she gets into with her friends will surely bring a smile."
Lancer Caviar Lime Acid Peel
"This is a facial in a jar. It smells like a margarita and a trip to Mexico with its hints of caviar limes. Use it one to two times a week for brighter skin, smaller pores and reduced fine lines and wrinkles. This is the 'extra' you want for date night, photographs or Zoom calls."
100 Days of Joy and Strength—A Devotional Journal
"This devotional journal is perfect for women of all ages and in every season of life. I wrote it to give women a chance to pause, reflect and explore the different ways that they can have daily joy and strength. Gift this to someone who would love a 100-day journey to find overwhelming peace." 
Lancer Lift & Plump Sheet Mask
"These are essential hydrating sheet masks that I love to use when my skin is needing a little TLC—especially after a long day on-set. The mask quenches my skin in deep hydration and make my skin feel soft, smooth and plumped. Plus, they have this amazing rose scent too that I love!"