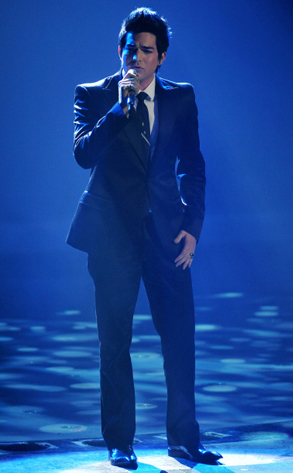 Michael Becker / Fox
That's life, as Frank Sinatra would've sung.
A Rat Pack-celebrating American Idol ruled Tuesday with 22.5 million viewers, per preliminary Nielsen estimates, but lost about 1.5 million fans from last week as NCIS returned with an all-new episode—not to mention Chris O'Donnell and LL Cool J.
Elsewhere in last night's ratings:
• At 9 p.m., The Mentalist (16.9 million) was even bigger than NCIS (16.3 million) was at 8 p.m. Still, the Chuck Wicks-eliminating Dancing With the Stars (14.3 million) held up OK, while Fringe (10.6 million) went even more mainstream.
• At 10 p.m., Law & Order: SVU (10.5 million) killed among adults 18-49. Earlier, the CW's Reaper (1.8 million) and 90210 (1.8 million) plain got killed.
• Counting down to its own finale, The Biggest Loser (9.4 million) scored its biggest audience in nearly three months, per NBC.