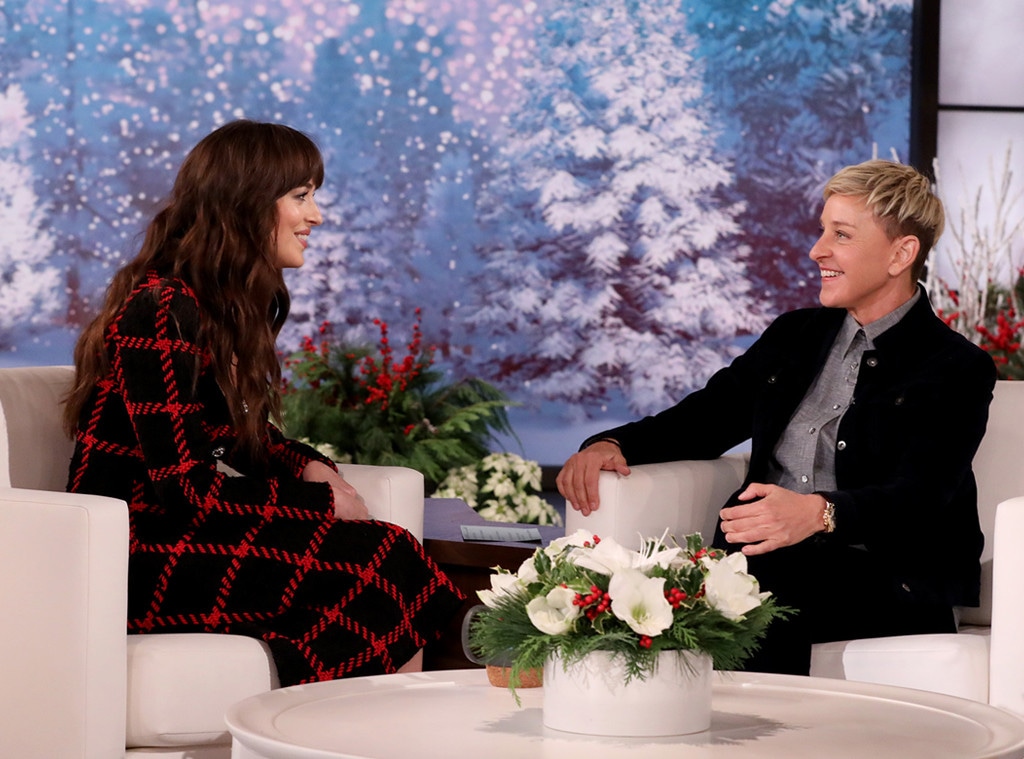 Michael Rozman/Warner Bros.
'Tis the season of gratitude. And while we're looking back on the moments we are most thankful for, we'd be remiss not to mention Dakota Johnson's fifty shades of awkward interview with Ellen DeGeneres.
It was this time last year—Nov. 27, 2019, to be exact—when the actress appeared on the comedian's daytime talk show for a conversation that quickly turned so unbearably uncomfortable, we found ourselves laughing and screaming at our TV screens. There were long pauses, obvious white lies and unconscious digs—Dakota accidentally proclaimed Tig Notaro is her favorite comedian—that left us covering our eyes but also begging for more.
Now, if we had to pinpoint the true moment things went south, it would be when Ellen insisted she was excluded from the guest list for Dakota's star-studded birthday party. "You were invited," the 31-year-old told her. "I didn't even know you wanted to be invited. I didn't even know you liked me."
Which appeared to be news to Ellen. After vowing that she does like the star, she was informed by her executive producer that she was, indeed, invited to the festivities. "Oh yeah," she replied. "I had a thing."
That thing, as viewers later found out, was attending the Dallas Cowboys vs. Green Bay Packers game with wife Portia de Rossi. The event spurred controversy after she was seen sitting next to former president George W. Bush and his wife Laura Bush. "People were upset," Ellen later admitted. "They thought, 'Why is a gay Hollywood liberal sitting next to a conservative Republican president?'"
But back to the real star of this story: That interview. After all, the awkwardness didn't end with the invite disagreement.
Rather, when Dakota talked about Tig's performance at her party, Ellen actually tried to take credit for Dakota's love for the stand-up comic. "Tig is hilarious," Ellen raved. "But you saw her first at my birthday party, so I feel like I introduced her to you."
Now, dear reader, brace yourself because there's more to cringe about. As Dakota pointed out, "I had left your party before that happened. Gosh, this isn't going well."
Watch:
Portia de Rossi Supports Wife Ellen DeGeneres Amid Talk Show Turmoil
No, it sure was not! But we love it and cannot look away.
So, treat yourself this holiday season and watch the video above to relive this magnificently messy moment that we will forever cherish. And remember to tell your friends, your family and your celebrity idols just how much they mean to you.