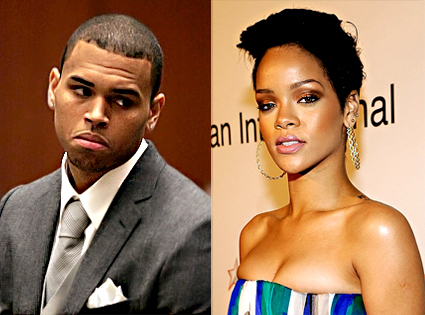 AP Photo/ Bob Chamberlin; Larry Busacca/Getty Images
Will Rihanna's leaked police photo drain the life from the prosecution's case against Chris Brown?
If Brown attorney Mark Geragos has his way, it will.
Los Angeles Superior Court Judge Patricia Schnegg today set a preliminary hearing for May 28 on Brown's double felony case—the result of Geragos pushing for as late a court date as possible to allow him adequate time to respond to the still-pending investigation into just how Rihanna's police photo was released.
Should the gruesome photos' appearance prove to be the result of a police transgression, Geragos told E! News that he will move to have Brown's entire case dismissed.
"The leaks can form the basis for a motion to dismiss the case in regards to outrageous governmental misconduct," Geragos said.
Neither Rihanna nor Brown were present for today's hearing, though the "Umbrella" singer's interests—and those of her jewelers—were represented in the courtroom.
At the request of the singer's attorney, Donald Etra, Schnegg agreed to release the nearly $1.4 million worth of jewels Rihanna had donned the night of the incident. The baubles were taken into police custody, along with a bloodstained Gucci gown, as evidence in the case.
"The chain of custody is critical given the price of these items," the judge said.
Counted among those items are a pair of earrings and three rings, which Rihanna wore to a pre-Grammy party that preceded her assault. Etra said that the pricey pieces would be transported to Rihanna by an armed guard and then returned to the private companies who loaned her the sparkly items.
Meanwhile, Etra told E! News that nothing had changed or yet been decided as to whether or not the singer would take the stand against her ex.
"The D.A. has not informed us whether or not Rihanna will be called to testify," he said, adding that she would indeed cooperate and give testimony if asked.
Asked how his client is holding up, Etra said that, too, has remained the same.
"She's doing fine."
During the preliminary hearing the prosecution will present the key components of its case to Schenegg, who will determine whether there is enough evidence for Brown to stand trial.
Should next month's hearing go on as planned, neither Brown nor Rihanna will be required to attend.
(Originally published April 29, 2009, at 9:55 a.m. PT)