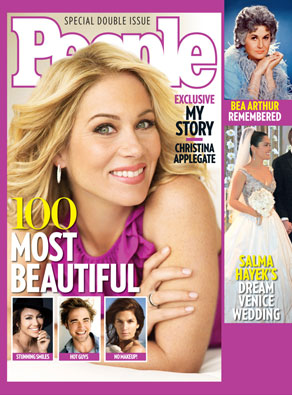 People
Don't hate them because they're beautiful. Hate them because they're the most beautiful.
People has unveiled its annual ode to aesthetics, aka its 100 Most Beautiful People list, and, in addition to usual suspects Angelina Jolie, George Clooney, Halle Berry and reigning Sexiest Man Alive Hugh Jackman, some of Hollywood's newest faces made the superficial cut.
The beautiful inside-and-out Christina Applegate scored the double issue's coveted cover for gracefully and publicly making it through her battle with breast cancer and subsequent double mastectomy, which she underplayed as a "rollercoaster of emotions…"
"A part of you is gone," she said. "It's a decision that you made to save your life."
Meanwhile, representing the younger contingent of annual eye candy is Slumdog Millionaire's maybe-couple Freida Pinto and Dev Patel, Twilight's onscreen-only couple (sorry, fanggirls) Robert Pattinson and Kristen Stewart, and at least two of the three Jonas Brothers.