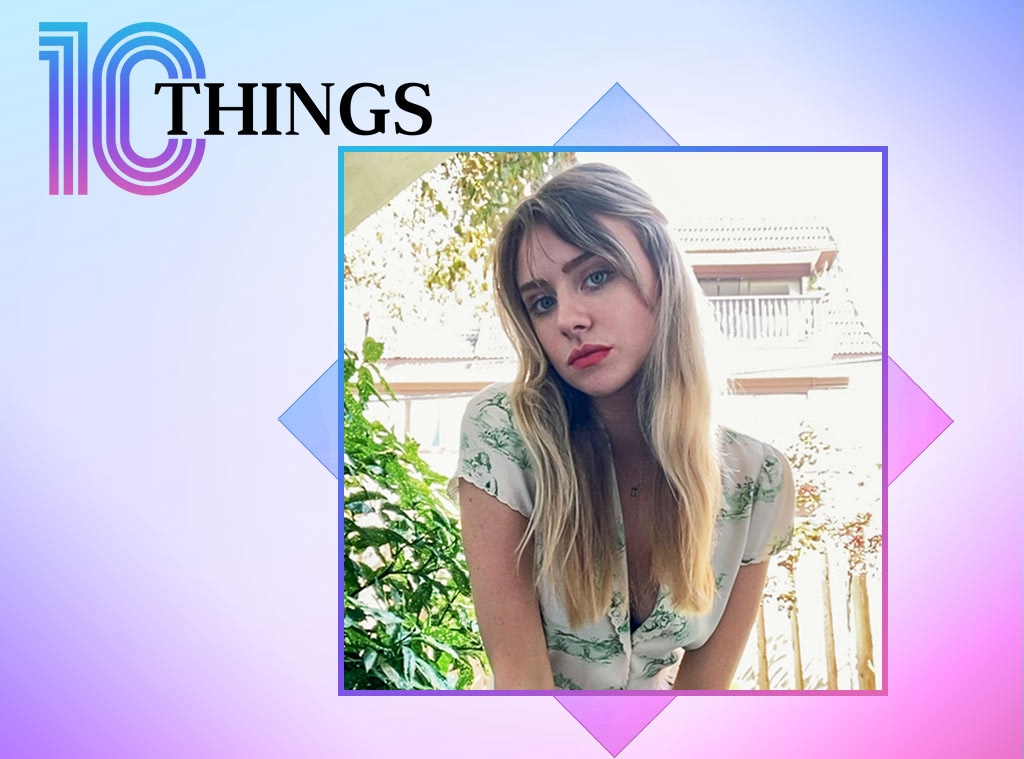 Daniela Arbaje; E! Illustration
Our favorite celebrities may be open books, living their lives for all the world to see, but even they like to keep a few secrets. Until now. Welcome to E! News' 10 Things, where the stars themselves spill the goods just for you.
Maddie Phillips is a star on the rise.
Though the Vancouver native already had plenty of credits under her belt heading into the second half of 2020, audiences really got a taste of what the talented actress can do when Teenage Bounty Hunters arrived on Netflix in August. In the dramedy, executive produced by Orange is the New Black creator Jenji Kohan, Maddie starred as Sterling Wesley, one of the two titular teens balancing life at their Christian high school and their new unorthodox careers hunting fugitives. The series was warmly received by critics, who singled out Maddie's killer chemistry with co-star Anjelica Bette Fellini as one of the main attractions, but was sadly canceled by the streaming service two months after its debut.
Though the abrupt end was certainly a blow, it's not stopping Maddie, who can also be also seen in the new film Summerland.
While we wait to see what's next for her, get to know Maddie a little bit better, in her own words, as she takes part in E! News' 10 Things!
1. I can wolf whistle, which might not be typically impressive, but when I went to NYC for the first time I did it as much as I could. I finally felt free to do it an obnoxious amount of times and not feel weird about it. 
2. I wouldn't say it was awkward because I was the most confident 12-year-old in the world, but my "awkward phase" style icons were AnnaSophia Robb in Bridge to Terabithia and Avril Lavigne. I would wear long, crazy-patterned socks with the feet cut off on my elbows, ties and skate shoes or Converse.
3. I didn't have a nickname growing up. I've mostly been called Maddie, which technically is my nickname, as my real name is Madelaine. 
4. As soon as I get up, I put on an inspiring podcast or YouTube. It's essential for me to give myself healthy brain food as soon as I'm awake because I'm so prone to anxiety. I can never eat straight away, so when I'm up, I'll put the kettle on, go to the bathroom (duh), wash my face and then make myself drink a glass of lemon water. (I cheat and put lemon cordial in it so it tastes better, not sure if that makes ritual redundant but whatever.) Then I'll make coffee and by that time, I'll be ready to eat. Right now, I'm obsessed with rice cake sandwiches with vegan turkey bacon, avocado, an insane amount of lettuce, this sweet chili jelly stuff I can't remember the name of and a soft-boiled egg. It's big. I feel like I need to mention that I feel really bad for eating eggs. I make sure they're free-range, but I do try to eat a mostly vegan diet.
5. If this career didn't happen, I'd probably enjoy traveling around being a freelance writer—maybe an author, journalist or poet. Doing Reiki maybe. Painting. Something creative where I'm not tied down anywhere. 
6. The thing I miss most about pre-COVID life is not being constantly concerned for the health of my loved ones and myself.
7. My most recent online purchase was a hat and a sweater from Gabi Abrão (or @sighswoon as she's known as in the internet) because she is definitely my favorite person on social media that I don't know personally. I love her outlook on life, her advice and her merch because it really reflects her whole way of being. For example, the sweater I bought says "I am constantly shapeshifting, adapting and evolving."
8. I can't live without laughter.
9. My go-to karaoke song is "Don't Lie" by the Black Eyed Peas. When I was in Grade 6, there was this cool "bad" girl I wanted to be friends with and I knew she liked them, so I picked a song and memorized it, but it was actually really easy because they're legendary and that song is a BOP.
10. The last thing I watched on YouTube was one of Devon Lee Carlson's vlogs for no reason other than she has an insanely contagious energy. I could honestly watch her do mindless errands all day and feel my serotonin levels rise. 
— Edited by Billy Nilles
Watch:
Popular '90s Black Sitcoms Coming to Netflix