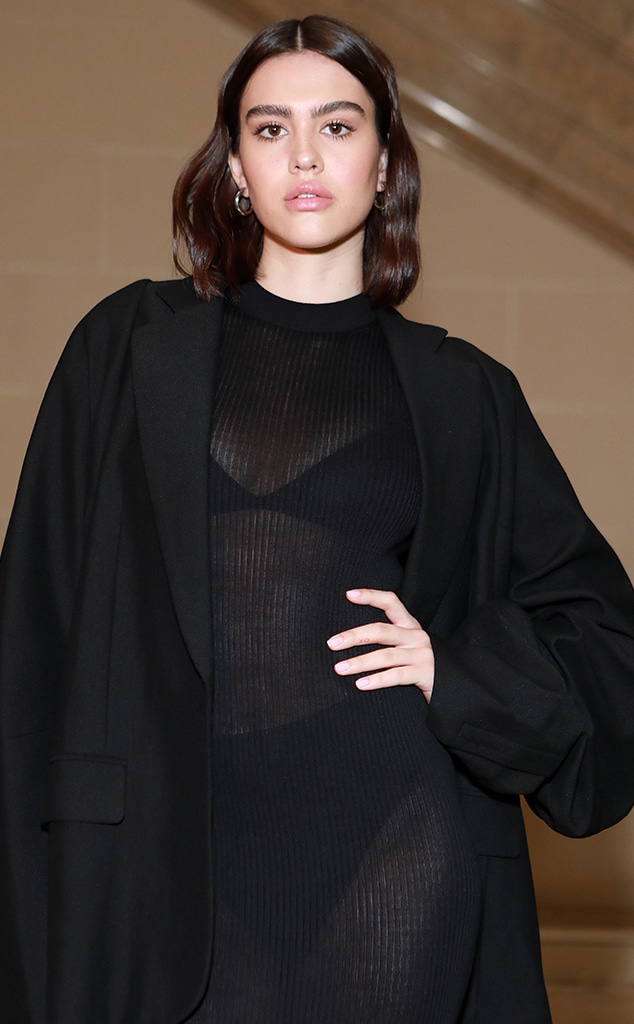 Jason Mendez/Getty Images
Amelia Gray Hamlin's nipple piercing became so infected that she was forced to undergo breast reduction surgery.
When it comes to the 19-year-old model's health, she has always been an open book with her millions of followers. That's why it's no surprise the reality TV personality recently opened up about the time she had breast reduction surgery at the age of 16.
In a resurfaced podcast interview with Dear Media's Skinny Confidential: Him & Her, Amelia explained how a badly-infected piercing led to the surgery.
"I had a 104 [degree] fever. 104. My left boob was out to here. I was 16 and had mastitis, whatever that is. It was the worst thing I've ever been through," she candidly shared in August. "I went to the emergency room, they told me, 'You have a kidney infection.''"
Amelia explained that her piercing ended up infecting her nipple, so she was sent to the Cedars-Sinai Hospital in Los Angeles to see a special disease doctor. She recalled her doctor saying, "You have strep in your left breast."
"I was 12 hours away from going into sepsis," she revealed, which can be a potentially life-threatening condition due to the body's extreme response to an infection.
"The nipple piercing [was] being pulled [and] caused a small abrasion in my body," the model explained. "I already had the strep living in my system and then it went to that part of my body because it was an open wound. When I tell you... my boobs were this big. It's a real thing. And I didn't just get those down naturally... I had to fully get surgery."
The daughter of Lisa Rinna and Harry Hamlin admitted that she "never talked about" her breast reduction surgery before. "I think my mom's gonna kill me," she quipped, "but I've never said that."
David Livingston/Getty Images
"It made my boobs so uneven," she confessed, "and [I] was like, 'Oh, my god... Am I really gonna have to live the rest of my life with my left boob this significantly larger than my right boob?'"
Amelia has never shied away from sharing her health struggles. In March 2018, she opened up about her past battle with anorexia.
"I feel comfort [sic] with finally posting something that I wish I was confident enough to post long ago," she began her Instagram message at the time. "I'm getting many comments comparing my body today vs. my body last year. I think that the support from my followers has really pushed me into writing this... last year at this time there was no doubt that I was not okay. Not only physically but also mentally."
"Once I got the help that I needed...," she continued. "I began to try to love myself for me."
The following year, she reflected on her journey in a candid interview with Glamour Magazine.
"I have such a strong support system—my mom included," she told the publication in June 2019. "This season on Real Housewives of Beverly Hills, a couple of episodes touch on my anorexia. I can't bring myself to watch footage from when I was really struggling. I just can't relive it. I've come so far, and it would make me too sad to see how I used to act."
Watch:
Scott Disick & Amelia Hamlin: Exclusive Details
While Amelia isn't afraid to publicly discuss her personal struggles, there is one area in her life that she's recently been private about—her new romance with Scott Disick.
The duo first fueled relationship rumors after they were spotted at Kendall Jenner's birthday party on Halloween. Although the two have been hanging out in recent weeks, a source previously told E! News things are casual.
"Scott's having a good time," the source shared. "He's getting to know Amelia and enjoying her company. They are spending a lot of time together but it's nothing serious. He's having fun with it."
As for how Amelia's parents feel about her fling with Scott? Another source put it simply, saying, Lisa and Harry "believe this is just a phase."