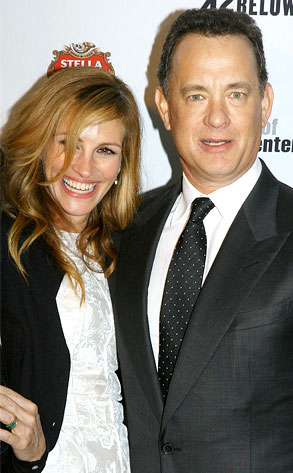 AP Photo/Dave Allocca, StarPix
Julia Roberts has a trucker mouth—who knew?!
The Pretty Woman was in New York City Monday night for the Film Society of Lincoln Center event honoring fellow Oscar owner Tom Hanks. But apparently, somebody forgot to clue in the actress that she meant to toast her Charlie Wilson's War colleague...not roast him.
"All right, well, it's late, and I'm paying my babysitter overtime, and I have to pee," she began. "So Tom, everybody f--king likes you. All my bits are gone."
Instead of saluting Hanks' estimable cinematic career, she deigned to point out a few of his turds more forgettable features...