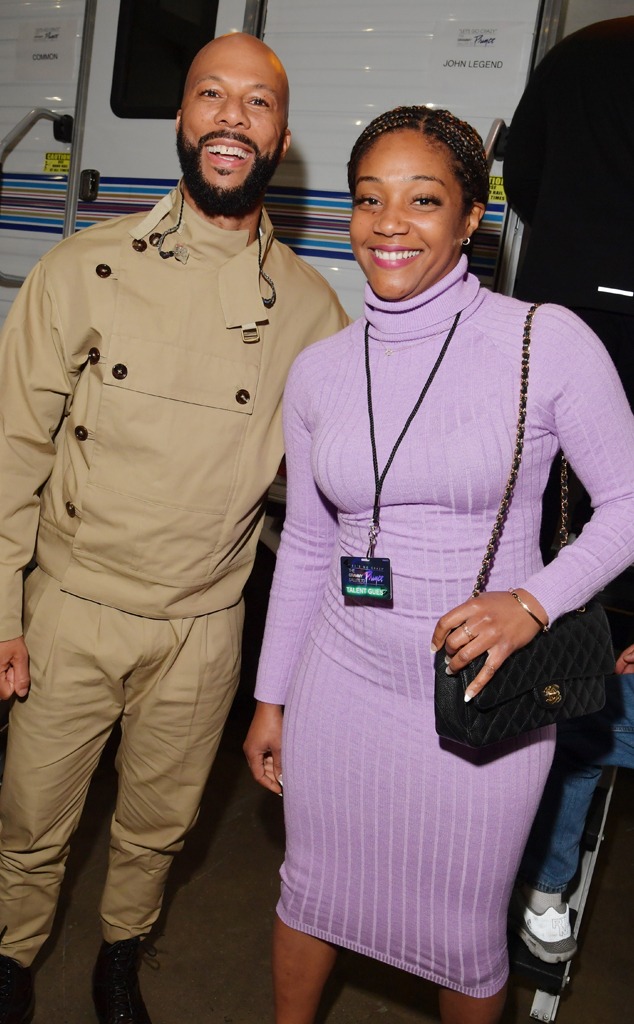 Lester Cohen/Getty Images for The Recording Academy
Tiffany Haddish is opening up about her future family plans.
It's no secret the Girls Trip alum is known for her comedic and acting skills. However, it looks like she's ready to embark on a new role: motherhood. Speaking to her boyfriend, Common, on his new Audible Original podcast Mind Power Mixtape, Tiffany candidly shared her desire to foster children.
"I just want to bring survival skills, share everything I know with them," she expressed in an exclusive clip shared with E! News. "I definitely want to either foster kids or adopt and get them at [age] seven—where they know how to use the bathroom, they can communicate, tell you they're hungry."
"They should have some manners. If not, they can learn them... you can mold their mind," she continued. "I want the child to know, 'Hey, I chose you to be here with me and I want to give you all the knowledge that I have."
The Night School alum didn't dive into detail on when she would like to take this next step in her life.
Fans of the comedian know she hasn't shied away from sharing her own experience in the foster care system, which is something she detailed in her 2017 memoir The Last Black Unicorn.
In her book, she claimed she was bullied, abused and molested when she was in foster care between ages 13 and 18. Another revelation Tiffany shared in her tell-all book was that she was illiterate until high school. 
She admitted that she "straight-up could not read or write" and had a first or second-grade reading level until the ninth grade. The star said it affected her, but she eventually learned how to read thanks to her drama teacher.
Watch:
How Tiffany Haddish Draws Inspiration From Herself
On the podcast, Tiffany thanked her teacher and confessed she was taking private lessons when she should've been having lunch. The actress joked her "breaks was gone" during that time.
"I think she's the dopest drama teacher," Tiffany raved. "She did all kinds of things and I just admired her so much because she wasn't just in one lane. She made it so clear, she was like, 'Tiffany, it's important for you to know how to read, no matter what you do in life.'"
"It wasn't that I didn't want to know how to read, it was that I thought I was stupid," she added, getting emotional. "I thought I was dumb because that's what I was being told on a regular basis. When your parents are telling you that stuff, you believe that stuff. It really affected me, and it still does to this day. But I have a different way to communicate with myself."
These days, Tiffany isn't just gushing over her drama teacher. Almost three months ago, she confirmed her romance with Common with a heartwarming message.
"This is hands down the best relationship I've ever been in," she gushed on Steve-O's Wild Ride! podcast in August. "I've lost 20 pounds since I've been in this relationship. I feel more confident in me and it's not him that's doing it."
"Knowing that I got somebody that cares about me, that really has my back—it seems like he does anyway—and I love it," she added. "I love him."
To hear more about Tiffany's family plans and how she's grown from her own childhood experience, listen to her interview in the audio clip above. 
And if podcasts are your thing, you'll be happy to know that all six episodes of Common's Mind Power Mixtape podcast will be exclusively available on Nov. 19 within the Audible Plus catalog. Guests will include Mahershala Ali, Misty Copeland, Hasan Minhaj, Bryan Stevenson and Nas. In intimate one-on-one conversations they discuss topics such as success, spirituality, self-care, music, inspiration and overcoming obstacles.