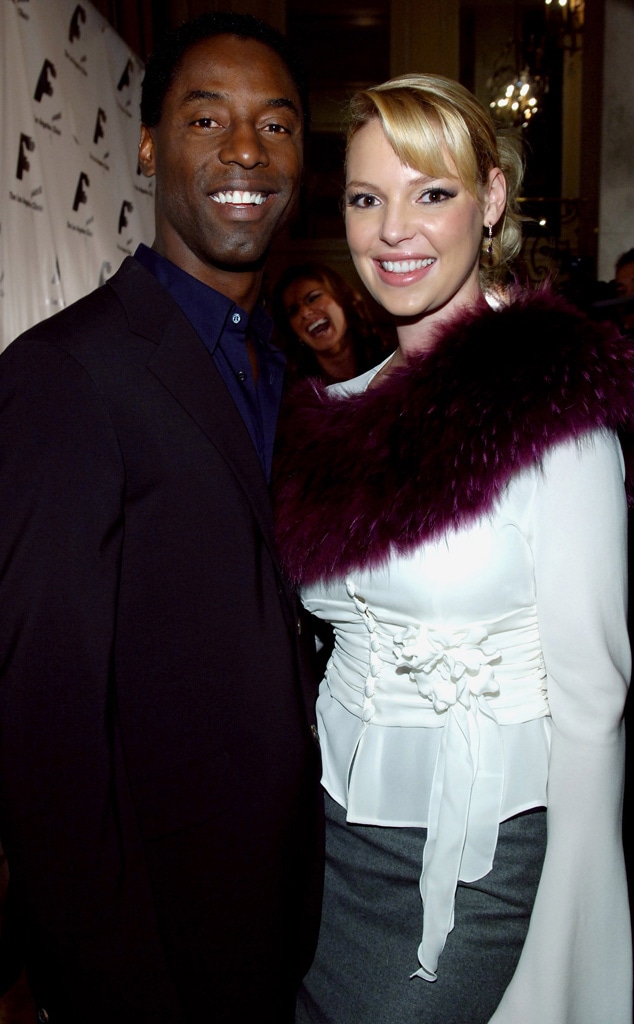 J.Sciulli/WireImage
Grey's Anatomy alum Isaiah Washington has ignited his drama with former co-star Katherine Heigl.
On Monday, Nov. 16, the actor took to Twitter with a message directed at the actress.
"This woman once proclaimed that I should 'never' be allowed to speak publicly again," he wrote. "The world agreed with her proclamation back then and protested for my job and my head in 65 languages. I wish I was on Twitter in 2007, because I will NEVER stop exercising my free speech."
He added in the comment section, "I've learned that all money ain't good money and no amount of money can replace your dignity and integrity. Some call it living by your principles."
It's unclear why the actor slammed Katherine considering they feuded over a decade ago. However, their drama erupted in 2007 when the actress called out Isaiah for allegedly using a homophobic slur towards their Grey's Anatomy co-star T.R. Knight.
While Katherine has yet to publicly address Isaiah's post, a source close to the actress tells E! News she's proud to have "stood up" for T.R. in 2007.
"Katherine stood up for her close friend twice when Isaiah publicly outed him and called him a f----t. That's hate talk, not free speech," the source says. "She is proud that she stood up for him. Katherine is and always will be an advocate and ally to the LGBTQ community."
Watch:
"Grey's Anatomy" Stars Gush Over LGBT Roles
As fans will recall, there was drama both on and off Grey's Anatomy. According to People, Isaiah addressed an alleged on-set encounter between himself and T.R. at the 2007 Golden Globe Awards.
"No, I did not call T.R. a f----t. Never happened, never happened," Isaiah said in the press room at the time. "There is no way I could do anything so vile, and so horrible, not only to a castmate but to a fellow human being."
Following the awards ceremony, Katherine didn't hold back her thoughts on the ordeal. "I'm going to be really honest right now, he needs to just not speak in public. Period," she told Access Hollywood, per People. "I'm sorry, that did not need to be said, I'm not okay with it."
When asked if T.R. was hurt, she responded, "I don't see how you could not be under those circumstances."
"I just feel like this is something that should be very much in-house we need to deal with," she added. "T.R. is my best friend. I will throw down for that kid."
Months after the controversy, Isaiah spoke to Entertainment Weekly. By that time, ABC made the decision that he would not return to Grey's Anatomy following the show's season finale. The publication reported he had also issued a formal apology to T.R. and recorded a PSA with GLAAD, which aired during a Grey's Anatomy re-run.
When asked how this would impact his career, the actor replied, "I can only apologize so many times. I can only accept so much responsibility."
"All the players involved have taken care of what we needed to take care of in-house—and the media took it in a different direction," he continued. "I hope that everyone is happy for the outcome for Isaiah, but Isaiah will go on and do what I love to do. And I have to go about the business of letting people know what's written about me is not the truth. I'm merely an actor, a husband, and a father who's trying to do a great job and be very grateful and understanding that I'm in a very privileged position."
He explained he was moving on from the drama, saying, "I just hope people can understand in the industry and otherwise that it's a horrible misunderstanding what transpired with our show and it was blown out of proportion."