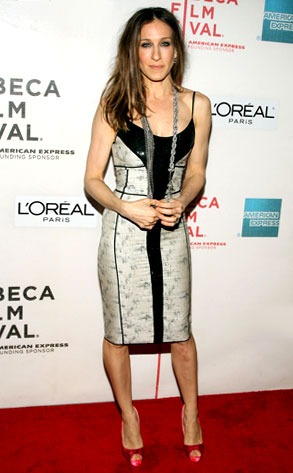 Bryan Bedder/Getty Images
Breathe easy, Sex and the City fans. Mr. Big is back.
At the Wonderful World premiere Monday during the Tribeca Film Festival, Sarah Jessica Parker confirmed to E! News that the nail-biting can cease—Chris Noth has signed on for the movie sequel.
Just what he'll be doing there is another story. When last we checked, Carrie and Big finally tied the knot. Perhaps the pitter-patter of little feet are in the future…
"I don't know anything yet," she said (looking stunning in Narciso Rodriguez, BTW).
Dancing With the Stars stud Gilles Marini may also get to reprise his role as the sizzling—and often naked—neighbor and love interest to Kim Cattrall's Samantha Jones.
"I don't have a clue," Parker said. "I don't know anything specific about a story for him, but it's very possible."
All four ladies, as well as writer-director Michael Patrick King are set to return for Sex and the City 2, due in theaters May 28, 2010.
(Originally published April 27, 2009, at 5:26 p.m. PT)